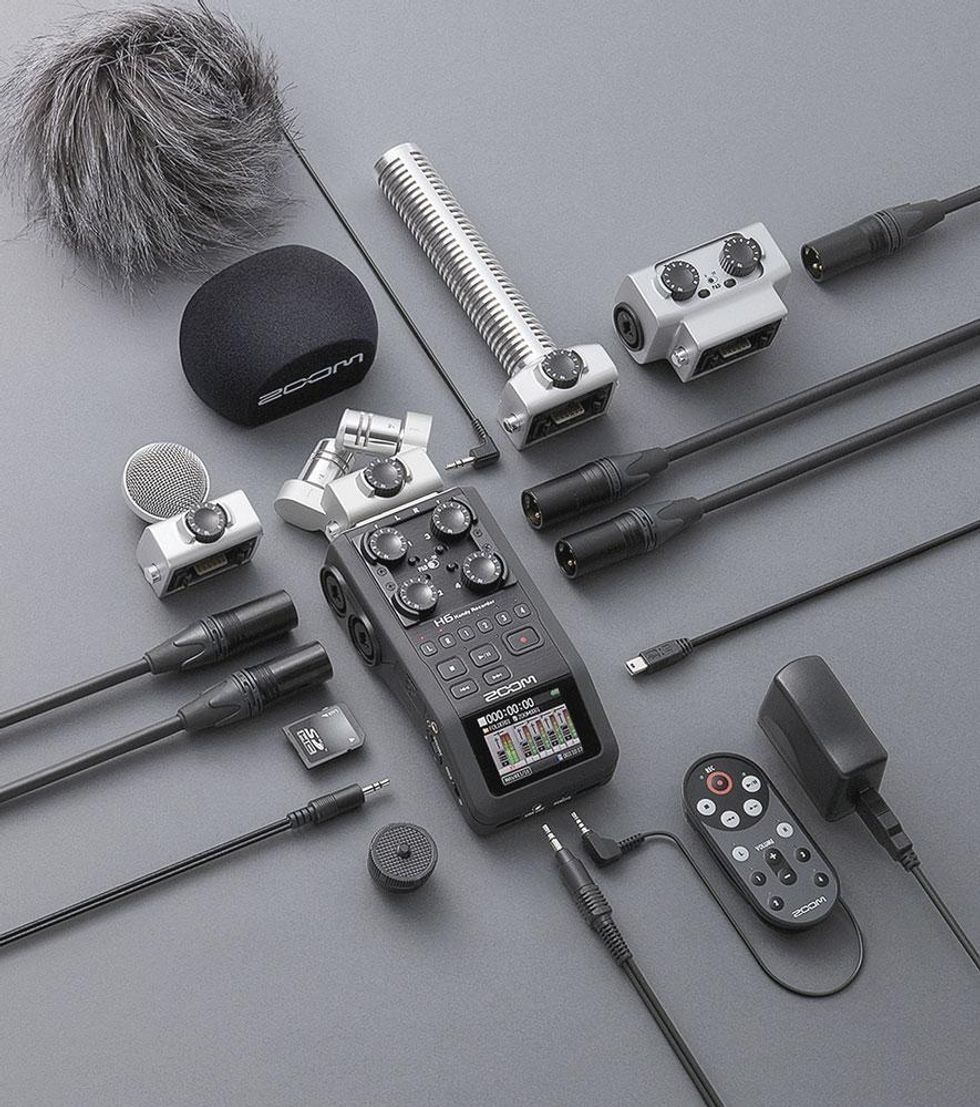 Zoom H6 | A small but incredible recorder
MUSIC EQUIPMENT | Six-track Digital Recorder
You will not believe how good the sound quality is!
Any musician can tell you, it can be hard to get a decent recording of your performance. This can be a great source of frustration, especially with the knowledge you played an excellent set, yet it is lost in time, or at best an iPhone recording. This is fine to get the ideas down. There have been external field recorders for some time and they do the job and if you are a talented sound engineer, you could clean it up, but the mic and pre-amp technology have a lot to do with how crisp the sound is. Zoom's H6 has turned the heads of budget film-makers, musicians, bands, interviewers because of it's versatility. Anyone who is trying to capture multiple sound sources on location. It is basically a portable studio and more.
It can be difficult to differentiate between the Zoom H6 and other similar models. But once you compare them side by side, it is quite noticeable. The H6 has so many features that are simplified for ease of use when you are on the go. You may be asking what makes it so special. It has served my needs very well and I continue to find one of the most useful pieces of equipment I own.
The main body of the H6 has 4 individual inputs, each of which supports both a quarter inch cable or XLR cable. To have this same capability previous to its release, you would need a more cumbersome setup. This is all in one. There are also various interchangeable mics and attachments. It comes with a detachable XY stereo condenser mic. Additionally it is an audio interface that works with Cubase DAWS for editing. Zoom can attach to a camera, which can work in tandem that replaces the in-camera mic. It is worlds better, even without any treatment or editing.
Product Description
The H6 offers four main inputs (1-4), plus two additional inputs (L, R) that are derived from whichever capsule (X/Y, MS, Shotgun, or Dual XLR/TRS Combo) is plugged into the unit. The supplied XYH-6 X/Y capsule also provides a secondary input for connecting an external mic- or line-level signal via a stereo ⅛" Mic/Line In mini phone jack. When a connection is made to that jack, signal from the X/Y microphones is muted.
All four main H6 inputs (inputs 1-4) are combo connectors that can accept either XLR or ¼" balanced or unbalanced phone cables. They can handle both mic- and line-level signals, which means that you can connect either external microphones or line-level devices like mixers, portable music players, electronic keyboards, or electric guitars or basses with active electronics (passive electric guitars or basses can also be connected with the use of a mixer or effects device). Internal switching contacts automatically detect the circuit of choice.
Each of the six inputs (that is, 1-4 as well L, R) have a dedicated gain control knob as well as a -20dB pad, allowing you to prevent distortion even when high-level signals are introduced. In fact, with the use of the Pad switch, the H6 can input a signal 30dB louder and 14dB softer than any other Handy Recorder model. In addition, all capsules utilize higher voltage preamps (5 volts instead of the more commonly used 3 volts) for distortion free recording, even at high volumes. A built-in instrumentation amp allows signals to be transmitted with minimal noise even when long cables are used.
If you're using high-quality condenser (powered) microphones with the H6, no problem—a simple menu option allows the unit to provide Phantom Power (either +12, +24, or +48 volts) to any or all of the main inputs (inputs 1-4). Inexpensive condenser microphones requiring Plug-In Power (2.5 volts) can be connected to the X/Y capsule's stereo 1/8" Line In jack.
Main Features
Interchangeable input capsules that can be swapped out as easily as the lens of a camera
Six-track simultaneous recording
Four mic/line inputs with XLR/TRS combo connectors
Gain controls (real knobs!) and -20dB pads for each input
Phantom power for all main inputs: +12/+24/+48V
Large full-color LCD display, angled so it's easy to read in all environments
Records directly to SD, SDHC and SDXC cards up to 128GB
Up to 24-bit /96kHz audio in BWF-compliant WAV or a variety of MP3 formats
Auto-record, Pre-record and Backup-record functions mean that you'll never miss that perfect take
Multitrack to stereo internal mixdown
Independent monitor and playback mixes
Virtual VU meters
Voice memo and up to 99 marks per recording
Overdubbing, up to 99 takes
Built-in effects, including low-cut filtering, compression and limiting
Onboard MS decoding
Normalize, Divide and Trim editing
Chromatic tuner and metronome
A/B loop playback
Variable playback speed, from 50% to 150%
Variable pitch per track without affecting playback speed
USB port for data exchange to and from computer
Multichannel and stereo USB audio interface for PC/Mac/iPad
Camera strap mounts
Mountable directly to DSLR or camcorder with optional HS-01 Hot Shoe Mount adapter
Accepts standard AA alkaline or NiMH rechargeable batteries
Over 20 hours of operation with 4 AA alkaline batteries
Accessories

Here's what comes included with the H6.
Operation manual
XYH-6 X/Y mic capsule
MSH-6 MS mic capsule
SD card (2GB)
AA size (LR6) battery x 4
Cubase LE Software
Windscreen
USB Cable
Case
Optional H6 accessories
SGH-6 Shotgun mic capsule
EXH-6 Dual XLR/TRS Combo capsule
HS-01 Hot Shoe Mount adapter
APH-6 Accessory Pack includes RCH-6 wired Remote Controller, AD-17 USB-type AC adapter and Hairy Windscreen
Carrying bag