When you have a baby, there are a million questions you need to answer. Everything from where to send them to school to the clothes they'll wear. Some of these are more down the line than others but the most pressing is what should you feed your baby?
Once they progress to solid baby foods, you'll want to make sure they get the best. That means healthy, quality ingredients that are delicious and flavorful. However, with all the brands out there it's hard to sort the great from the so-so.
So we decided to take a look at two of the best and see which comes out on top: Yumi or Gerber. Here's what we found out about these two mom-favorite brands.
Key Similarities:
Both have pureed baby food
Both have organic subscription options
Neither contains preservatives, added sugars, or GMOs
Both let you pause or cancel your plans at anytime
Both have additional vitamin options
Key Differences:
Yumi is a weekly subscription of fresh baby food - Gerber is a monthly delivery of purees, pouches, and snacks
Yumi's meals work for kids 6-24+ months and are sorted into 7 developmental feeding stages - Gerber's box is for ages 5-17 months
All of Yumi's food is vegan
Yumi is free of the Big 9 Allergens (no milk, eggs, fish, crustacean shellfish, tree nuts, peanuts, wheat, sesame, or soybeans) - Gerber has a Product Food Allergen Finder to identify recipes that exclude allergens
Yumi costs $3.75 per meal with free shipping - Gerber costs $1.29 per meal ($69.99 a month)
With Yumi, you can choose to receive 1, 2, or 3 meals per day and choose the flavors in your order
Yumi
What sets Yumi apart has to be the quality of their baby food. They ship fresh purees each week that are gluten-free and certified organic. Beyond tasty recipes such as Butternut Squash, Broccoli & Pear,Sweet Potato Cheesecake, and Bell Pepper Apple Bowl, your child is also getting the safest baby food out there.
Many don't know that a number of commercial baby foods are tainted with dangerous levels of arsenic, lead, cadmium, and mercury.* This includes big-name brands like Nurture, Beech-Nut, Hain, and Gerber. Yumi puts safety first and is actually the first baby food company to sign the Baby Food Safety Act! They only work with trusted sources and even look at soil quality to find the best farms.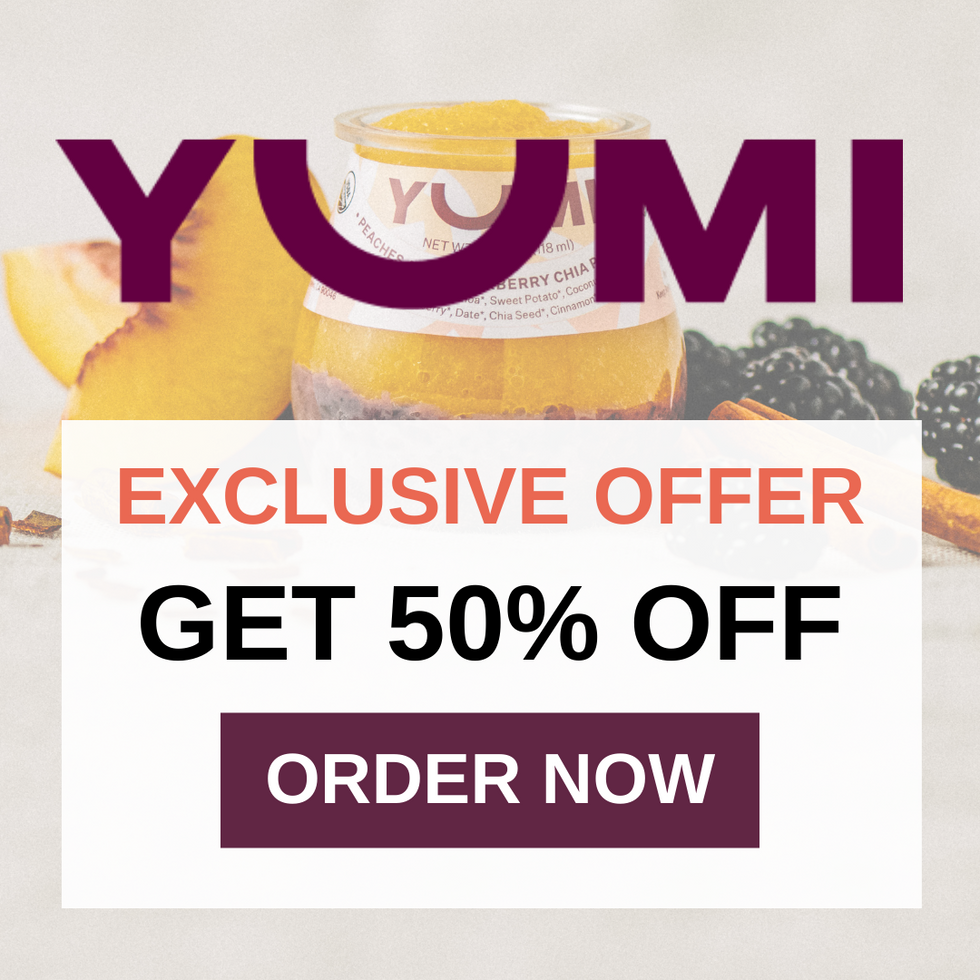 Yumi's menu is divided into 7 stages, to guide your little one's journey into solid foods. At six months you start with thin single-ingredient blends and progress to nutrient-dense bites. Your baby is getting all the nutrients they need without all the trouble of prepping and cooking. Plus, babies never grow tired of Yumi's flavors thanks to yummy new recipes released each quarter and a unique Chef Series (yes, a Michelin-star chef can design your baby's food!).
While Yumi may be on the pricier side of baby food subscriptions, it definitely delivers on quality, convenience, safety, and taste. None of which you want to sacrifice when it comes to your baby.
Gerber
The Gerber baby is iconic and so is their huge range of products with everything from formula to snacks. We decided to narrow in on the Gerber Organic Subscription Box which lets you sign up for a monthly box ages 5 - 18 months. They fill it with USDA Certified Organic purees, pouches, and snacks based on your baby's age and nutritional needs.
While Gerber throws in extra surprises you'll love, like Gerber Grower Farm Spotlights, highlighting the exact farm where each fruit & veggie was grown - their product line didn't quite measure up for us. Their purees aren't made fresh like Yumi, though they do have toddler pouches and glass jars.
Gerber's subscription is $69.99 a month. After being in the industry for decades, babies clearly approve of their yummy recipes. Parents enjoy the convenience, but we've come to demand more for our kids' health. The doubts around metals, as well as the need to even use their Allergen Finder, cause Gerber to fall short in our eyes.
Final Note:
Both brands only want the healthiest and best experience for your baby. But Yumi goes the extra mile, where Gerber stumbles.
We trust the process and high-quality ingredients in Yumi's organic baby blends with safety being our biggest concern. They have an exciting subscription that offers fresh, ready-to-eat baby food that not only saves you time but takes the stress off your shoulders.
Whether you're looking to ease your hectic schedule or introduce more nutritious baby food into your child's life, you can't go wrong with Yumi.