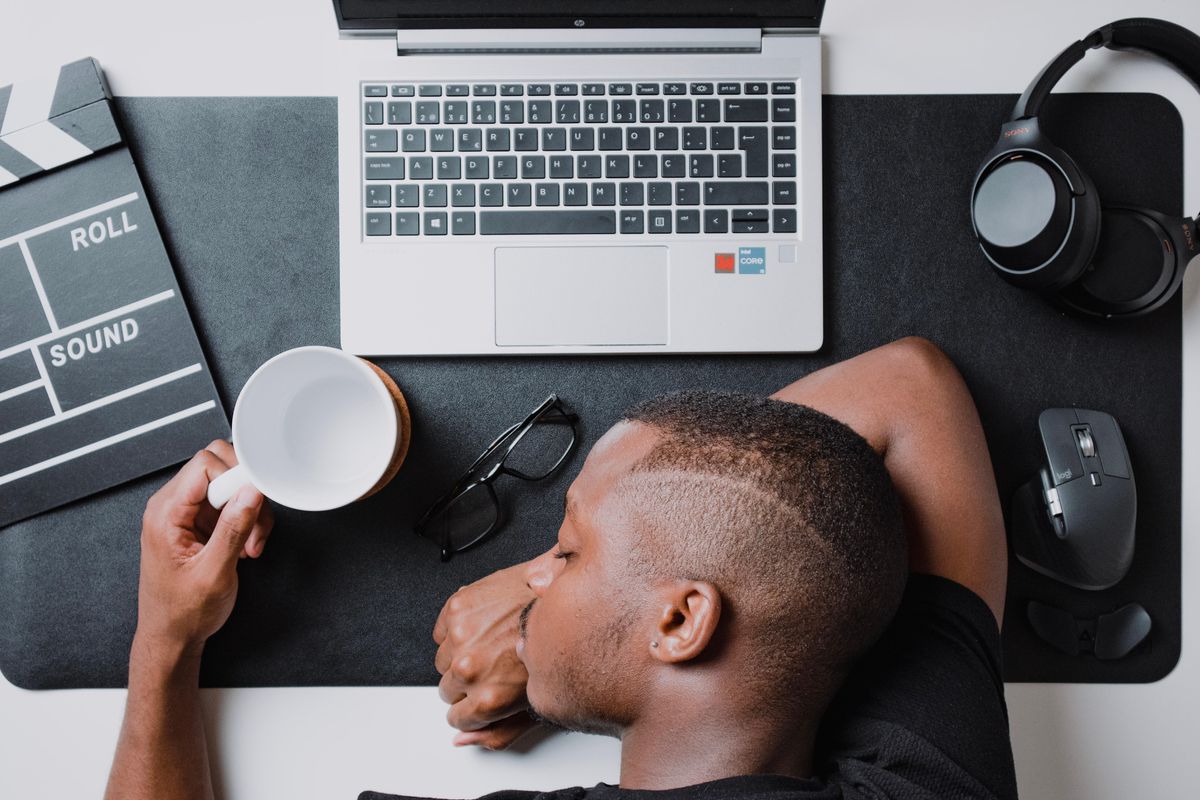 Feeling Chaotic? Here are WFH Essentials To Get Your Life Back in Order
This entrepreneur-approved way to get more done at work without burning out
I've been feeling very British lately. Not in a Union-Jack-obsessed, "Keep Calm and Carry-On" way. I went through that phase in 2012 with everyone else… no thank you. And it's not even a surge of patriotism catalyzed by the Queen dying — I'm firmly team Diana and team Meghan.
---
Now that fall is officially here, the holidays will sweep in and I'll have to contend with the fact that I won't be spending them with my family in the UK. I went home to London earlier this year, so there's not much left in my travel budget for another trip across the pond. A few domestic jaunts might be in my future, but the closest I'll get to England this winter is watching Love Island and Love, Actually.
So in that spirit, I've been filling my days with content from my favorite Brits. I'm listening to all the old British rock bands I grew up listening to, patiently awaiting the new Arctic Monkeys album, and rewatching anything with Michaela Coel in it. I even shipped myself an order of British Baked Beans, so you know it's dire.
I've also been watching British YouTubers like Grace Beverley — my favorite. Generally, I only go on YouTube to watch Vogue Beauty Secrets and AD Open Door videos. But I'm so glad I stumbled on Grace. Her content is a mix of London lifestyle (what lured me in), relatable entrepreneurship, and mindful productivity. I'm not a hustle-and-grind-girlboss, but as a creative person in a 9-to-5, I need all the help I can get to stay plugged in. So, the video "how to be really really really productive without getting overwhelmed" changed my approach to WFH.
Grace outlines her own productivity method: the to-do table. Instead of making a simple to-do list, she divides her tasks into a table that anyone can follow. As someone who's survived with to-do lists for years, I recently implemented Grace's method, and it's revolutionized my workdays.
how to be really really really productive without getting overwhelmedwww.youtube.com
I follow her routine to a tee. Here's how it works:
Essentially, she divides her daily responsibilities into four categories: quick ticks, tasks, projects, and non-negotiables.
Quick Ticks: Actions that take less than 5-minutes
Tasks: To-do's that take up to 30-minutes. Probably don't take too much brain energy.
Projects: Long-term list items. These help guide your priorities, even if you're not crossing them off in one day.
Non-negotiables: Pick 3 things each day that you must get done. This is how you'll truly measure success.
With everything written down and sorted, next address your schedule. Meetings, deadlines, and time blocks — whatever works best for you. Write it down. Then make a pact with yourself to stick to them.
This way of categorization provides a roadmap for prioritizing your day — making you far more productive. Have you ever spent the entire day on small tasks and then suddenly realized you hadn't moved the needle on any task? Or do you spend way too much time on tasks that aren't a priority? No more. With your non-negotiables laid out, you know what to laser-focus on and what to dedicate energy towards.
Also, it pays to know your working style. I'm not a morning person. Yet, I have to be up and at 'em super early. So, first thing in the morning, I march through my Quick Ticks to warm me up. I set a time limit, so I can knock out some easy wins which is totally inspiring. Then I move on to bigger things without lingering on emails or admin. For others, it might be more helpful to tackle the big things with all that early-in-the-day brain power earlier.
Grace has great tips on avoiding overwhelm and burnout. My favorite is taking more intentional breaks rather than scrolling through social media. I call this scrolling "productive" because I'm "coming up with pitches." Oh, the lies we tell ourselves. It's more productive in the long run to giving my brain a break with non-screen related stimuli.
Grace's solution? Set a timer to read a real, an actual book. I've never thought of this. It's a genius way to check off some books on my TBR and kickstart my creativity. After reading a good book, I'm completely inspired to write. So having books near my desk helps me step away from the computer during my lunch break for an actual reset. (And yes, the current books I'm reading are by British authors: Assembly by Natasha Brown, and Love in Color: Mythical Tales from Around the World, Retold by Bolu Babalolu.)
In my pursuit of switching out my WFH set-up and getting my life together, I've engineered my workstation for success. With my new WFH essentials and Grace's productivity technique, I'm revitalized for work — despite the fall blues and my melancholy about the pending holidays.
Here are the things getting me hyped for work and helping me crush my Grace Beverley-inspired to-do tables — no lists in sight:
Grace Beverley sells her own planners but — to no one's surprise — they're sold out. They're premade with daily tables, which would be a game-changer. But no worries, you can reverse engineer them in this lined planner. It helps you plan your months, then your weeks, then your days with its simple design that lets you be creative.
I'm not a morning person — but, you already know that. I drag myself out of bed and trudge to the kitchen to make coffee. This feat is infinitely easier since I started drinking Cometeer Coffee. Simply melt the pods, and you'll have a damn fine cuppa joe in no time. This speeds up my morning prep and gets me started sooner.
I need a lot of tech to keep me going and continually productive throughout the day. My speaker, my apple watch, my phone, and — of course — my laptop. To keep my desk free of cables and chargers and clutter, I carted this 3-in-1 MagSafe charger so my devices are always full of juice.
Some people — me — need a little extra to stay focused during the day. Sure, coffee keeps me awake. But my Feals supplements keep me on task. These game-changing supplements help me avoid distractions. In a field of supplements that do zilch, I can feel these working almost instantly.
One look at my daily step count … and you'll be lecturing me about the dangers of a sedentary lifestyle. Believe me, I know. That's why my goal for the fall is to get my steps in. For added benefits, I'm using Bala Bangles. They're a bit of an investment, but they're cute, and they make a difference. Cardiovascular fitness, here I come.
Once I've built up my fitness, I'll reward myself with what I've always wanted: a home fitness system. A Peloton is still out of my budget, but Tempo makes fitness both aesthetically pleasing and attainable — the golden combo.