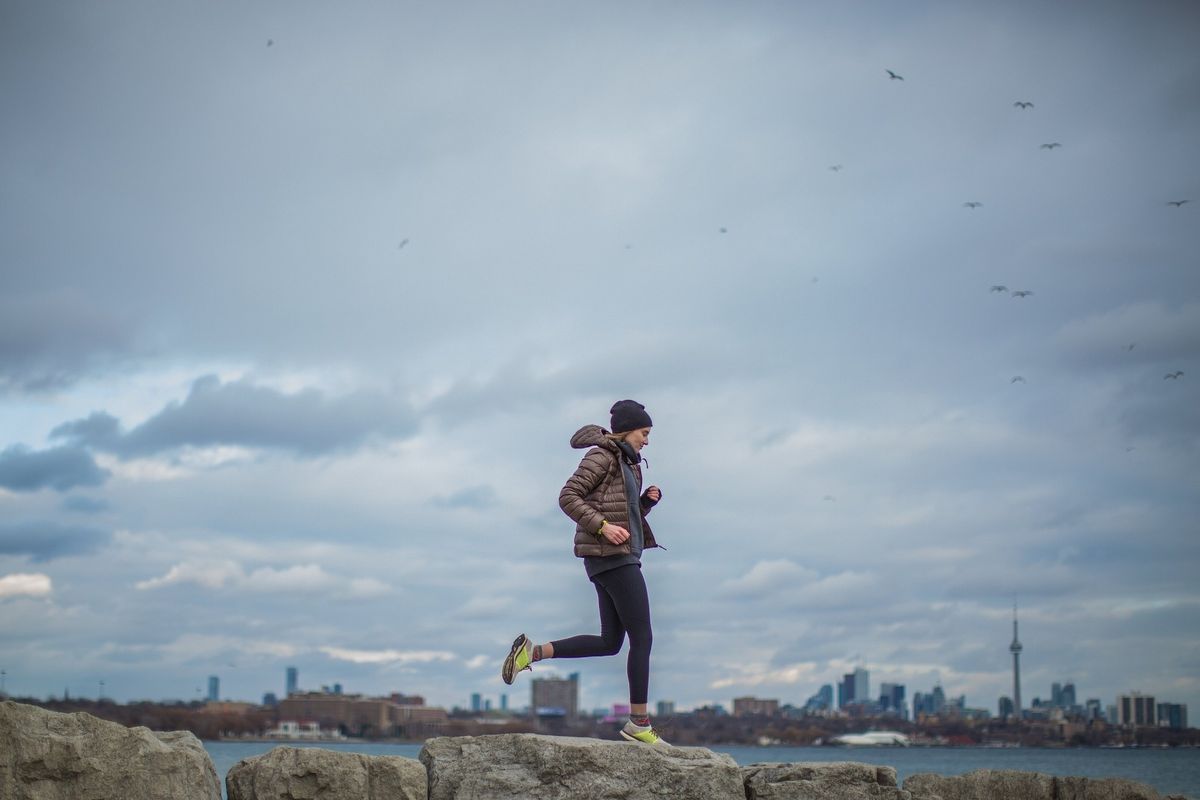 Best Winter Workout Clothes
Keep exercising in the cold by wearing the right outfit.
Winter weather doesn't mean you have to skip working out and hide under blankets to stay warm. Instead, wear the right workout clothes and stick to your exercise routine, even if it's snowing. We found fitness outfits that will help you keep active through the cold months.
Craft Men's Repel Jacket, Bolt/Black, Medium - https://t.co/WpSPjgunM0 https://t.co/JeCKvfulU9

— Nicholas Dunec (@Nicholas Dunec) 1512133092.0
Designed for running and other outdoor sports in the cold, the Craft Repel Jacket is windproof and waterproof. It has three layers of fabric to keep you warm and dry, but it doesn't look or feel bulky. It's breathable, comfortable, and stylish. Available in several colors, the jacket features vents in common sweat zones, so you don't overheat. It also includes reflective panels and details for runners who prefer to battle the cold in the dark.

Baby, it's cold outside! Keep your hands warm in these Mizuno Breath Thermo gloves! #wagnersrunwalk #mizuno https://t.co/JuwuDplEAR

— Wagner's RunWalk (@Wagner's RunWalk) 1451765411.0
No one wants to come home from a run with frozen fingers, so try wearing the Mizuno Breath Thermo Warmalite Gloves. They have fleece to keep you warm and a sleek design that doesn't look bulky. These gloves can help you switch songs on your smartphone without exposing your hands to the cold, thanks to the special forefinger designed for touch screens. They have a convenient storage pocket for keys or money. In addition, they feature reflective colors to help you stand out in the dark.

Day 1 (of 12) of #BetterYourBESTivus has begun! Get the #ASICS Thermopolis® LT 1/2 Zip ($25)-> http://t.co/UYIBjcPwK9 http://t.co/cGwyuMOmiR

— ASICS America (@ASICS America) 1417626037.0
The ASICS Thermopolis Long Sleeve 1/2 Zip shirt is perfect for working out in the cold. The form-fitting top comes in five colors and has reflective bars. You can wear it alone in the winter months or layer it because it has a slim fit. It has thumbholes for comfort, treated fabric to retain heat, and a comfortable zipper. The soft fabric is a combination of polyester and elastane.

Dynafit – Speedfit DST pantalon softshell pour femmes (bleu/gris) – S https://t.co/P3TFCqWzne https://t.co/ucqrHOYx9c

— tagswords (@tagswords) 1522156730.0
The Dynafit SpeedFit Dynastretch Pants are lightweight but warm enough for cold days and nights. Made from wind and water resistant fabric, these pants are stretchy and feature woven nylon soft-shell in the front while the back has brushed elastic. You can adjust both the hem and waist, so they fit better. There are multiple pockets and reflectors to keep you safe. The best features are that they're breathable and won't slow you down.

These just arrived, new Manzella warm winter hats http://t.co/6DgwrDEROT

— Fleet Feet Buffalo (@Fleet Feet Buffalo) 1421941316.0
If you want to keep your ears warm while you're running, a thick, wool hat won't work. Instead, try the Manzella Power Stretch Hat, which comes in one size fits all. The beanie-style hat has a snug fit with reflective material. It's wind and cold resistant, so you can keep working out through the harshest temperatures. The fabric is soft, warm, and lightweight. There is also an opening for ponytails.

When the temperatures plummet and snow starts to cover up sidewalks, it can be hard to keep working out in the cold. However, wearing the right outfit can help. Make sure you wear appropriate gear when you're outside, and don't forget to check for reflective materials if you're exercising at night.