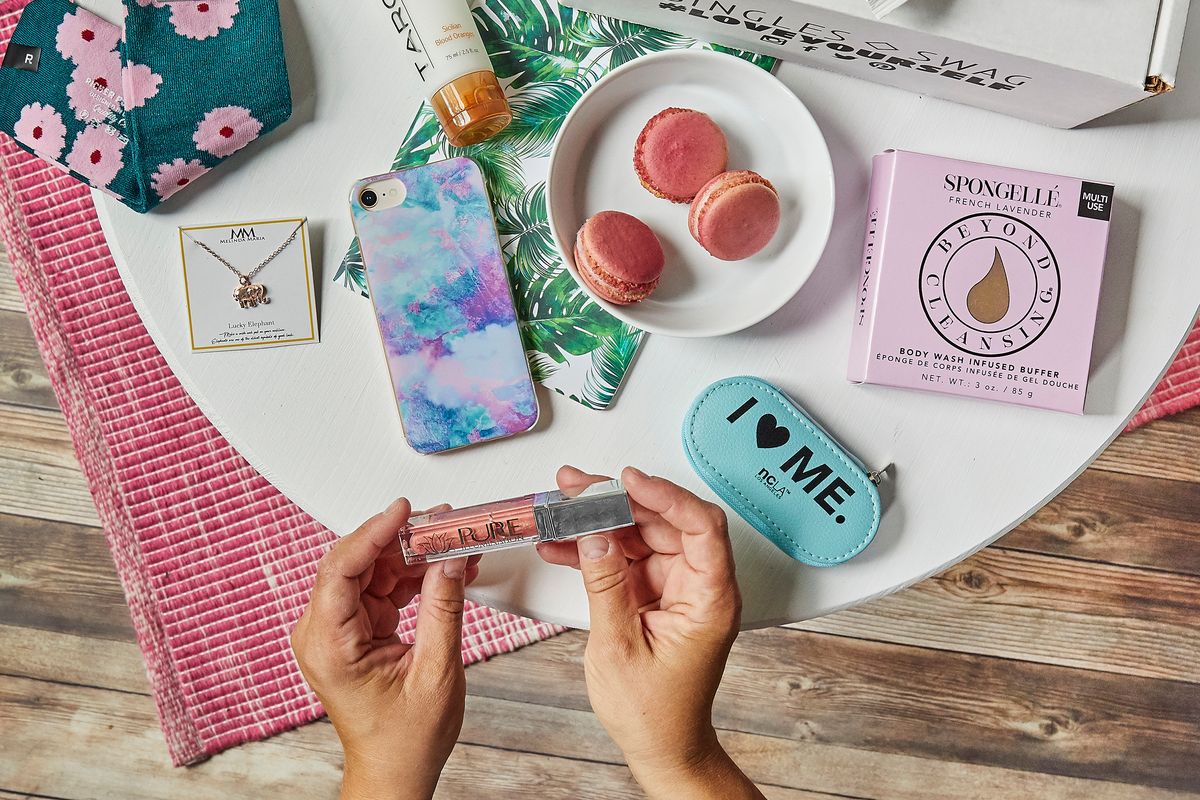 Why SinglesSwag is The Perfect Going-Away-to-College Gift for My Daughter
When my daughter Lauren's high school boyfriend dumped her right before they were about to leave for college because he wanted to "see other people," my heart broke for her. What a jerk! At first, I tried to comfort her by telling her how he didn't deserve her, and about all the more mature and amazing new guys she'd meet on campus—and then it hit me. I didn't want her to have a new boyfriend! Lauren has been in relationships since middle school, and while I love that she forms strong bonds, I also wanted her to know that she didn't need a boyfriend to be happy. There are so many expectations on young women to be attached to a guy, but I just wanted Lauren to go away to college with higher expectations for herself.
That's why I bought her a gift I wish I had gone away to college with: a subscription to SinglesSwag, a monthly box that's geared towards single women. Every month, they send a box filled with amazing products for women's well-being, like skin care products, books, jewelry, and so much more. But what I really loved about it was its inspiring message: that single women should look and feel beautiful for no one else but themselves. There are two box options, and I went with the biggest one, which includes 5-7 full-sized items. I knew that by the time Lauren got to her dorm it would be the first package she'd get.
A few days after I dropped her off and helped set up her room, Lauren sent me a selfie of her and her SinglesSwag box with a huge smile on her face. She also sent me a video of she and her roomie unboxing everything and I loved seeing the looks on their faces when they saw what was inside: an adorable bracelet set that retails for $78, a bottle of Purlisse facial moisturizer, Lark coconut butter cookies, and the book "Why Not Me?" by Mindy Kaling (who's also super inspiring!). It was like Chicken Soup for the soul, mind, and body.
Not only does Lauren look forward to getting her new box every month, but she's also started focusing on all the right things. Instead of checking her new messages on Snapchat or waiting for texts from boyfriends, she takes the time to give herself a pedicure or facial, or shares some of the yummy treats with the other girls in her dorm's common room. Since she sends me a cute new video or photo of what she gets each month, I also get to see the positive impact of my gift and show my family and friends how well she's doing.
Now, Lauren's about to start her sophomore year and I couldn't be more thrilled. She's picked up new friends and hobbies in school and is even going to study abroad in London! There are definitely still boys in her life, but Lauren knows that all she needs is herself to be fulfilled, and as a mother I couldn't be prouder. If your daughter, or any other special girl in your life, is in need of encouragement I'd definitely recommend SinglesSwag. Remind her how great it is to be the love of her own damn life!
Interested in promoting your brand or products?Follow this link for more information!