As days get shorter and work busier, our stress level rises again. That's why taking extra care of our mind and body becomes necessary to stay healthy and get back on track after a relaxing summer.
Our wellness editors came across a meal service that is changing the health landscape, making nutritious, delicious, ready-to-eat meals at home a reality. Let us introduce the perfect solution for working professionals, busy parents, and anyone looking to improve their diet without the hassle: Thistle.
People give up on meal delivery services for multiple reasons:
The meals have been frozen and are no longer fresh
There aren't many gluten-free and dairy-free options available
Lack of flavor and taste
However, Thistle meals are 100% gluten-free and dairy-free, packed with veggies and high-quality protein, made with delicious sauces and unique flavors, and are delivered fresh – never frozen!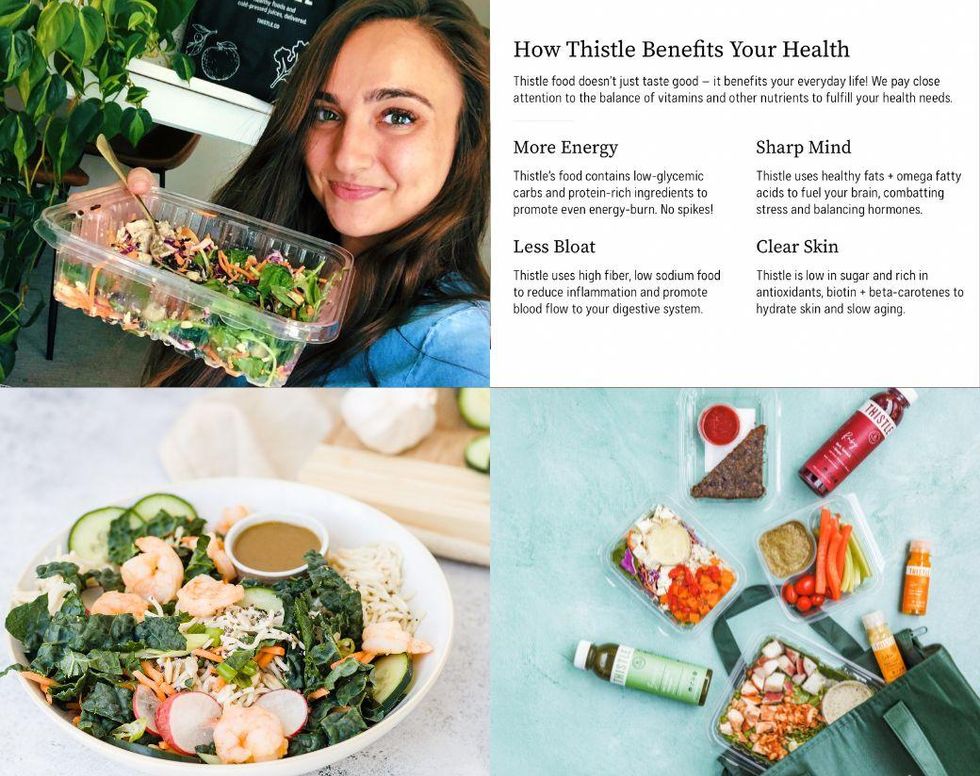 Thistle provides everything you can wish for in a meal, whether it's breakfast, lunch, dinner, or an afternoon snack – it's a meal service you don't want to miss out on:
Major convenience: ready-to-eat meals delivered to the door – zero meal-prep needed
Rainbow of foods: each meal contains nutrients, phytochemicals, and antioxidants
Health benefits: more energy, less bloat, sharp mind, clear skin
Thistle makes it easy to unlock the actual superpowers behind wholesome foods. Their meals don't contain dairy, gluten, refined white sugars or artificial sweeteners, artificial preservatives, additives, or dyes. Plus, they're made with seasonal ingredients sourced from organic-certified local farmers.
Here's an example of what a day with Thistle looks like:
Breakfast:Tofu Chilaquiles, corn tortillas covered in a spicy-smoky tomato sauce, and topped with Thistle's scrambled tofu mix.
Lunch: Ramen Salad, a delicious, chilled noodle salad featuring brown rice & millet ramen noodles, tons of crunchy veggies, topped with a juicy and refreshing lemon-miso dressing.
Dinner:Thistle Ragu Pasta Bowl topped with Sauteed Garlic Mushrooms that brings a healthy version of the ultimate Italian comfort food to your home.
Snack: Sweet, salty, and crunchy Peanut Butter Banana Chocolate Balls – the perfect mid-day snack you need to get your energy up the healthy way
All the meals we tried were tasty and kept us satiated for hours without making us feel bloated. And the recyclable, innovative packaging made it super easy to bring the meals to work so that we could say goodbye to overpriced, greasy takeout or the typical plain, boring sandwich.
Thistle makes it easy to stay fit and healthy without the hassle of grocery shopping, food prepping, and cooking. On top of that, they keep mother nature in mind; they've built a more sustainable food system by creating a plant-forward diet, partnering with local farmers, working towards net zero carbon emissions, and offering recyclable packaging.
If you're ready to up your game and become a healthier you, sign up for Thistle now to benefit from affordable, nutritious, ready-made meals delivered to your door!
Offer Expires In