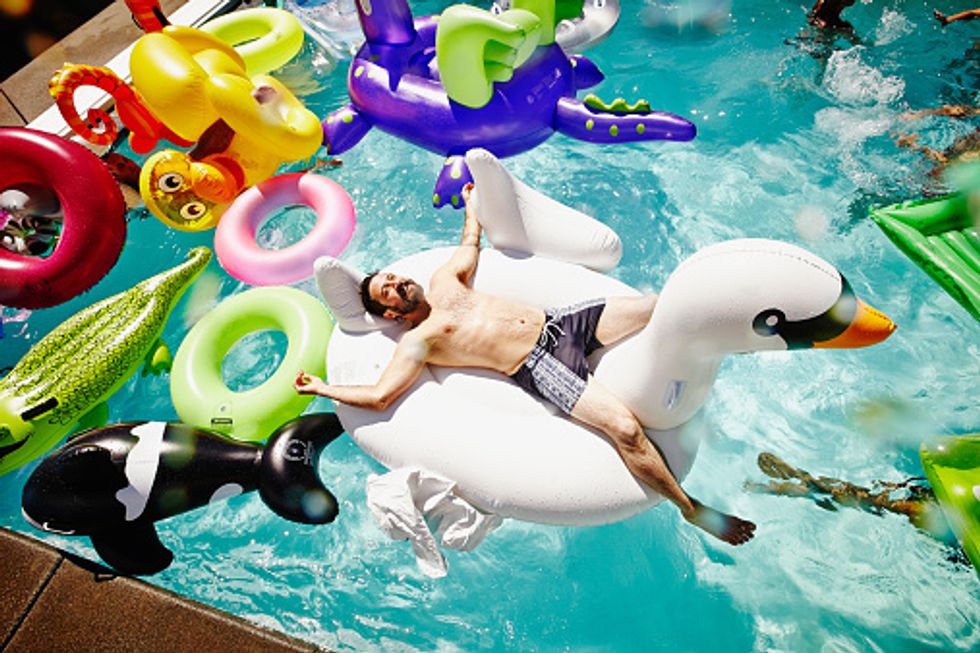 Make a Splash With the Best Backyard Swimming Pool Accessories
Summertime is coming up, and that means it's time to hit the pool. Marco Polo gets old after a while, and cannon balls can get pretty painful, so that's why we like to have an arsenal of pool inflatables in which to lounge, play games, and enjoy our pooltime to the max.

Toysplash is where you'll find every pool accessory imaginable -- from pool lounges, to inflatable floats, to floating coolers -- and Swimways is a leader in the field. The company caters to families with children of all ages, and doesn't forget about the adults.
If you're looking for a comfortable float in which to have a nice drink and watch the kids in style, we suggest the Swimways Spring Float Recliner. For less than $50, you'll get a supportive float that's great for reading, plus has a built-in cup holder. The recliner allows you to elevate your feet above the water or dip them in.
Have a pet? Swimways even has a dog float. Its sturdy design allows it to stand up to even the sharpest claws. Your dog will have a great time with this fun accessory. For babies, the floats come in a variety of fun designs. Choose from a police car, tugboat, or elephant. They're all made of heavy-duty vinyl and are comfortably designed, accommodating children three and younger. Get your little one in the water with these adorable floats. And these come at under $15.
When you order from Toysplash's website, you'll get $2.95 shipping on all orders and free shipping on orders over $50. You might as well stock up on your swim supplies, because they're bound to be durable and fun for many summer seasons to come.