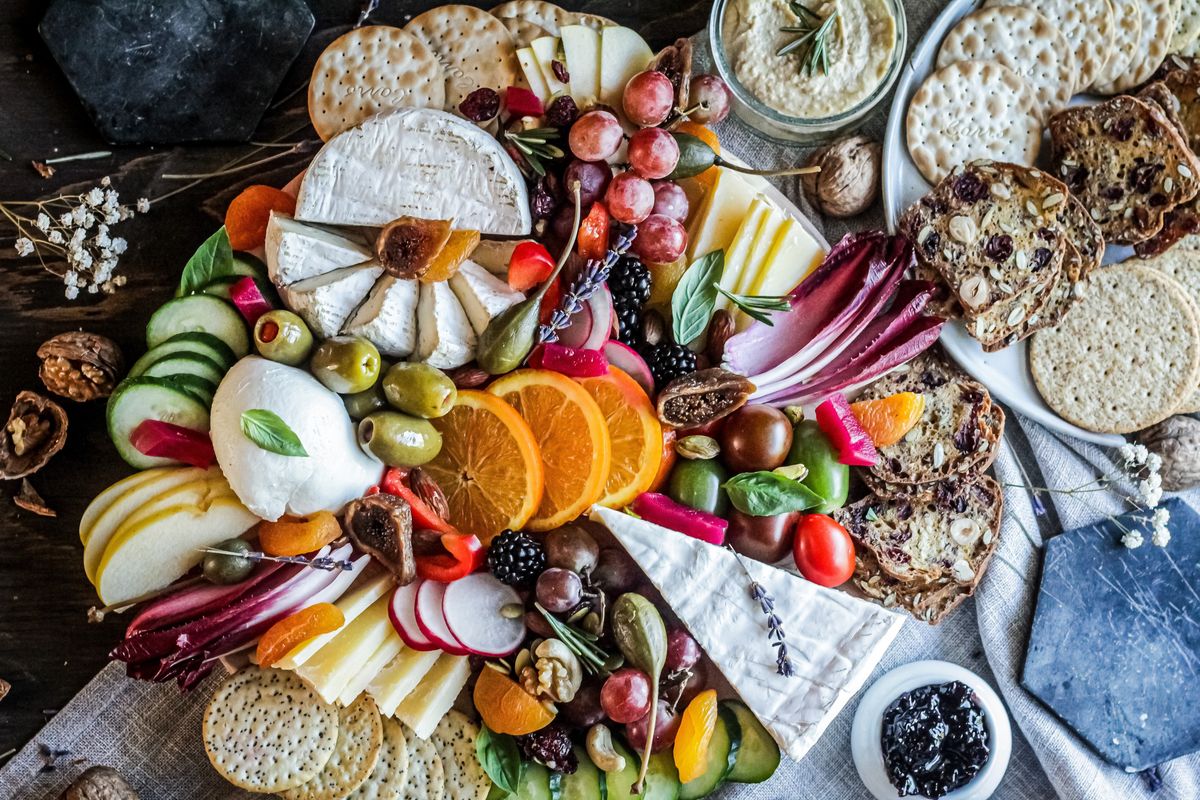 What The Hell Is 'Girl Dinner'?
And what should you be having for it?
The strangest, and most compelling, thing about TikTok, is its capacity not just to reflect trends, but to start them. Your faves on Instagram might spur you to buy the latest trend, but it's not the platform I go to for the avant-garde. Pinterest will scratch the itch, sometimes, but really, to know what's happening on the ground, you have to scroll through TikTok.
---
From trending sounds to viral videos, TikTok transforms niche experiences into worldwide phenomena. This summer we watched the phrase "Attenzione! Pickpocket!" travel from the streets of Italy into all of our homes. We tried our hand at trends like Tomato Girl Summer and Latte Makeup. And we had Girl Dinner. Lots and lots of Girl Dinner.
What is Girl Dinner?
The concept of Girl Dinner is not new. It's the name that makes it novel. Here is where TikTok excels: creating catchy, camp names for mundane activities that makes it easy to romanticize literally everything.
From "goblin mode" to "Rat girl summer," TikTok doesn't just romanticize things that are already aesthetically pleasing, like Hot Girl Walks. It also elevates the things in our lives that we wouldn't necessarily talk about. Like the nights we're too tired to make a meal so we cobble together some snacks and call it dinner. Well now, you can call it Girl Dinner.
All over the internet, people are posting the hastily put-together plates they call Girl Dinner. Some even call it the chaotic charcuterie board.
Let it be known: Girl Dinner is not aspirational. The trend is not advocating for you to skip meals or neglect your health. But sometimes, it's the reality. And for women, who have largely been burdened with the pressure of keeping house and being domestic goddesses for centuries, this trend is actually quite liberating.
Now, instead of feeling feral and ashamed that we're not all cooking gourmet meals every night after working all day, there is a place on the internet where we can laugh about it.
And even, get some Girl Dinner inspo.
@theskimm

Some women find #girldinner to be freeing. Others say – this seems like disordered eating. Here's why it's controversial. #foodtiktok
What should I be having for Girl Dinner?
My personal Girl Dinners usually consist of leftovers and seaweed snacks (which to me, count as a vegetable). Sometimes, when I'm cocooned in a blanket with a candle on and feeling very Bridget Jones, my girl dinner consists of a pint of ice cream. We all need what we need.
The key to Girl Dinner is that it has to be quick, convenient, and chaotic. It's the meal you make when you really want takeout but begrudgingly agree that you have food at home. The food in question? Not quite a meal, but a little more than a snack.
I count a Trader Joe's meal as Girl Dinner, so I keep my fridge stocked with them. I also count any freezer dessert as Girl Dinner. My pantry staples have now been finely honed to what makes a good Girl Dinner. And though Girl Dinner doesn't have to be aesthetically pleasing, bonus points if it is.
So for the nights, you're cobbling together some snacks, here's what's on my Girl Dinner shopping list:
All products featured are independently selected by our editors. Things you buy through our links may earn us a commission.
Emma's Olives
Olives aren't just for your bar cart. Made by influencer and Cool Girl Emma Leger, a jar of Emma's Olives is perfect for Girl Dinner. Add some to a dirty martini and to your chaotic charcuterie board of the night and voila!
Fishwife Tinned Fish
​The hot girl snack of the year is Tinned Fish. The once-shunned, niche snack is in stock at all your favorite artisanal goods stores next to Bella Hadid's Kin Euphorics and natural wine — either of which pairs excellently with this Girl Dinner staple.
McConnell's Fine Ice Creams House Baked Cookies
This one might include an oven, but it's still a no-effort dinnertime snack. Get the comfort food vibe of a freshly baked cookie in your own kitchen. The cookie dough comes straight to your doorstep in flash-frozen pints. All you have to do is heat and eat!
Mochi is one of my favorite sweet treats. It's bite-sized ice cream I can hold! I cannot (and will not) count the number of times I have stood in front of my open freezer eating a full container of these Ube Mochi bites. Very Girl Dinner coded.
A serving of Seaweed Snacks is one serving of vegetables. I repeat this to myself as a mantra as I go through an unreasonable number of Terayaki or Sea Salt packages. Highly addictive, and so so worth it.