As beauty editors, we're intrigued by skincare products that claim to be anti-aging. But in our years of testing and comparisons, we've come to understand that many brands in this category over-promise and under-deliver.
So, we're constantly on the lookout for effective solutions that live up to their claims for our readers. We wanted to identify a science-backed brand that actually can prove the age reversal claim and effectively minimize wrinkles and signs of aging, without having to turn to costly, invasive treatments.
After some research, we landed in one very popular science-backed brand, Skinceuticals, and a new brand innovating in their approach to target aging using longevity science: OneSkin. We compared them to see which came out on top.
Here's what we discovered:
Key Similarities
Both contain patented ingredients
Both develop products for all skin types
Key Differences
OneSkin's core ingredient (their OS-01 peptide) is proprietary and patented | SkinCeuticals patent is for a blend of non-proprietary ingredients (a ratio of lipids)
OneSkin developed their patented ingredient in-house over the course of 5+ years of research and is the only brand in the world to feature it | Skinceuticals contains a patented blend of ingredients that you can find in other skin care products across the market (ceramides, cholesterols, and fatty acids)
OneSkin is far more affordable — a 50ml bottle of OS-01 FACE costs only $99 (with subscription)┃48ml of Triple Lipid Restore 2:4:2 by Skinceuticals costs $150 (with a mere 5% off when you Auto-Replenish)
OneSkin OS-01 peptide targets a key driver of skin aging (cellular senescence, ie, the accumulation of old cells) at the cellular level*┃Skinceuticals' patented blend of lipids doesn't target a central cause of aging, but rather bolsters skin's external barrier
All of OneSkin's products are vegan and cruelty-free┃Skinceuticals products are not vegan
OneSkin is completely fragrance-free | Skinceuticals' products contain fragrance
*Shown in lab studies on in vitro human skin cells (Zonari, et al)
Skinceuticals Overview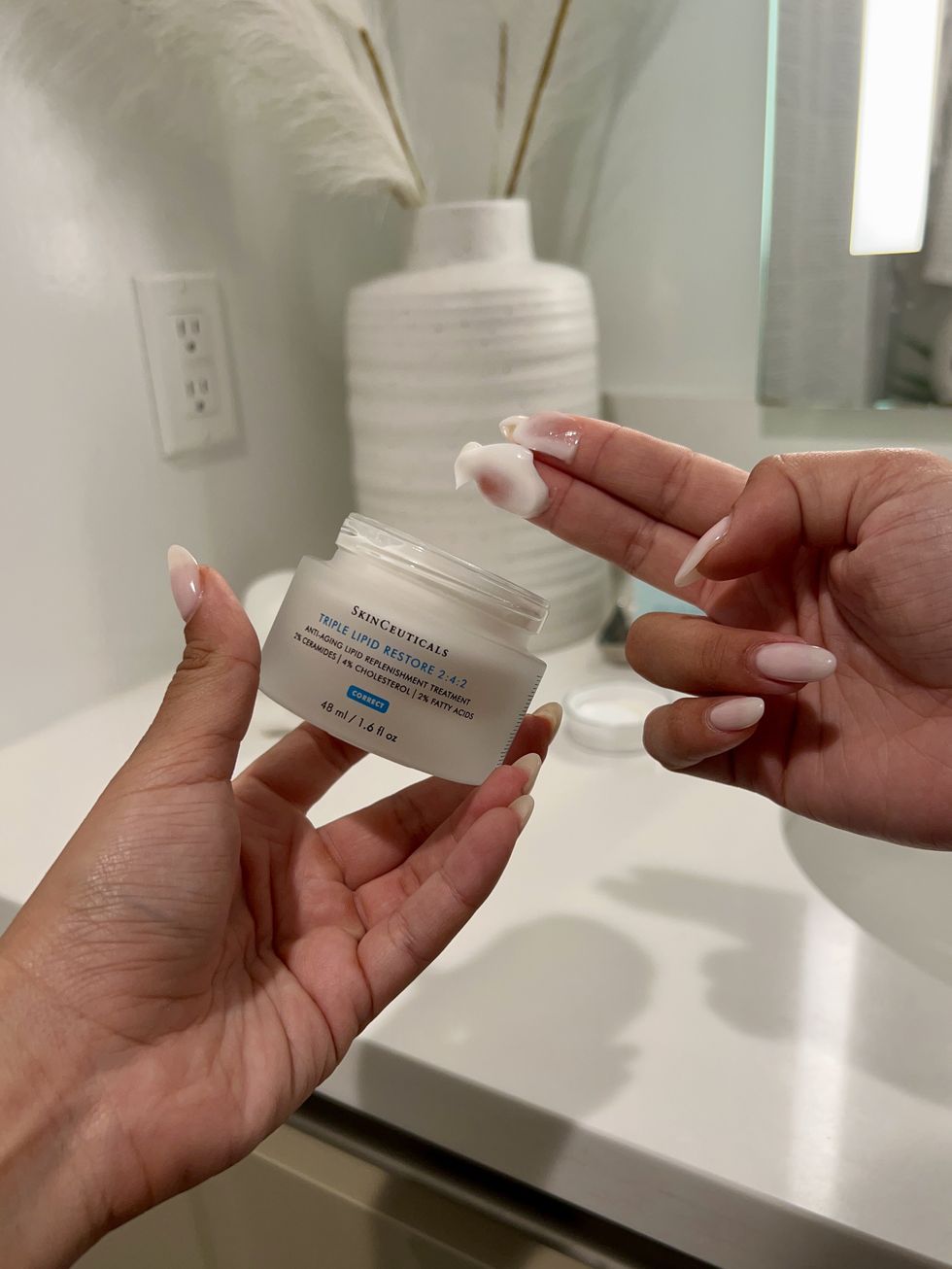 When visiting the Skinceuticals site, we were totally overwhelmed by the many-many potions and creams. It was tough to zone in on anything comparable to OneSkin's simple three-product process that suits everyone's skin.
After scrolling through their site, we finally pinpointed Skinceuticals' Best Sellers Discovery Set. It features C E Ferulic® which has 15% L-Ascorbic Acid serum that delivers "advanced environmental protection". Triple Lipid Restore 2:4:2 is an anti-aging cream containing a patented lipid blend (2% pure ceramides 1 and 3, 4% natural cholesterol, and 2% fatty acids) to refill cellular lipids and nourish dry skin.
While the lipid blend is patented, the lipids themselves are well used across the skin care industry and can be found in other skin care products. The lipids work to help bolster skin's outer layer, but they don't necessarily target the root cause of skin aging at the cellular level, like the OS-01 peptide does. Then there's their Hyaluronic Acid Intensifier — a multi-functional corrective serum that helps amplify skin's hyaluronic acid levels.
We were a bit disappointed with their product descriptions as there's no reference to specific scientific publications to support the claims of their skincare line. This left us with a lack of understanding on how their products actually counteract the aging process, if they actually do, and is in stark contrast to OneSkin's clearly scientifically-validated peptide.
What's most shocking is how costly Skinceuticals is. 48ml of Triple Lipid Restore 2:4:2 by Skinceuticals costs $150 — a whopping 50% more than OneSkin's OS-01 FACE. And the Best Sellers Discovery Set cashes in at an outrageous $442. For a company with no real proprietary ingredients and limited scientific data reference, the price is unjustifiable.
OneSkin Overview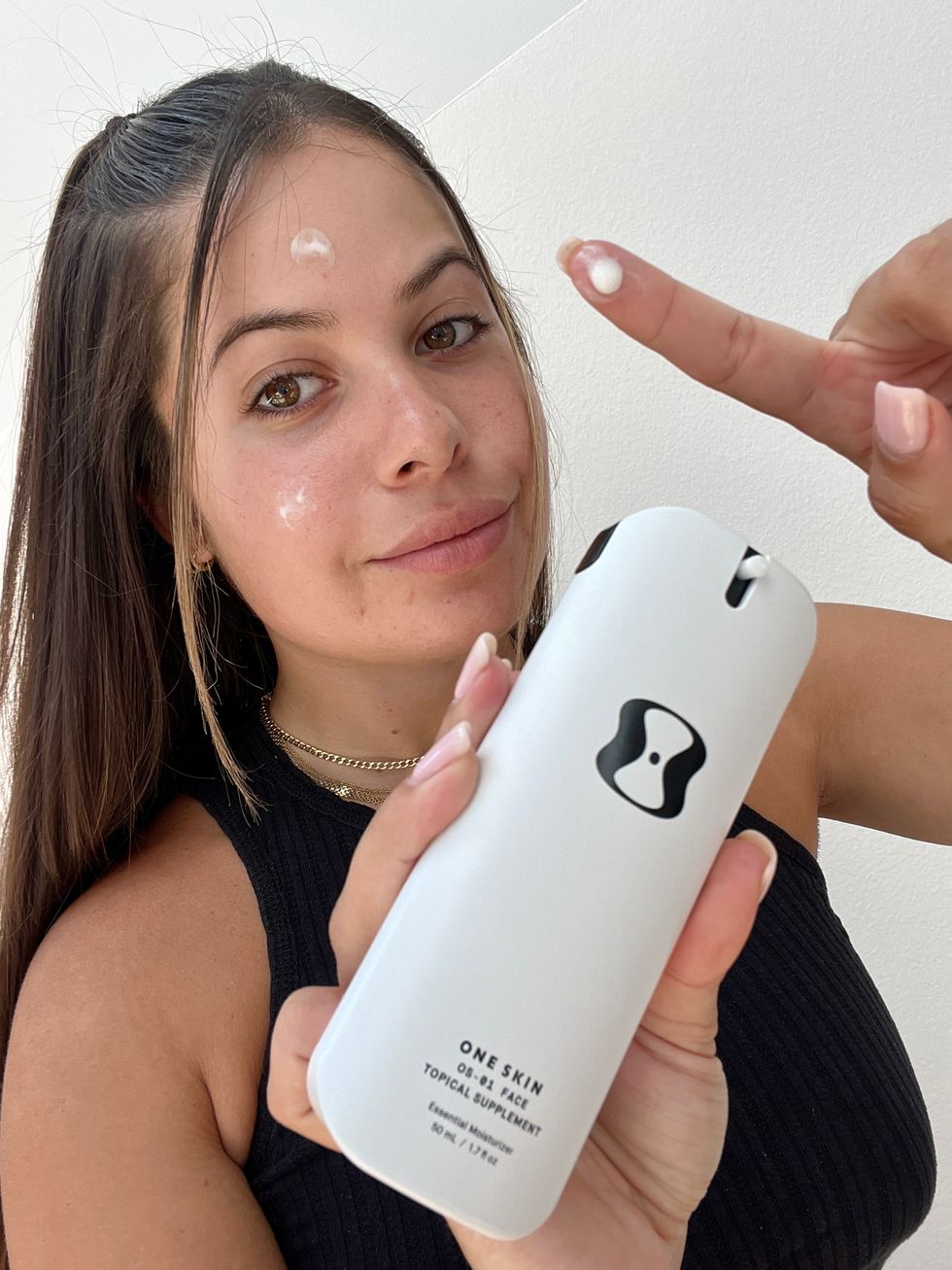 At first glance, we really appreciate OneSkin's total transparency regarding their products and their core ingredient, the OS-01 peptide.
OneSkin's patented peptide — OS-01 — was developed internally by their four founding female PhDs over the course of 5+ years. Their founding team is composed of longevity scientists with expertise in stem biology, skin regeneration, aging, and bioinformatics.
OS-01 serves as the basis for an accessible, revolutionary line that truly works. The peptide is designed to target a central driver of skin aging, the accumulation of damaged, outdated cells, called senescent cells.* Senescent cells virtually spoil the surrounding healthy cells, causing them to age faster, impairing collagen production, and compromising the skin's barrier.
The OS-01 peptide is scientifically validated to reduce the amount of senescent cells in skin by up to 50%*, and promotes key markers associated with collagen and hyaluronic production**, resulting in stronger and healthier skin (Zonari, et al).
*Shown in lab studies on in vitro human skin cells (Zonari, et al)
**Shown in lab studies on ex vivo human skin samples (Zonair, et al)
OS-01 has been extensively studied by OneSkin's team of bonafide scientists. You can access their scientific publications directly on the OneSkin site — a huge green light for us. It's clear that OneSkin isn't yet one more brand touting pseudoscience. This brand stands out for their science-forward approach. So, we had to test out the products to see if the peptide lives up to the hype.
OS-01 FACE — OneSkin's cult favorite — is fragrance-free and has been evaluated by SkinSAFE and deemed to be safe for sensitive skin. It's an impressive non-invasive, gentle solution for every skin type.
OneSkin offers three OS-01 Topical Supplements that promote lasting changes that minimize the signs of aging while supporting skin health. Findings from a 12-week clinical study evaluating OS-01 FACE performed by a third-party Contract Research Organization show that:


100% saw an improvement in skin smoothness and overall appearance*
95.5% of users saw an improvement in skin evenness, radiance, pores and firmness*
90% of users saw an improvement in skin elasticity*
87% of users saw a diminished appearance of fine lines and wrinkles*
Users saw an improvement to their skin barrier by an average of 15%**
*Double-blind expert clinical grader evaluation
**Instrumental Evaluation - Vapometer analysis
For optimal results, OS-01 FACE should be paired with OS-01 EYE — which helps strengthen and visibly firm the delicate skin around the eyes, which has been shown to age faster than the rest of skin on the face.1 And OneSkin's daily cleanser, PREP, helps remove impurities and other blockages that can prevent absorption and provides a clean base for OS-01 FACE and OS-01 EYE to work their magic.
Final Thoughts
To start seeing results with OneSkin, you simply need a bottle of PREP, a bottle of OS-01 EYE, and a bottle of OS-01 FACE. Skinceuticals offers face oils, serums, cleansers, gels, and moisturizers — we had no clue where to begin. OneSkin has truly simplified the skin-longevity process with a revolutionary proprietary ingredient that has more research than any other company we have seen. Plus, their entire line is vegan and cruelty-free, which we can't say for Skinceuticals.
OneSkin tackles the primary culprit of aging, the results are clinically validated and is a gentle, non-irritant long term solution.
It's no wonder that estheticians recommend it! For head-to-toe treatment, there's OS-01 BODY to keep your entire skin youthful and healthy.
Want an affordable and reliable way to embrace healthy aging and improve your skin's longevity? We highly recommend OneSkin.