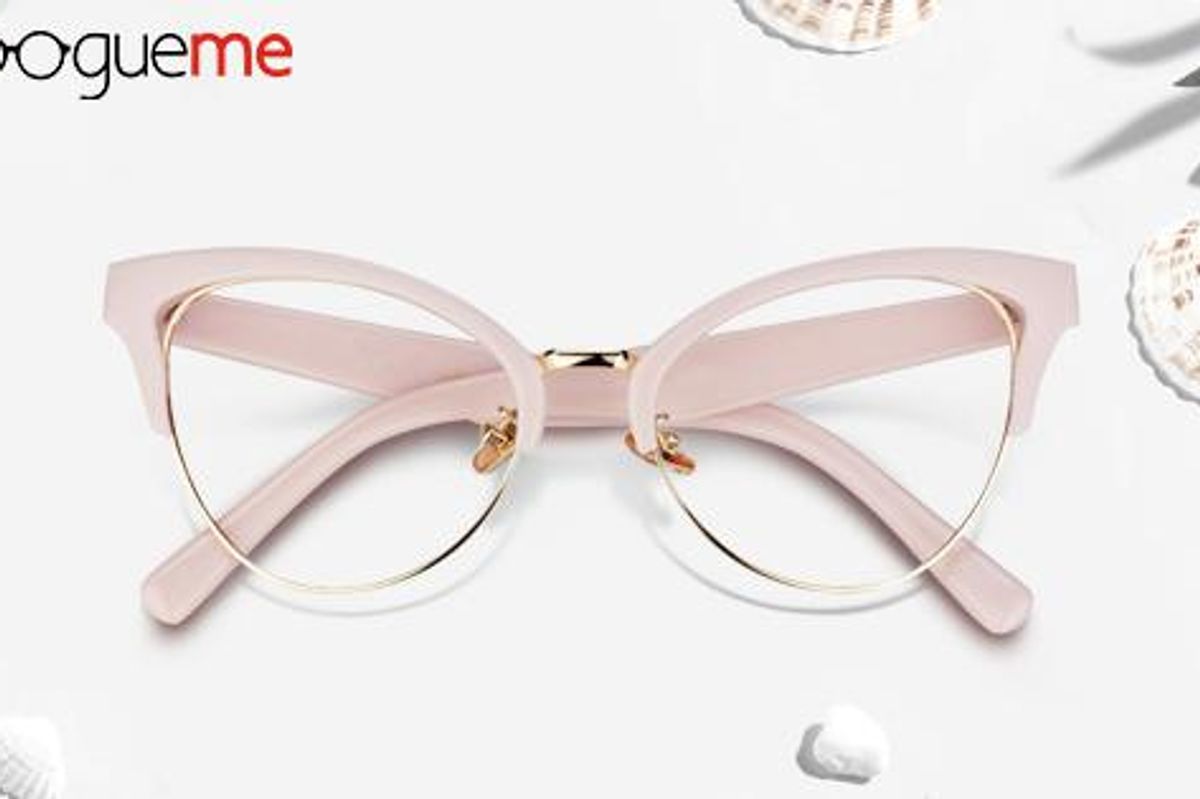 Why Our Editors Have Their Eyes on Vogueme
Celebs Proving Eyeglasses are the Trend of the Season
Remember in the early 2000s when 3D movies first appeared? And, instead of tossing out the disposable frames — after delighting in the novelty spectacle, of course — people popped out the altered lenses and wore the frames as an accessory?
---
Unfortunately, I remember it too well. Confession: I was one of those misguided people who rocked the 3D lenses everywhere I went before the flimsy frames inevitably snapped. It was the end of an era, a chapter that needed desperately to be closed.
Without a doubt, that was one of the most atrocious 2000s trends. There were many contenders — waistcoats, layered tanks, sparkly skirts over jeans … I shiver at the thought — but the plastic theater glasses were just about the cringiest.
However, like everything, fashion trends roll back round again. So glasses are in again. If you're skeptical, don't worry. I was too. But the resurgence of Y2K fashion has dredged up some buried memories of embarrassing outfits I wore as a kid. But luckily, the latest iteration is more tongue and cheek than ever.
This whimsical approach to the Y2K trend truly helped me make peace with that era. Shockingly, I'm even loving some 2000s trends I swore off — low rise jeans, sequined baby tees, chunky shoes, and now . . . glasses as an accessory.
Hear me out: I'm not out here donning the embarrassing plastic frames of yore. Cool new brands are trending with affordable frames that you can fill with prescription lenses — or not. Either way, make a statement with these fashionable frames from Vogueme that will give any outfit a timely touch.
Whether you seek more chic prescription frames, want to sample blue-light glasses, or simply want the latest on-the-mode accessory, Vogueme is the place to shop.
Need inspiration? Take cues from some of your favorite style stars with similar picks from Vogueme. Get the look for less and step out with extra confidence in your celeb-inspired look.
Get the Look: Hailey Bieber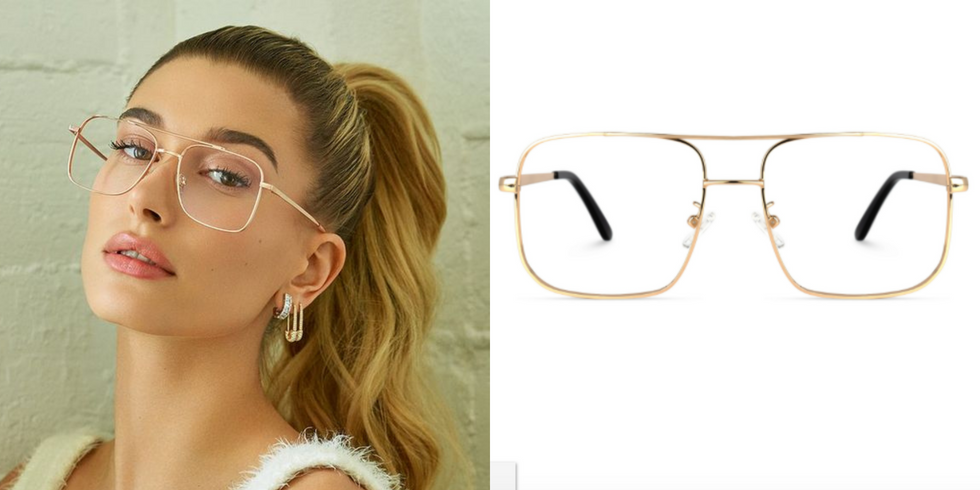 One of the most effortlessly dressed celebrities is Hailey Bieber, the wife of our chaotic-king Justin Bieber. Her style is simple, but always on trend without appearing like she's trying too hard. Her knack for balancing sporty-casual pieces with more dressed-up elements has garnered comparisons to the iconic Princess Diana. Safe to say, she's our version of the people's princess. So, of course, we trust her choice in eyeglasses.
Aviators are an American classic which give you an instantly glamorous look. It's no surprise that Hailey has gravitated to this shape — so run, don't walk, to snag the
Hubery
frames. This sleek take on the aviator shows off a bold square shape beloved by Hailey herself. To reach Hailey's enviable equilibrium of casual and elegant, borrow this shape for only $34.99.
Get the Look: Zooey Deschanel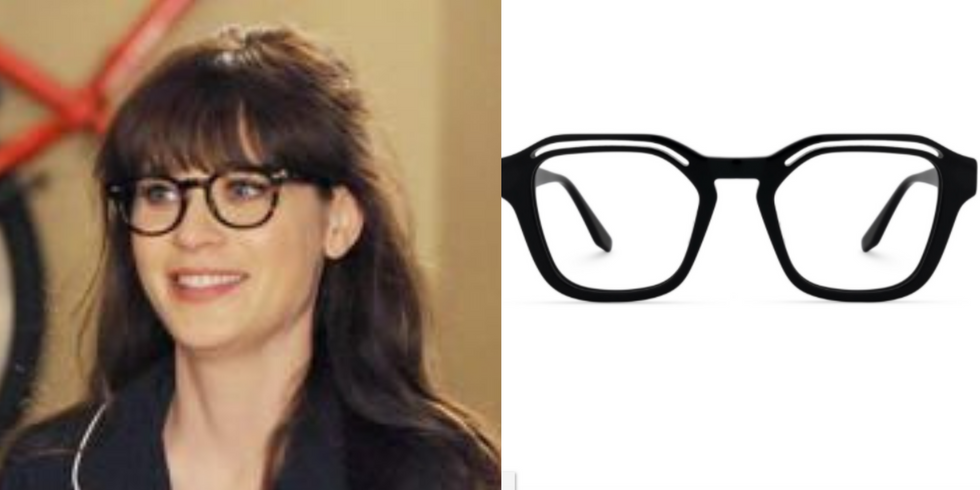 One of the most epochal glasses-wearers of our time is Zooey Deschanel. Hipsters everywhere found themselves inspired by her big, black frames — a more sophisticated take on the disastrous Y2K 3D glasses mistake. For years in the 2000s, you couldn't walk around trendy neighborhoods without bumping into a Zooey Deschanel lookalike.
After her influential roles in feature films like (500) Days of Summer, and the seminal sitcom New Girl, no wonder we all wanted to be her. If you're like me, you still do. One way to get that quirky and cute look is with your own pair of dark, chunky specs. Vogueme's modernized pair draws on the classic shape and is never nerdy. Whenever you wear them, people will whisper: who is she? The answer: a mysterious intellectual and a dead ringer for everyone's favorite, lovable hipster.
Get the Look: Cate Blanchett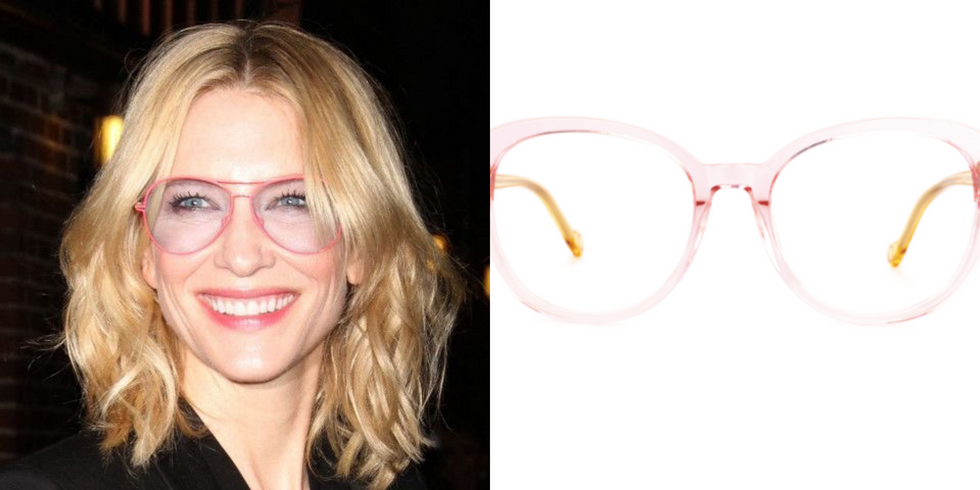 Cate Blanchett is the definition of practiced, polished sophistication. Never has there been a pantsuit that didn't love her back. Nor has there been a pair of glasses that didn't rest on her face like they felt lucky to be there. While we can't have her singular magnetic aura, we can imitate her best eyeglasses looks.
This unique, pink frame adds a scintillating spark to any outfit. Whether you're opting for biz casual like Cate, or going full-out in a whimsical get-up, add this pale pink accessory to your ensemble and you'll get compliments all night long.
Get the Look: Julia Roberts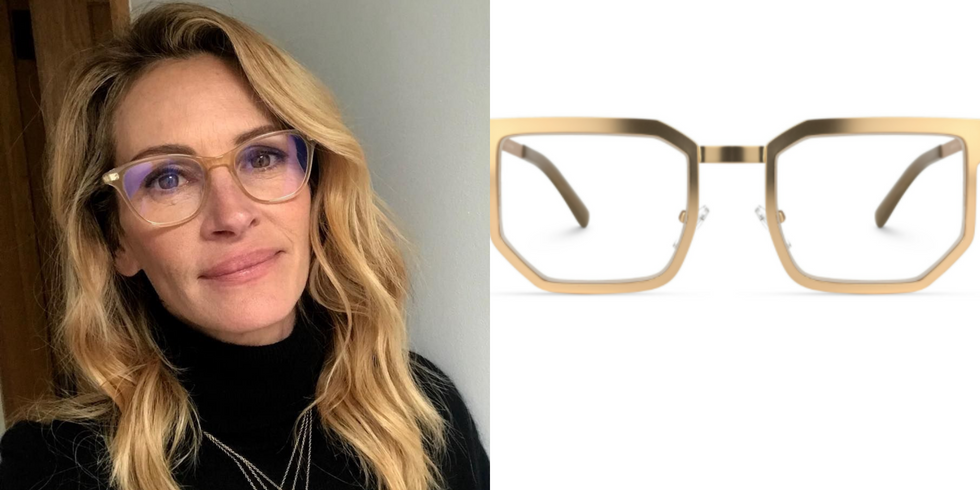 There's no question that Julia Roberts is the nation's sweetheart. Her illustrious acting career, charming demeanor, and disarming big-toothed smile make everyone wish she was their aunt, or big-sister-type confidante. Oh, if only we could get that lucky. Julia's also known for her fresh takes on ubiquitous style choices. Needless to say, all of this stuff, allll of it has blended together to create a distinct aesthetic allll of us aspire to.
From wearing oversized suits on the red carpet to being one of the early pioneers of the fashion blazer, we're still taking notes on her sartorial risks even decades into her career. Glasses often make their way into her 'fits, and these chunky, neutral frames are a dead ringer for one of our favorite Julia Roberts frames. Don your own pair, then flash a grin in the reflection. The resemblance will be uncanny.
It's safe to say, eyeglasses are the trend of the season. Julia Roberts has spoken! And who are we to argue. With hundreds of choices on their site, one of Vogueme's unique frames is bound to call out your name. Explore the selection, don your favorite pair, then step out feeling inspired by fashion once again.