Hair. Is. Everywhere. It's on our bathroom floors, in our showers, clinging to the back of our clothes. And constantly coming out when we pull off our hair ties. While hair loss is natural for everyone, that's not to say we can't give a little pushback…
Vegamour is our favorite hair wellness brand that promotes thicker, fuller-looking hair. They take a holistic approach to combat thinning and breakage while also boosting shiny, healthier-looking locks. Their formulas are extremely effective, plant-based, totally free of hormones or carcinogens, and packed with clinically-tested ingredients.
Their GRO Line ranges from Shampoos and Conditioners, Hair Serums, Foams, and Dry Shampoos, to gummies and even products that boost brows and lashes. Vegamour's products not only work to combat daily breakage, but they even work proactively to maintain current hair strength and prevent thinning altogether.
Vegamour customers are fans for life - there are real results to prove it. 88% of women say Vegamour is the best hair product they've used, and 91% saw increases in hair thickness.
Here's what real women are saying about Vegamour:
"My hair has grown at least 2 inches"
"In the 5 weeks that I've been using this my hair has grown at least 2 inches... my hair is thicker and looks so much healthier!! Can't wait for my next delivery!!" - Lavonda B.
"Thank you so much for inventing this product"
"I was skeptical at first but this line of products are amazing and if you are consistent, you will see results. What a difference it has made to my hair and the random bald spots that I don't have anymore. Thank you so much for inventing this product and it being all vegan is a huge sell for me 🤩" - Sarah B.
"It's been amazing to see actual results"
"I've always had thin hair. And trying this product I've really seen a difference in the growth, thickness, and have had less shedding! It's been amazing to see actual results and so have others. I also use the lash serum and definitely love how long they're getting!!" - Dannie B.
And if a picture is worth a thousand words, check out the before & afters of real women who tried Vegamour that left us speechless: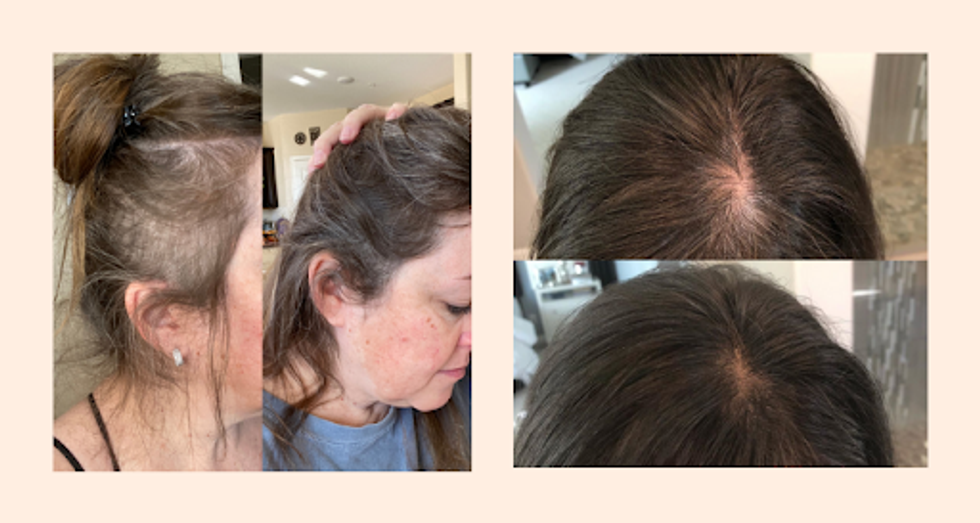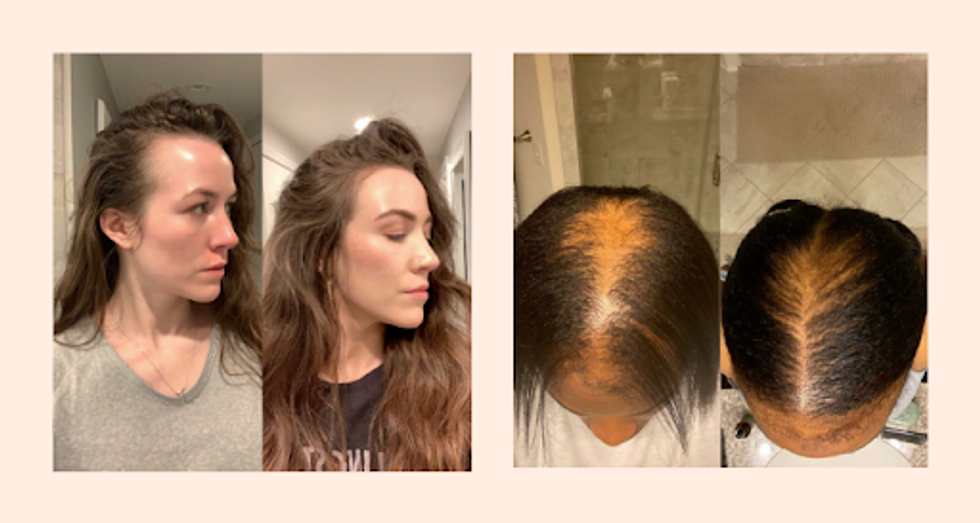 Vegamour's formulas and results are undeniable. Each and every product is packed with ingredients that not only combat thinning and breakage, but also work proactively to maintain the silk and shine we all crave. We recommend starting with Vegamour's GRO Hair Serum that's filled with potent ingredients. It levels up hair on it's own, but is even better paired with other products like their shampoo.
Finally! We can ditch the ineffective oils, masks, and scrubs that are cluttering up our showers and invest in clean, effective products that will promote long-term, healthier, voluptuous hair.