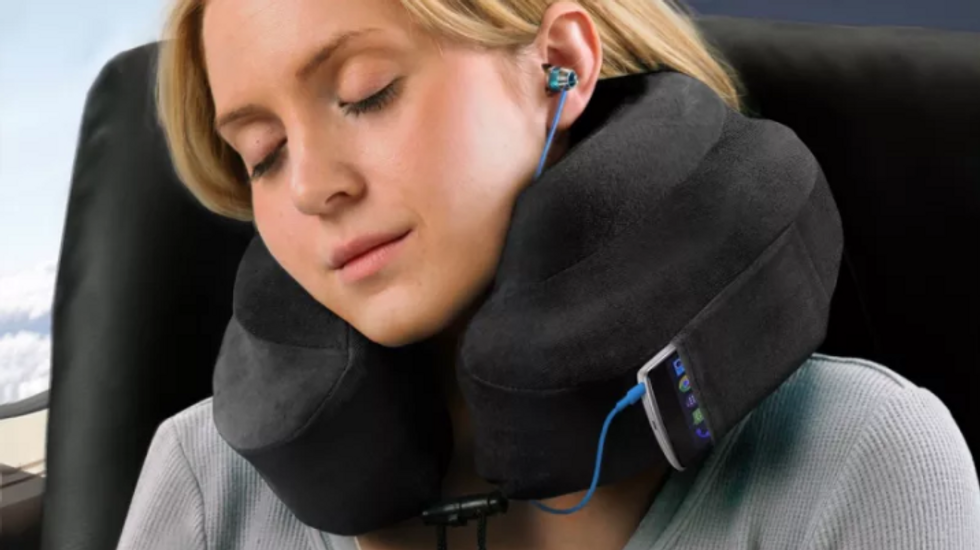 Treat Your Neck to This Revolutionary Travel Pillow
You've been looking forward to your vacation all year and now it's finally here -- congratulations! You're all packed up and ready to go, and the only thing stuck between you and the glorious beaches of Aruba is a 6-hour plane ride. If you're like a lot of travelers, you're not exactly comforted by being crammed into a tiny seat and forced to sit in an unnatural and awkward position for such a long time. That's why it's best to get this neck pillow.

The Cabeau Evolution Memory Foam Travel Neck Pillow is unlike the neck pillows of yore. It's more like a travel sanity kit, which provides everything you need to have a safe and comfortable experience while traveling in any mode of transportation. For $39.99, here's what you get:
So, so soft.
A velour cover works twofold -- it's not only super comfortable, but it's also easily washable so that you can get those travel germs off your head and neck right after you've arrived at your destination. Also, it comes in a water-repellant travel bag.
Quiet time.
Completely zone out with the memory foam earplugs included in the kit. You can also comfortably wear headphones to transport you anywhere you want to be. It even comes with a media pouch to hold all of your electronics so you can listen handsfree.
Get real support.
Other neck pillows may look comfortable, but leave your neck stiffer than it would have been without it. The Evolution Pillow is made out of malleable memory foam that has raised side supports and a flat back, to provide the ultimate support.
Who says you have to wait until you arrive at your destination before you can begin to relax? Start relaxing right on the trip.