Editor's Note: I used to be one of those people screaming, 'if it ain't broke, don't fix it,' even going as far as applying that theory to everything from my ancient laptop to the bed frame I bought when I moved into my first apartment. Fast forward to today, and let's just say I've changed my ways after meeting The Bed, by Thuma.
Sleeping Back Then
Around seven years ago, I moved into my first apartment downtown, and everything seemed perfect. In-unit laundry, a patio with a view, and a decked-out bedroom that was personalized and comfortable. But when I laid down to go to sleep, everything changed.
There were nights it took me hours to fall asleep, and when I finally got there, my bed would creak with every small movement. I tried everything to fix all the noises my bed frame would make, but nothing seemed to help.
I resigned myself to the fact that it was probably time to find a better bed frame, but I had no idea where to even begin. My college friends Chris and Lexi would not stop talking about their favorite purchase for their new home: The Bed, by Thuma. If it was as good as they said it was, it was worth looking into.
I started researching Thuma and their platform bed frame called The Bed—a modern luxury foundation that includes a frame arriving in 3 different colors: Natural, Walnut, or Espresso stains. I got to choose between The Headboard or the PillowBoard. I went with the PillowBorard with its cushioned comfort support.
Once I discovered that The Bed ships for free and would arrive at my door in just a few days, I knew I had to give it a try.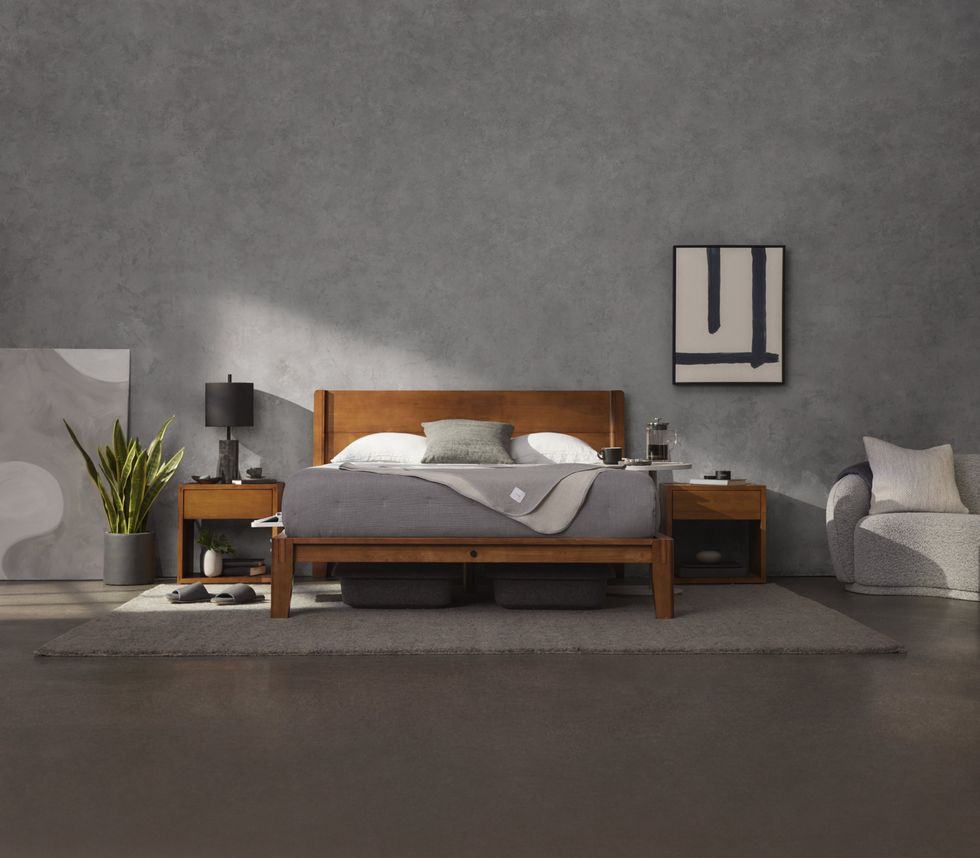 Sleeping Now With The Bed, By Thuma
When The Bed arrived right at my doorstep, I was immediately impressed with the eco-friendly and recyclable packaging. Then I braced myself for the fun part, assembling my new bed frame.
I had never heard about Japanese joinery before, but it's incredibly simple. Each piece of wood is perfectly cut to lock into the other pieces. I was able to assemble The Bed in approximately 5 minutes without any tools or metal hardware. It was really that easy.
Not only did I love the simple assembly, but I also loved the look of The Bed. Thanks to its minimal design and simple silhouette, it will match any room's aesthetic and adapt to any style changes I make to my bedroom. Let's not forget about the generous 9" of under-bed storage that helps keep any bedroom clutter-free.
Thuma uses high-quality wood (no veneers or MDFs) to craft each bedframe and have a lifetime warranty. No wonder so many reviews say it is built to last a lifetime. Plus, The Bed is GREENGUARD Gold certified.
I can't even begin to describe how I feel in the mornings now that I'm getting nights of uninterrupted rest in The Bed. The naturally noise-minimizing Japanese joinery and cushion-coated slats ensure this bed will never get creaky like my old one!
Investing in The Bed was one of the best decisions I've made. I can say without hesitation that this bed frame will provide restful nights for years to come.
Do yourself a favor and get The Bed, By Thuma. It's the best investment you'll make!