This turquoise look familiar? We've been seeing ads for Thrive Causemeticsall over the internet. I swear this one lives in our heads rent-free.
So, is the hype for Thrive Causemetics real? We decided to find out, by starting with the viral Brilliant Eye Brightener™ (it's tied with the award-winning Liquid Lash Extensions Mascara™ for fan favorite).
Here's what we found:
The $24 Brighteneris a "cream-to-powder highlighter that brightens and opens the eyes, providing an instant eye lift or shimmering smokey eye" according to their website. What makes the pigment stand out from other similar products is the super reflective Ring Light Technology™. You get that soft, diffused Hollywood glow without any creasing.
Like all of their products, it's cruelty-free, vegan, paraben-free, sulfate-free, and free from synthetic fragrances.
On paper, this product looks amazing. It's nourishing and hydrating with meadowfoam seed oil, sunflower seed oil, jojoba oil, mango seed oil, and Vitamin E. You're protecting your delicate eye area and supporting your skin with antioxidants and fatty acids, while still providing color and shimmer.
But how would it look? Our editors each picked a color from their 10 choices (some were sold out); Pili (Cool Gold Shimmer), Muna (Mauve Taupe Shimmer), Stella (Champagne Shimmer), Mieko (Soft Pink Shimmer), Aurora (Rose Gold Shimmer), Estrella (White Pearl Shimmer), Gia (Warm Gold Shimmer), Emma (Copper Shimmer), Anise (Warm Bronze Shimmer), and Callie (Greige Taupe Shimmer).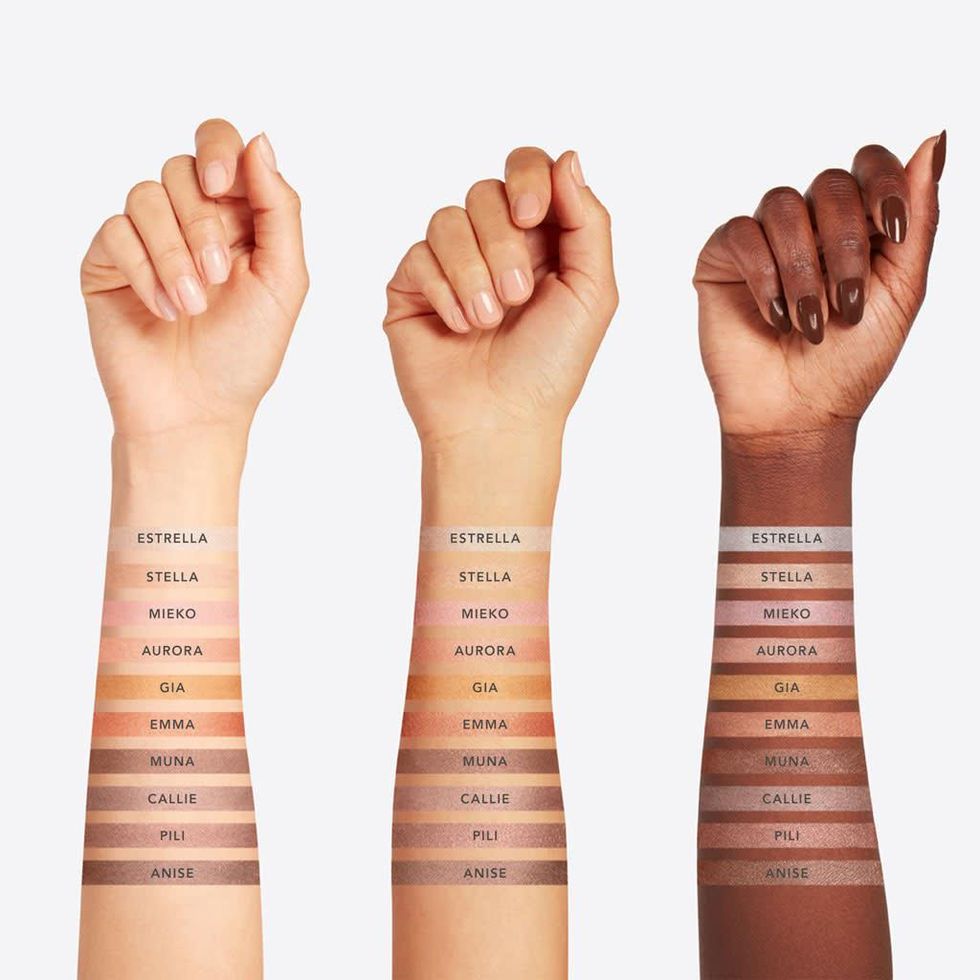 They just released 3 new limited edition summer shades: Tara (Rose Mauve Shimmer), Racquel (Soft Silver Shimmer), and Betty (Sky Blue Shimmer). They're playful colors for these longer days.
In person the colors are gorgeous. They're dimensional, not flat, and look mesmerizing in the tube. The fine-tip makes for an easy liner-style application, but with gentle pressure, you can smoke it out easily with your finger.
Thrive Causemetics
Makeup & Skincare
100% Vegan + Cruelty-Free
Shop Now
The formula's great too! It's an ideal and versatile cream-to-powder. It doesn't feel thick or heavy, and it's shimmery without being glittery. They swear it's buildable and they're correct. One swipe is a subtle hint of color, but if you keep adding more, you can get an intense eye; perfect for taking your look from day to night.
While this could work year-round, we love it for summer. It can pack a punch without feeling heavy, and it's super easy to keep in a purse.
Our only regret is not buying more colors! If you build them together, you can create a gorgeous smokey eye or a really fun two-toned look.
You can buy it once, or use their option to get it shipped every 1, 2, 3, or 4 months to your door.
So, does it live up to the hype? Absolutely. It does exactly what it promises. It's easy-to-use, hydrating, lasts, and looks gorgeous.
We also love Thrive Causemetics for their Bigger Than Beauty™ initiative. The proceeds from each purchase go towards helping women thrive in a multitude of ways.
No downsides; this one definitely lives up to the hype.
JUST FOR YOU: Our friends at Thrive Causemetics are offering FREE shipping on all orders over $35! Follow this link to shop!