'Tis the season for holiday shopping and with that comes so many deals. It's tough to figure out where your money is worth spending, especially when it comes to all those enticing beauty sales.
As a beauty editor, I always keep an eye out for the top brands during this festive season. I'm happy to report that my personal favorite and beauty must-have - Thrive Causemetics - has released a ton of holiday sets!
They've got everything you need to give a little shimmer, a pop of color, or a night full of #selfcare. After looking through each set and weighing quality, range, and value, I knew these were this season's must-get sets.
Not only are the sets packed with essential cosmetics and skincare game-changers, but they all support Thrive Causemetics' commitment to their Bigger Than Beauty™ Giving Partners. For every product purchased, they donate to causes like fighting breast cancer, helping domestic abuse survivors, and supporting female veterans before and after their service.
Who can pass up on a great deal that also does good? I certainly can't, especially when I'm stocking up on and giving the gift of my favorite Thrive Causemetics products.
Here's what they've got to choose from:
Buy 3 Mini Mascaras, Get 1 Free | $39 ($52 Value) 25% OFF
Smart Microdermabrasion Instant Facial + Overnight Sensation Mask | $63 ($82 Value) 25% OFF
Timeless Ambition Complete Skincare Set | $304 ($358 Value) 15% OFF
Defying Gravity Complete Skincare Set | $311 ($366 Value) 15% OFF
Get something for you and a loved one, all in one go. Whether you gift a whole set or divy them up as stocking stuffers, there's no better beauty gift than these sets.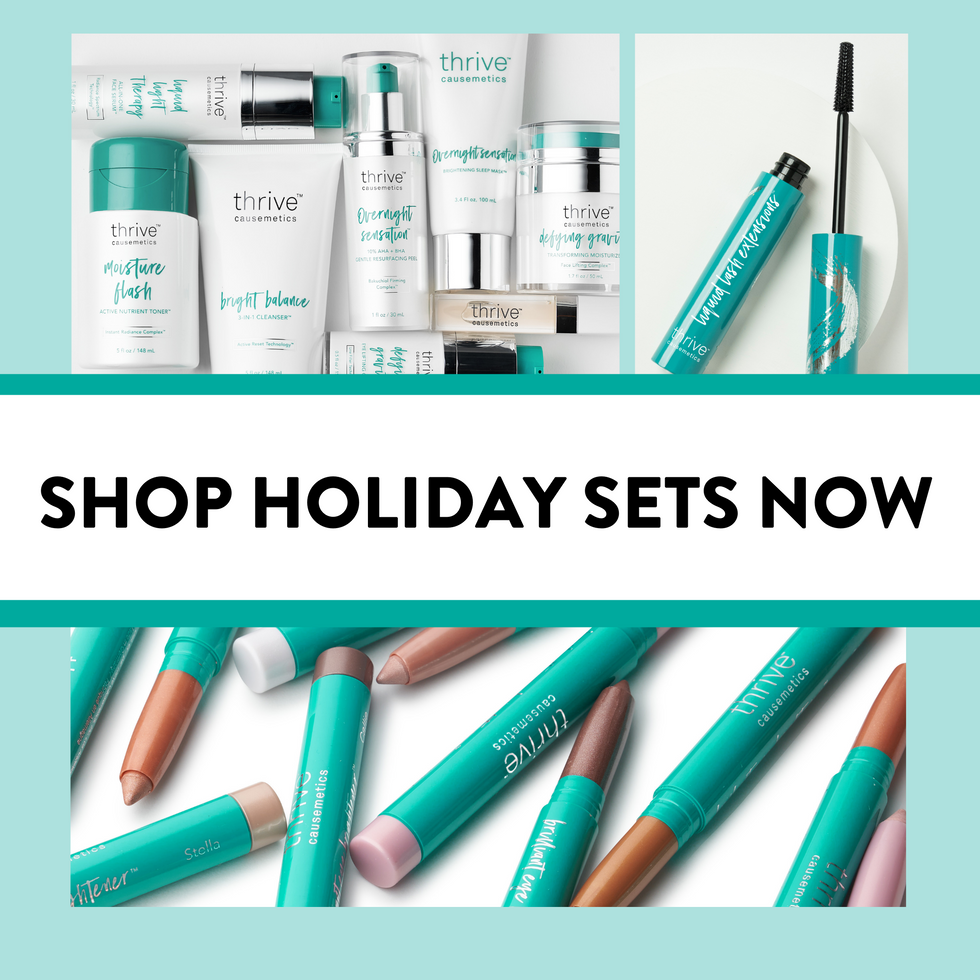 Looking to customize your set? Say no more. Thrive Causemetics grants you the freedom to choose your shades. Select a new color or save on a tried-and-true hue, it's all up to you!
Brow Gel + Mascara + Eyeliner | $61 ($70 Value) 13% OFF
Eye-conic Set: Mascara + Eyeliner | $40 ($46 Value) 13% OFF
Brilliant Eye Brightener + Brow Liner + Mascara | $62 ($71 Value) 13% OFF
Brilliant Eye Brightener + Defying Gravity Eye Cream | $61 ($70 Value) 13% OFF
I've seen hundreds of holiday beauty sets, and none hit the mark quite like Thrive Causemetics. They're 100% vegan, cruelty-free, and use tons of natural, skin-nourishing ingredients.
No matter what kind of makeup look you're going for - from fresh and glowy to sultry and dramatic - they've got you covered. Shop Thrive Causemetics holiday sets now, and get in on the best deals of the season while you still can!