If what you snack on during the holidays says a lot about you, then what products you're putting on your skin says the most about you.
No matter what you have lined up on your holiday roster this season, there's a holiday set from Thrive Causemetics that will suit your spirit.
We've been using this vegan, cruelty-free brand for a while now and consider ourselves the self-proclaimed experts in their products. We're putting that expertise to good use this season to help you find your perfect holiday set from Thrive Causemetics. Which kind of holiday party goer are you?
You're always on the go, but better yet - you're always on time.
Never late to the party, you think punctuality says a lot about your presence, and those perfectly shaped brows say even more.
You like to keep it clean, simple, and organized, but when the rubber hits the road, you have no problem doing a quick winged-eyeliner job in the car and an extra sweep of mascara before you make your entrance.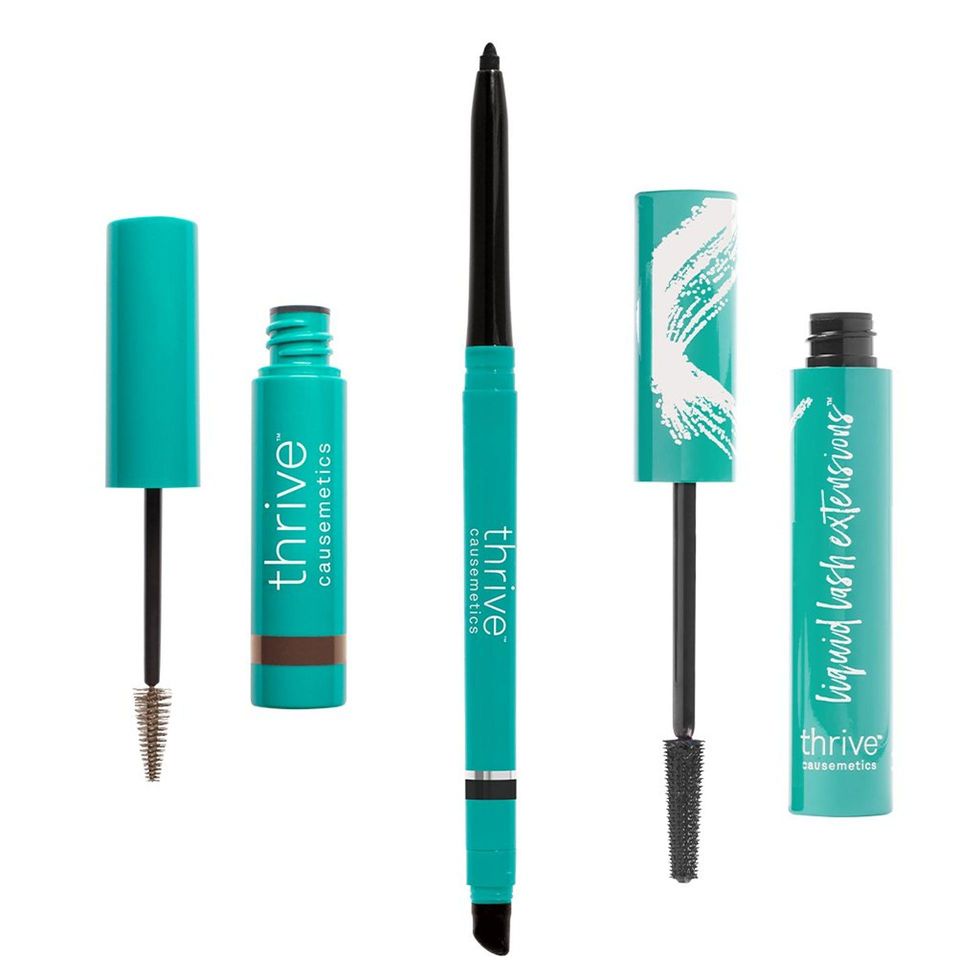 Thrive Causemetics' Brow Gel + Mascara + Eyeliner set has everything you need to stash in your bag. Just like you, this kit is small but mighty and packs the perfect amount of glam.
The Liquid Lash Extensions Mascara™ has over one million 5-star reviews thanks to its Flake Free Tubing Technology™ and Orchid Stem Cell Complex™ that encourages longer, stronger, and healthier-looking lashes. Their Flake Free Tubing Technology™ is perfect for a night out because when it's time to clean your face at night, it's so easy to do–it magically comes off with just a bit of water, no fuss or mess!
The Infinity Waterproof Eyeliner™ is smudge-proof so you can keep it simple and never stress about reapplying after it sets in just 30 seconds. To get those nice dark brows, the Instant Brow Fix Semi-Permanent Eyebrow Gel™ is key with its waterproof, smudge-proof, and 24+ hour staying-power. This kit can take you anywhere your night goes with the added bonus of skin-nourishing ingredients and powerful tech. Over time, their Eyebrow Gel tints every hair!
Customize your kit for your perfect color in the brow gel, mascara, and eyeliner.
You know the eyes are the window to the soul so you do everything you can to keep them clear and wrinkle-free.
You know all about how you take care of yourself and your body.
While your friends may be indecisive about where to go for dinner, you're constantly three steps ahead and already booked at the newest restaurant in town. Your 401(k) is likely stacked and you have a clear image of what the next three years hold - and you know those years don't include wrinkles.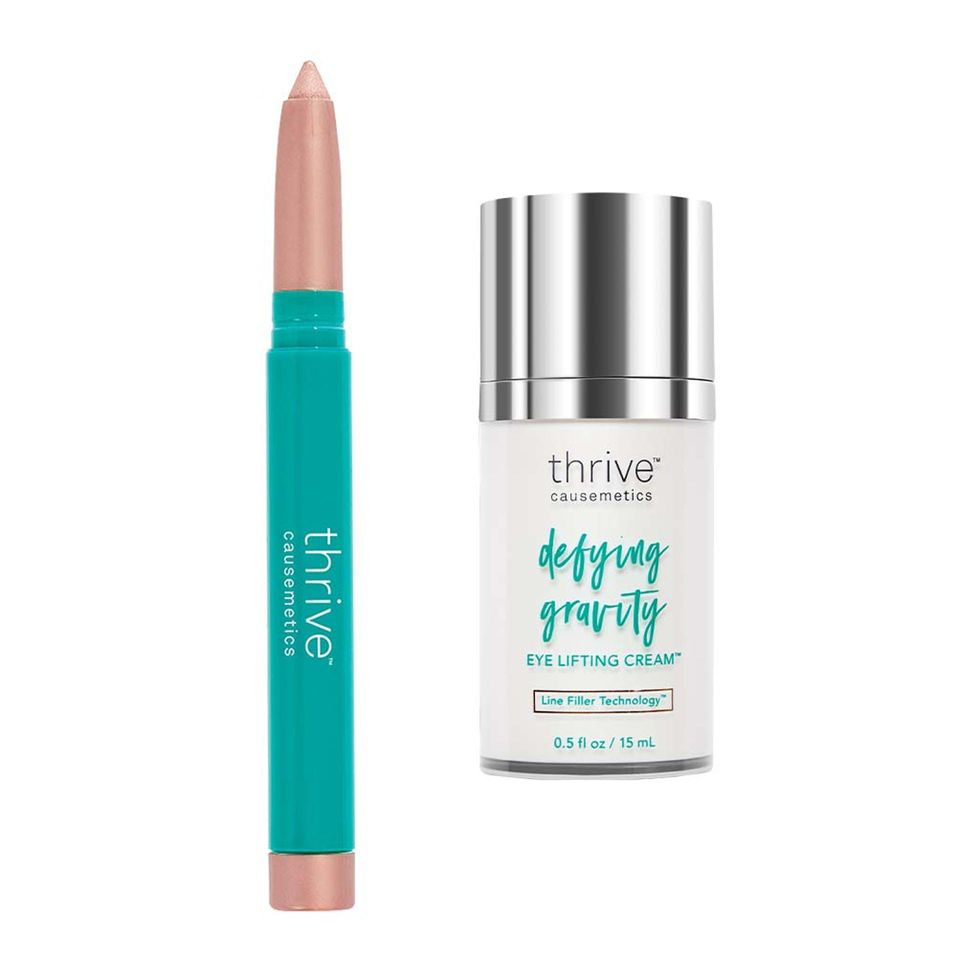 The Brilliant Eye Brightener™ + Defying Gravity Eye Cream™ set lets you plan for your future and keep your skin as youthful and vibrant as possible. Both the eye cream and brightener are dermatologist tested and approved, and the brightener is even ophthalmologist-tested to make sure you're taking the best care of your eyes.
The Defying Gravity Eye Lifting Cream™ is the holy grail of eye creams, lifting, tightening, and brightening the eyes. Formulated with plant-derivatives, Line Filler Technology™ and Bio Power Retinol™–they work to visibly reduce signs of aging immediately and over time.
While you're busy investing in the future, you can also get that immediate fix with the Brilliant Eye Brightener™ that provides an instant lift and universally flattering glow thanks to Ring Light Technology™.
You have a knack for finding diamonds in the rough
You know things are seldom what they seem. Parties typically consist of you talking to one person and leaving with a new lifelong connection. You go deep to get the answers from your friends, family, and colleagues.
Some might call you pushy, but it's only because you know where the truth lies and you have no problem doing a little bit of digging for it.You have strong bonds with those who let you in, and they look at you as an honest partner in their lives. From this, you have unbreakable trust and lifelong relationships.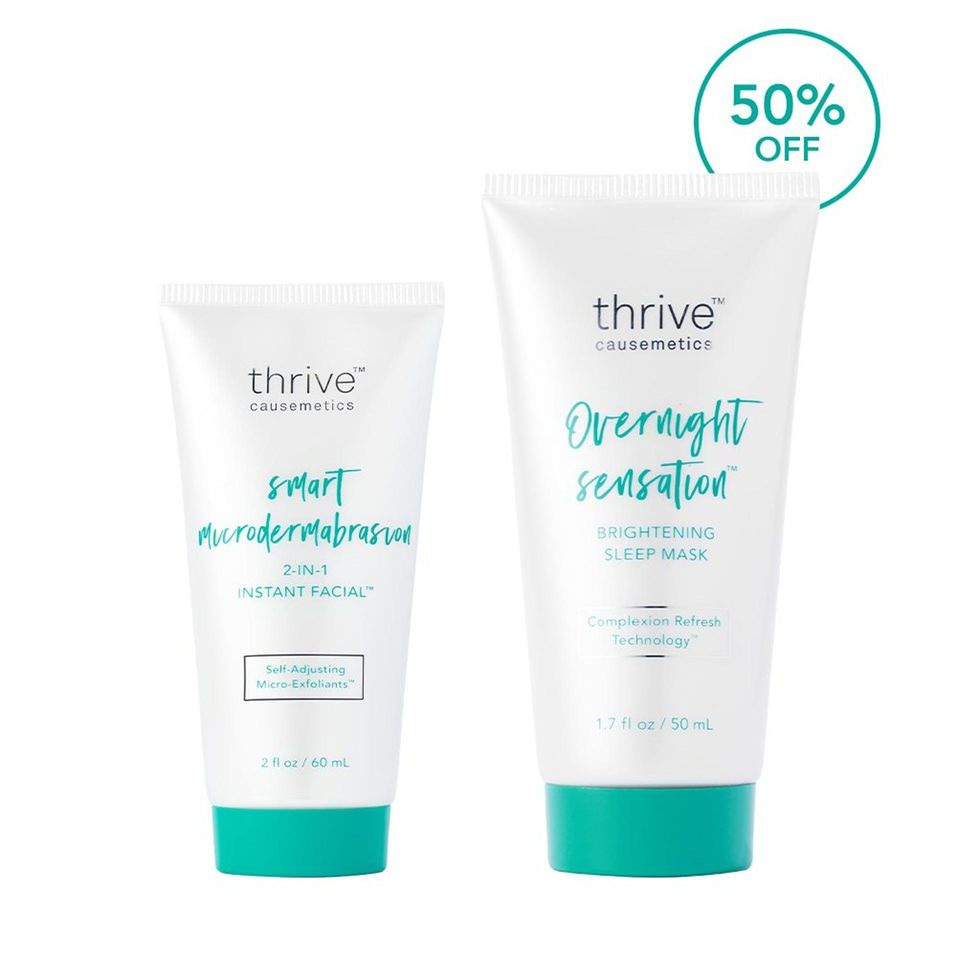 Like you, the Smart Microdermabrasion Instant Facial™ goes to work, deep under the skin revealing a next-level glow. The Self-Adjusting Micro-Exfoliants™ polishes away roughness and uneven textures, while the Instant Radiance Complex™ brightens and exfoliates your skin simultaneously.
It's in the name. Inspired by the spa, The Overnight Sensation Brightening Sleep Mask™ lets you wake up to smoother, brighter, and more hydrated skin. Featuring Thrive Causemetics' unique Complexion Refresh Technology™ that transforms dehydrated and dull skin from the inside out.
No matter what set you match, you're sure to glow this holiday season. Each kit and every product delivers on Thrive Causemetics' mission, so you can celebrate a season of gratitude and joy with the safest, eco-conscious brand that's bigger than beauty.