Chef-curated, nutritious meals that are ready-to-eat and delivered to your door. It sounds like a dream if you want a convenient way to improve your health, but some companies have made it a reality.
Thistle and Freshly both offer meal delivery services for easy, no-prep eating. Our editors tried both to figure out which one you should commit to for value, convenience and quality.
Here's what we found.
KEY SIMILARITIES
Both Thistle and Freshly meals are curated by chefs
Both deliver directly to your doorstep
Both are subscriptions you can skip, pause, or cancel at any time
Both require zero to minimal prep
KEY DIFFERENCES
Thistle is dairy-free and gluten-free. Freshly is not.
Thistle focuses on plant-forward meals with the option to add on meat or seafood. Freshly does not.
Thistle draws inspiration from global cuisine, while Freshly has an every-day American preference.
Thistle offers add-ons like extra protein, juices, soups and sides.
Thistle Overview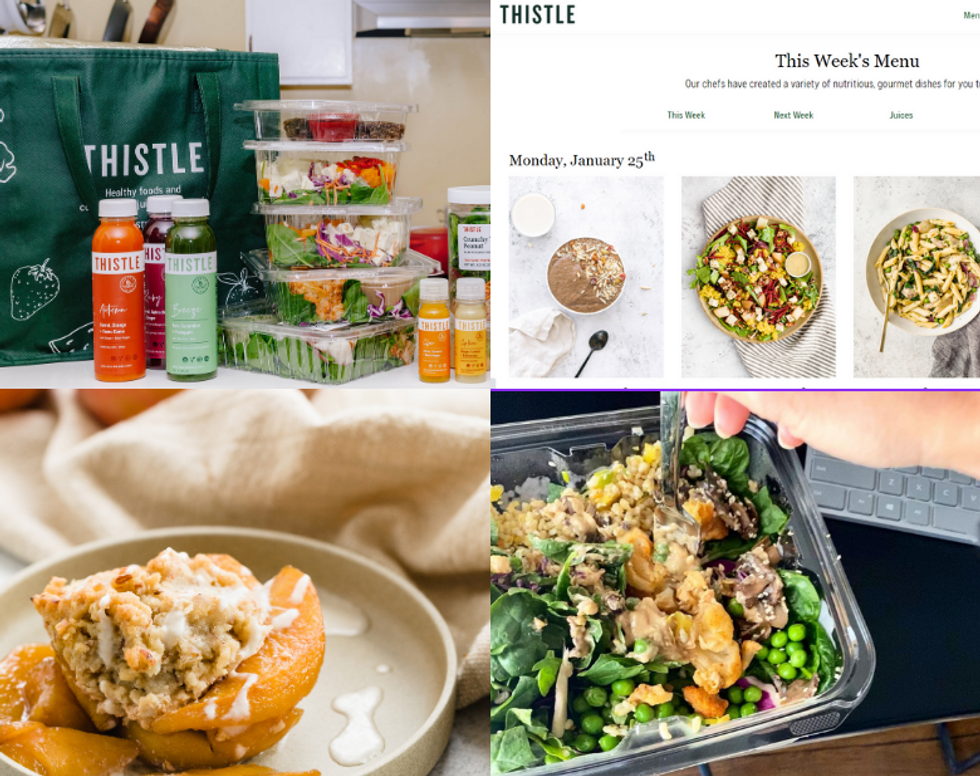 Thistle's breakfast, lunch, and dinner meal options with snacks, wellness shots, and juices are offered on a subscription basis for 3 to 6 days per week. You can customize your whole plan, and easily skip, pause, or cancel at any time.
Firstly, everything was delicious. The seeds and vegetables were crunchy, the sauces and spices were packed with flavor, and the sweeter meals were hearty and filling.
Here's a sample day; Sprouted Brown Rice Pudding with Cardamom, vanilla cashew cream, dried blueberries, and pistachios; Toasted Seed & Dried Berry Salad with cucumbers and poppy seed dressing; Red Thai Curry, and a Banoffee Mousse Cup with dates.
If you're not vegan or require more protein, you can also get add-ons like garlic chicken in your curry. They strive for sustainably-sourced ingredients, and plant-based, dairy-free, gluten-free, and organic when possible.
The Thistle chefs come up with a new globally inspired menu every week, ensuring each meal is perfectly balanced and nutrient-packed with zero refined white sugars, artificial preservatives, additives or dyes.
Once the meals are delivered you can store them in your fridge, eat them cold, or heat them up, whichever you're in the mood for that day. Starting at only $42 per week, you can fuel your body and enjoy the benefits of a convenient, healthy diet.

Freshly Overview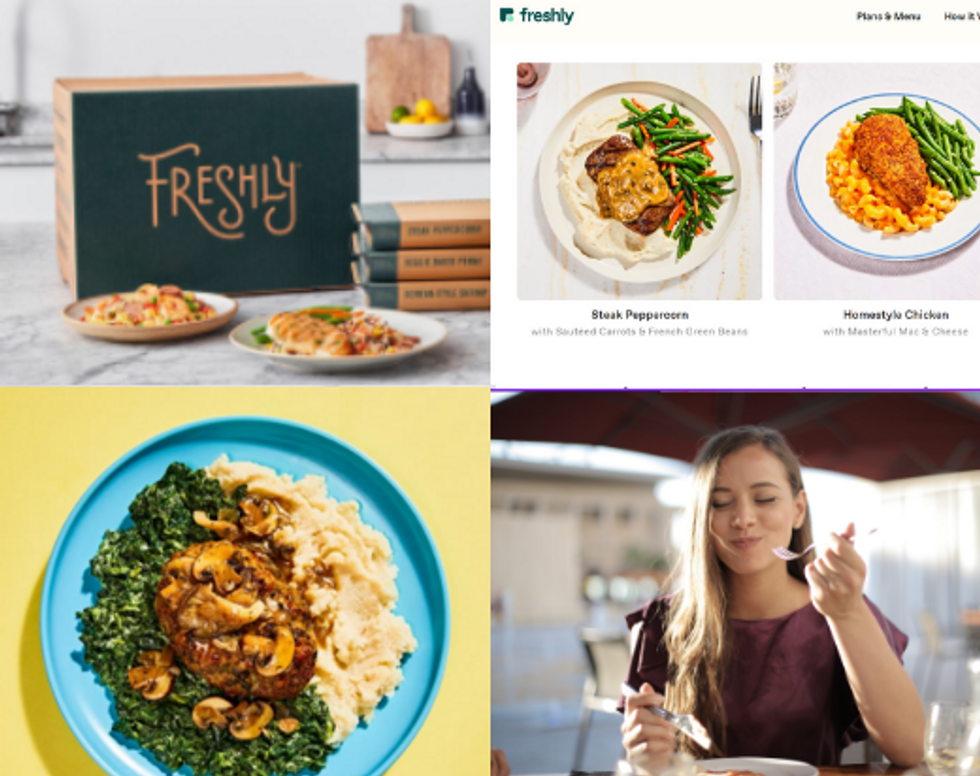 Freshly offers 4-12 meals per week.
Freshly meals arrive frozen, and are ready after about 3 minutes in the microwave, depending on the dish. You'll find Homestyle Chicken with mac'n'cheese and green beans, and Three-Bean Ancho Turkey Chili Bowl with Cheddar Cheese.
Once we really got into the menu, we were disappointed. They rely heavily on poultry and cheese for protein, but offer very little plant-powered protein. Nothing on their menu would feel out of place at Panera.
That said, everything was flavorful and not too salty. However, they do recommend adding avocado, sour cream, red pepper, or other additions to make the food your own. If we're getting food delivered...we don't want to do the extra work. If we did, we'd be cooking in the first place.
Honestly, we found the name Freshly a bit of a misnomer. There's no focus on fresh foods and produce, and we didn't find the recipes to be all that new either.
Final Notes:
After doing our research, we found Thistle's food to be tastier, healthier and more diverse. Freshly's meals were tasty, but felt more like cafeteria food than Thistle, which felt like an upscale cafe.
Thistle also has a wider variety of superfood ingredients; some of Freshly's meals were so simple, we could've made them ourselves, while Thistle's were a little more curated. Thistle strives to ensure nutritional consistency and all their meals conform to the same nutritional value that our bodies require to be fueled all day long!
We're really happy with this new expansion of the food market. It's now easier than ever to get healthy meals delivered to your home, and give you more time back than you thought possible.
Want to give Thistle a try? Our friends at Thistle are extending a limited time offer to our readers: Follow this link to save $100 off your first four weeks of Thistle Meal Delivery!