Anyone else feel like they keep getting busier and busier, no matter what time of year it is?
We're right there with you.
Just because we don't have the time to plan, prep, or cook every single day doesn't mean we have to settle for low-quality, unhealthy take-out and tasteless frozen meals.
Of course, over the last year or so we noticed a growing number of ready-to-eat meal services that claim to deliver convenient, plant-forward, healthy meals right to our doors.
But which one offers top quality, variety, and price?
After some online searching, two brands kept popping up – Thistle and Daily Harvest. So we put these popular meal delivery services head-to-head.
Here's why Thistle came out as our clear choice for the winner:
Key Similarities
Both offer gluten-free and dairy-free meals along with healthy smoothies, juices, snacks, and sides
Both let you choose your meals each week based on your preferences
Both deliver chef-curated meals straight to your door
Both are subscription-based
Both subscriptions allow you to pause, skip or opt-out at any time
Key Differences
Thistle's fresh meals have plant-forward ingredients | Daily Harvest delivers frozen meals
Thistle requires minimal to zero prep | Daily Harvest requires prep with the addition of milk/water, soaking, blending, or heating
Thistle offers plant-based, vegan plans with the option to add on healthy meat proteins | Daily Harvest is completely plant-based and vegan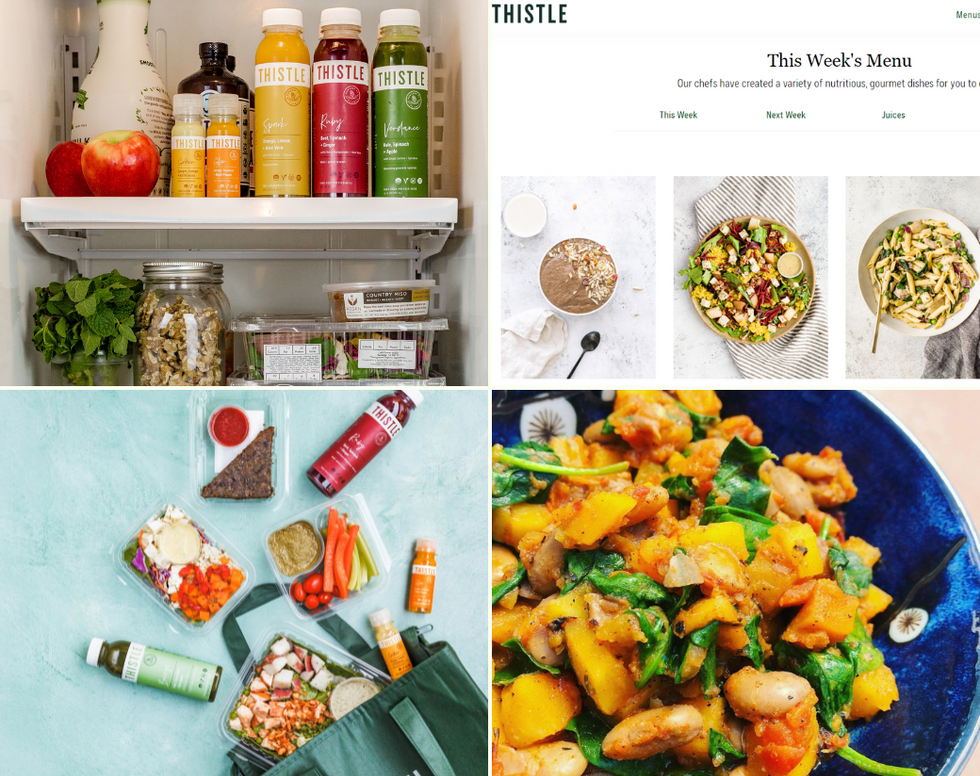 ​Thistle delivers delicious, crave-able, and sustainably sourced fresh meals to your door that require zero prep – from breakfast, lunch, and dinner to snacks, wellness shots, and cold-pressed juices. Known as one of the top plant-forward meal delivery services on the West Coast, they recently expanded to the East Coast.
Their globally-inspired menu includes options like the mouthwatering Dishoom Biryani, Crisp Japanese Yuzu Salad, and Green Pesto Bowl. You can also choose meals with meat, such as chicken, turkey, pork, or shrimp.
Each nutrient-packed meal is perfectly balanced and has zero refined white sugars, artificial preservatives, artificial additives, and artificial dyes. But it gets better, their 6-day-a-week, breakfast, lunch, and dinner plan costs $207 – which works out to only $11.50 per meal and makes eating healthy incredibly easy.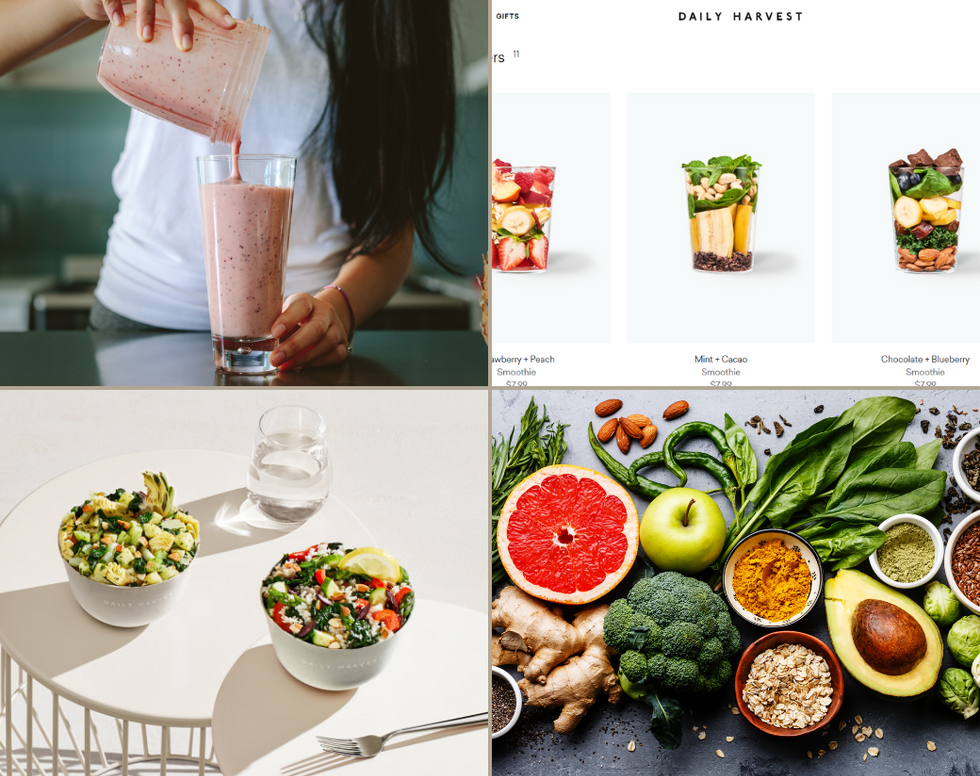 Daily Harvest offers harvest bowls, flatbreads, soups, frozen fruit that you blend into smoothies, and other snacks. All their meals are vegan and arrive frozen – they need to be stored in a freezer until time of consumption.
Note; both a blender and microwave are required to prepare their meals (and sold separately, of course). Each meal comes pre-portioned with directions such as soaking the meal in milk overnight or heating it with water. So there's sadly some prep to consider.
Depending on the number of cups you order each week the weekly cost can vary; 9 cups for $69.75 a week, 12 cups for $89.88 a week, and 24 cups for $143.79 a week.
Overall Verdict
While both services offer delicious options, Thistle is our clear winner.
We were perfectly satisfied with the Thistle meals and snacks we've tried. And if we're honest, the Daily Harvest portion sizes are smaller than expected, and not as filling.
Thistle also wins when it comes to nutritional value. Their ingredients aren't just colorful and delicious, but pack a lot when it comes to nutrients and vitamins. And most importantly, their meals are delivered fresh, not frozen.
No ready-to-eat meal delivery service can trump Thistle's minimal prep, premium quality, and nutritional value.
With Thistle, it has never been easier to enjoy a healthy diet that your body and taste buds will love, no matter how busy you are.