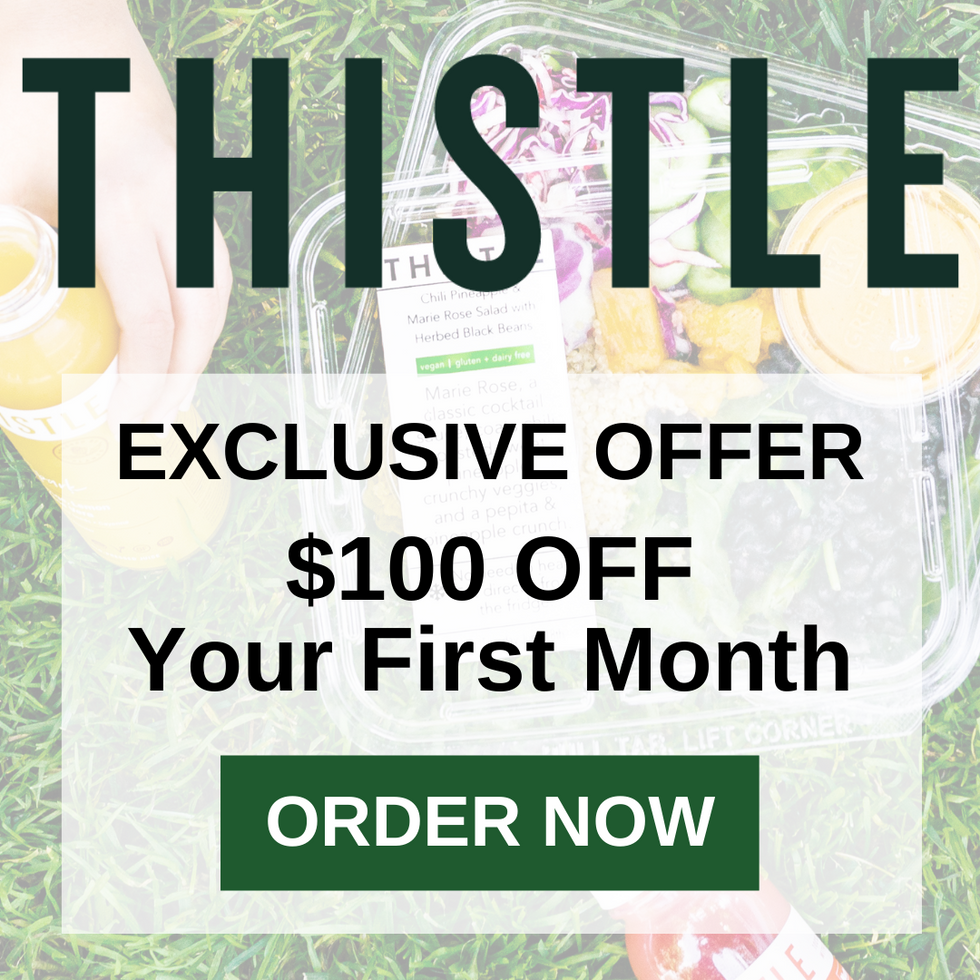 Healthy eating is key when it comes to an overall healthier lifestyle but it can be hard to figure out how to do it. Often we go for the quickest option, but it's not always the best meal nutrition-wise. Just like many others out there, we've been struggling to strike the balance to find healthy meals that don't take a ton of time.
Our editors decided to do some digging and figure out the best way to get all the nutrients we need without all the hassle and we found it: meet Thistle. This ready-to-eat plant-based meal delivery service is a game-changer making easy, healthy meals totally attainable.
Thinking about getting Thistle? Here are all your questions about this healthy meal delivery service answered:
What kind of meals do they have?
Thistle has every meal to get you through your day: breakfast, lunch, dinner, and snacks (including sweet treats). They also have juices and sides including soups and salads. With Thistle, everything is plant-based and globally-inspired so they're not just healthy but delicious too.
You can enjoy meals like Korean Veggie & Rice Noodles, Grilled Corn and Poblano Chile Salad, and Voudavan Curry. All the meals are vegan, but you can add on meat proteins like Lemon Garlic Chicken, Togarashi Ground Pork, and Herb Ground Turkey.
How do their plans work?
This meal delivery service has tons of plans for vegans and meat-eaters alike. They've got options ranging from lunch or dinner 3 days a week to all of your daily meals (breakfast, lunch, and dinner) six days a week.
While it is a subscription, don't worry about being boxed in by your plan. Thistle lets you pause, change, or cancel your plan at any time so it works for your lifestyle.
What is prep like?
There's zero prep involved, seriously. Thistledelivers on ready-to-eat making mealtime easy. All the meals can be eaten cold, just pop them in the fridge and pull them out when you're ready. However, they're just as tasty heated up whether on the stovetop or in the microwave.
Thistle
Ready-To-Eat Meals Delivered
Highest Quality Ingredients & Superfoods
Sign Up Now
Are they nutritionally balanced?
Yes, Thistle's meals are designed by nutritionists and crafted by chefs to give you what your body needs, in the most delicious way possible. Their site lets you read all the nutritional information for each meal and the full ingredients.
Rest assured they're putting your health first, making all their meals gluten-free, dairy-free, and without any added artificial sweeteners, preservatives, additives, or dyes. Plus, their menu is packed with over 40 superfoods and each meal contains on average 5.8 unique fruits and vegetables.
What are the ingredients like?
With Thistle, you're only getting the highest quality ingredients. They use locally sourced produce, and whole, organic foods when possible.
How much does it cost?
Meals start at just $11.50 - less expensive than most takeout and healthier than your typical quick fixes. They've got tons of plans so you can find the right fit for your diet and your budget.
What are real customers saying?
"I have been using Thistle food services for a month now and absolutely love it! I really like the convenience of it, the options to choose what you want, and the fact that the food is filled with flavor. I go for the Vegan/Gluten-Free items which in the past I've had trouble finding a service that offers options for all. So worth trying! I highly recommend it!" - Jennifer
"LOVE this food. I've tried all of the different meal delivery services and this one is super tasty, has a diverse set of options so I don't get bored, and is extremely healthy." - Sheel
"I work 40-60 hrs a week and cooking was the last of my priorities. Many nights, my meal choices are out of convenience. I just hate cooking or simply don't have the time. Thistle has added simplicity to my very busy life. The food is not only nutritious but delicious and easy too." - Misty
Before you go and order takeout for the third time this week, check out Thistle. It's convenient, affordable, and the healthiest meal delivery service out there with something for everyone.