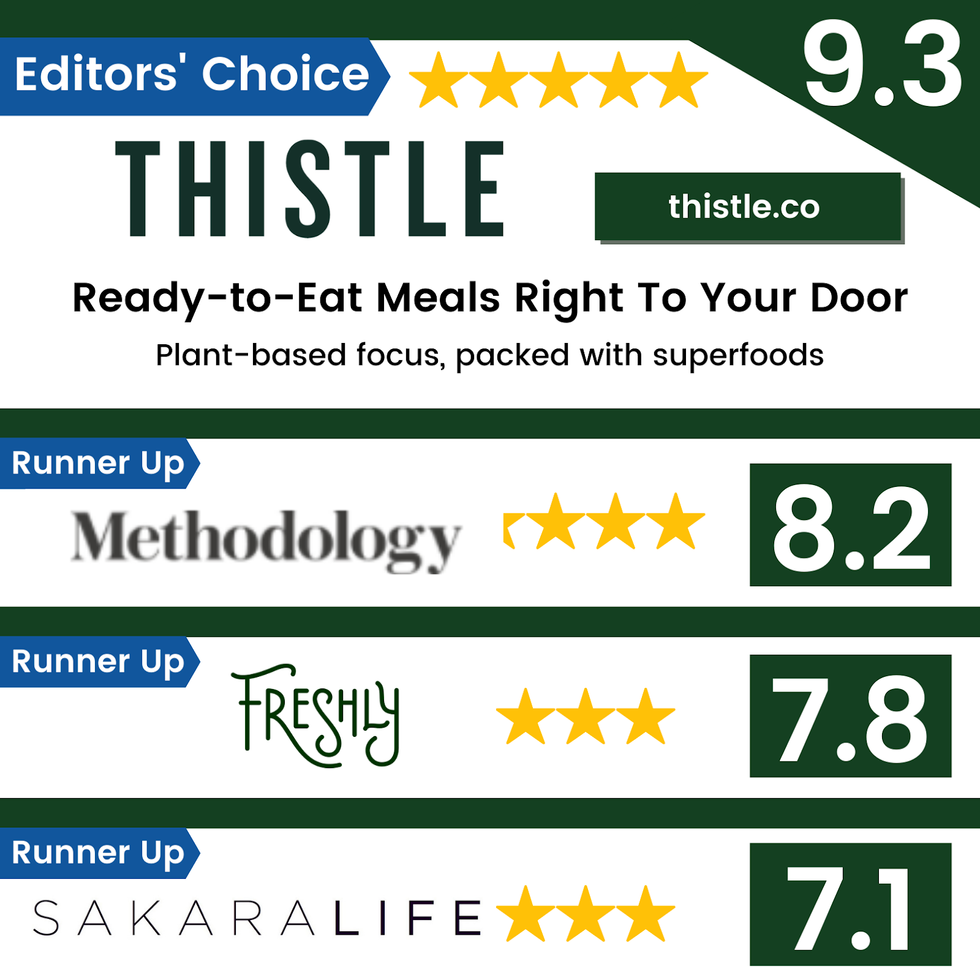 With such busy schedules, eating nutritious food can be such a challenge. We need something that's affordable without sacrificing hours on meal planning, prepping, and cooking.
Our editors have found a solution with healthy meal delivery companies! Sending ready-to-eat meals right to your door gives you so much more time and so much less stress. We tested Thistle, Methodology, Sakara Life, and Freshly to see how these top meal delivery services compare with each other.
Thistle Overview
If you're looking for healthy and locally sourced fresh meals delivered right to your door with super minimal prep, Thistleis what you need.
Thistle's breakfasts, lunches, dinners, snacks, wellness shots, and juices are offered on a subscription basis for 3 to 6 days per week. You can customize your whole plan and easily skip, pause, or cancel at any time.
Thistle's menu emphasizes plant-focused, dairy-free, gluten-free ingredients and includes over 40 superfoods. Thistle meals also have protein add-ons like chicken, turkey, pork, shrimp or you can stick to plant-based with tofu and bean/pea protein.
The Thistle chefs develop a new globally-inspired menu each week and ensure each meal is perfectly balanced and nutrient-packed with zero refined white sugars, artificial preservatives, artificial additives, and artificial dyes.
Their meals are incredibly delicious! Some of our favorites are the Miso Ramen Noodle Bowl and the Artichoke Scampi dishes. No day is complete without something sweet and their Milk Chocolate Cake with Mocha Ganache and 24 Carrot Gold Muffin snacks are exactly that. Their juices and wellness shots help keep you energized (Editors' Tip: The Watermelon Berry Juice is the best!)
Starting at only $42 per week and $11.50 per meal, you can enjoy the benefits of a convenient, healthy diet.
Thistle
Ready-To-Eat Meals Delivered
Highest Quality Ingredients & Superfoods
Sign Up Now
Methodology Overview
Methodology's focus is to change your life from the inside out using clean food. All their meals are refined sugar, gluten, and dairy-free (except for ghee). They offer breakfast, lunch, and dinner with juices and snack add-ons. Their meals are calorie-controlled, with standard meals between 300-450 calories and large meals between 600-1000 calories.
They have over 200 items on their rotating menu but each week you are limited to a menu with only 3 breakfast options, 9 meat lunch/dinner options, and 6 plant-based lunch/dinner options.
They offer healthy meal delivery for different diets including vegan, keto, paleo, and pescatarian. However, after sampling them, we realized they weren't meals designed specifically for these diets; it was merely their meals for the week that vaguely fit these categories.
The meals are small and tasty but not what most people would usually opt for even on a healthy diet. Their Vegan Bolognese Purslane Pesto "Pasta" was good but not something we'd eat every day.
Also, all their ingredients for each meal come delivered in separate glass jars containers so you can mix and match components. The jars don't come with any instructions which caused a lot of confusion and extra effort making up the meals yourself. Plus their meals range between $15-$20 per servings.
Sakara Life
Sakara Life has the most instagrammable plates, and ties with Thistle. They focus on the 9 pillars of nutrition that lead to plant-based superfood-packed breakfasts, lunches, dinners, snacks, and goal-oriented powders. Everything is ready-to-eat and mostly eaten cold.
The flavors are exciting and they boast model customers (literally, models), but the prices are high. 5 days of lunches and dinners? $285! That's a lot to spend on 10 pre-made meals, especially when some of them are salads. We rarely felt full, despite the nutrient-dense vegetables.
Your meals are chosen for you and you can see them a few weeks in advance before you receive your meal delivery.
Freshly
With Freshly, you get chef-prepared meals that you only need to cook for about 3 minutes. Starting at $8.49 a meal, you get to choose anywhere from 4-10 prepared meals for lunch or dinner per week.
These were tasty, but some of the most basic cuisine we tried. Some meals include Homestyle Chicken with Masterful Mac'n'cheese and Steak Peppercorn with Sautéed Carrots & French Green Beans. Although it's just as convenient as all the other meal delivery services, we weren't particularly impressed with the menu.
Final Thoughts
All these meal delivery services deliver on their promises. Whether it's a plant-based focus, a convenience focus, or a taste focus, they each have something to offer. However, the most nourishing, most delicious, most convenient meal subscription option for the best price is hands down, Thistle.
Methodology was too fussy from beginning to end with too many moving parts. Sakara Life is too expensive for upscale salads and Freshly is too basic.
Thistle is simple, delicious, and offers the most unbelievable amount of variety and personalization at an affordable price. They truly take convenience to a whole new level, making them the best-prepared meal delivery service in our book.
It's clear which meal plan we'll be sticking with. Trust us and give Thistle a try!