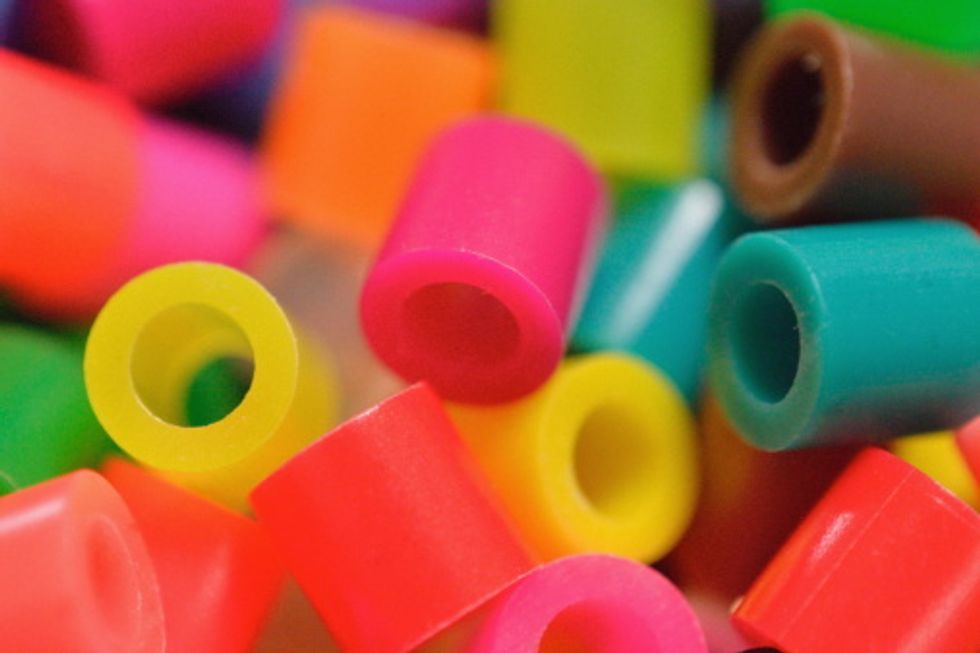 The Throwback Craft That's More Fun Now Than it Was When You Were a Kid
We all remember Shrinky-Dinks, Light-Brights, and Easy-Bake Ovens. That was the creme de la creme of childhood fun in the pre-Internet age. We spent hours and hours reading instruction manuals, planning out our amazing designs and recipes, and showing off our one-of-a-kind creations. But now, a little bit of that hands-on magic is gone, as we're increasingly hooked up to electronics 24/7. If you're looking for a non-virtual way to spend a Saturday afternoon, and whether you have kids or not, we challenge you not to smile when we bring this throwback craft back to your memory.

They're called Perler® Beads. While the name might not ring a bell, indulge us for a minute by watching this nostalgia-ridden video.
While that one was pretty impressive, don't worry. You'll have a little help in your kit.
The bucket includes 6,000 beads and a square, circle, hexagon, heart, and star pegboard where you can make your own bead designs. Then, put a piece of ironing paper on top and iron your beads together to make a cool keychain, coaster, or just about anything!
The great thing about this craft is that it doesn't really make a mess (unless you spill the beads everywhere). In children five and up, it helps them develop fine motor skills, hand-eye coordination, and color and shape recognition. It's hard to get those beads so close together, even as an adult! The methodical process of placing beads helps to also encourage mindfulness.
This bucket o' beads will keep anyone occupied for hours. At only $8.99, you can make dozens of fun patterns (and give hand-made gifts to all of your family and friends!).