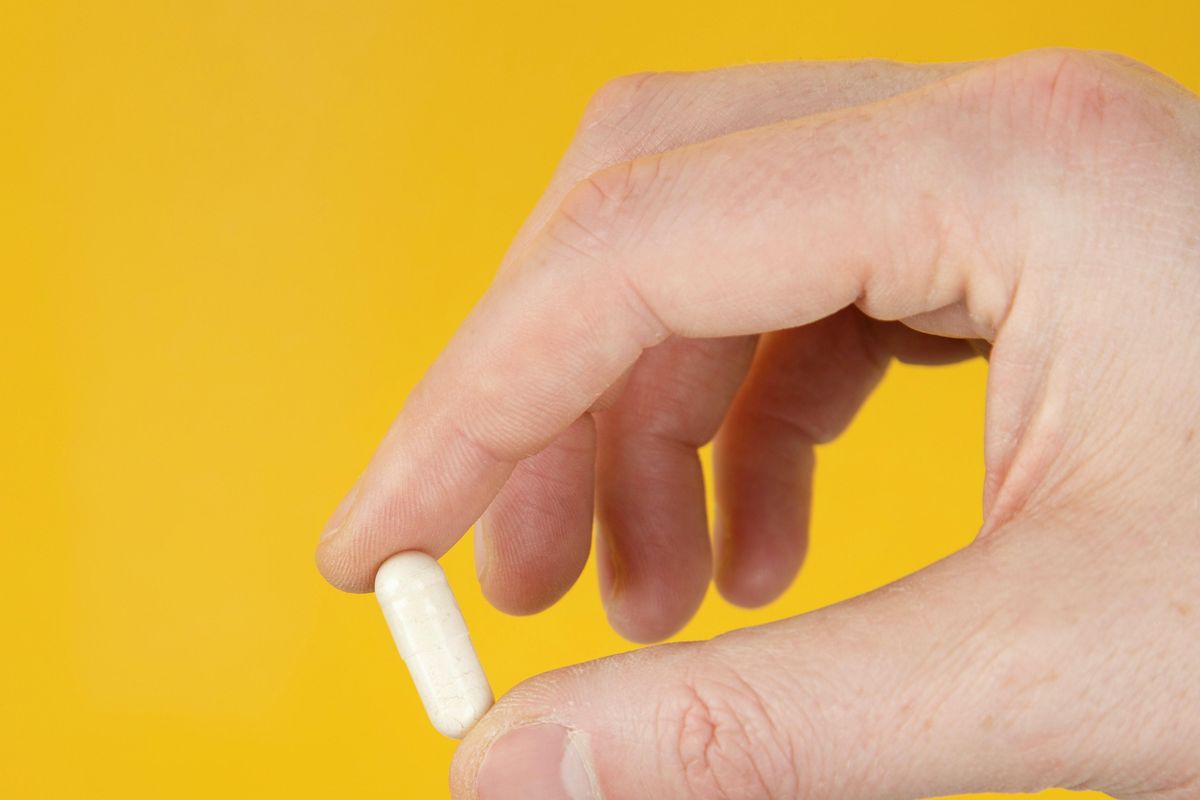 The New Big Gulp: Are We Taking Too Many Supplements?
How To Streamline Your Supplement Routine For Real Results In Half The Time
New fear unlocked: accidentally swallowing an Airpod. How could that happen? You might ask. Well, it happened to some girl on Twitter. In her rushed, bleary-eyed, morning state, she chucked back a fistful of pills without realizing her Airpod had mistakenly dropped onto the pile. After choking and coughing and hacking the earbud up, she tweeted a photo that captured how slyly the electronic device was camouflaged among a mountain of supplements.
---
And honestly, I can see myself making the same mistake. Instantly, I had to re-evaluate. I've always wanted to be that person who starts their day with a complicated, Instagram or TikTok-worthy sunup routine that would make That Girl jealous-green. I want a day chock-full of all the healthy things a person "should do" — working out, whizzing up a green bevy (juice or matcha depending on the day), then throwing down an impressive dosage of supplements.
But no more.
The other things still appear on my vision board — alongside an expensive yoga mat for my daybreak meditation and an irrationally expensive "athleisure" hoodie for the aesthetic. But I no longer crave a personal pharmacy of vitamins and minerals to line my pantry. I used to wish I could tell you the benefits of all the obscure additives they gulp down. So I don't know the difference between ashwagandha and Ayurveda — I'm good.
I questioned if I should take any supplements at all — but this could have been the panic talking. Research continually shows that supplements can help boost your overall health.
"Evidence does suggest that some supplements can enhance health in different ways," claims News In Health. "The most popular nutrient supplements are multivitamins, calcium, and vitamins B, C, and D. Calcium support bone health, and vitamin D helps the body absorb calcium. Vitamins C and E are antioxidants — molecules that help maintain health and prevent cell damage."
If you're trying to achieve certain goals — whether a healthy diet or aesthetic goals — adding supplements to your regimen can help provide nutrients needed for the results you're seeking. Plus, those with dietary restrictions or preferences may ensure they're getting ingredients they might be missing from their diet.
So it seems to me — according to my research — the name of the supplement game is personalization. Instead of trying a cocktail of pills and potions promoted by my favorite influencers, I should streamline my routine.
But how? How can anyone know which supplements work for them when there are millions of them out there? For some, trial and error. For others, carefully investigate what each vitamin or supplement does, then work backward to their specific needs.
Luckily, as more people are looking to take fewer but higher-quality supplements, there's a growing market for a more customized approach.
If you're seeking a streamlined supplement routine that does
exactly
what you're looking for — and that actually works — here are some of the best brands out there: