Today it feels like everything has gone smart. Smartphones, smart televisions, smartwatches, and of course, the newest big thing, the smart wallet. How can a wallet be smart? And why would anyone need that?!

We had the same questions, so we did some research.
It turns out wallets can serve more than just the purpose of holding your cash and cards - there are wallets that can protect your cards from electronic theft. There are even wallets that you can track with your phone when you've misplaced it. These are undoubtedly useful features.
We decided to try out the top smart wallets on the market, compare them, and figure out which one is the ultimate, smartest wallet. Although we also bought wallets from Secrid and Forrest & Harold, we settled on Ekster, Bellroy, and Ridge as our top three. Here's what we found:
(TLDR: in a hurry? Scroll down to our Overall Verdict to see why we're hailing Ekster as the slimmest and smartest winner.)
Ekster
Ekster wallets are incredibly attractive, thanks to handcrafted sustainable leathers in a good range of colors. Starting at 0.15 inches (0.38cm), Ekster is also officially the slimmest smart wallet on the market, but it still holds 7 cards and has a strap for cash. With the click of a button, all the cards pop up for easy access. Ekster wallets also have RFID protection, which stops pickpockets swiping your data and electronic theft of your cards.
Ekster wallets have solar-powered tracker cards that allow you to call your phone or wallet when you lose it or track it on a map. You can even take selfies in your phone with the tracker card, and connect your wallet to your Google Assistant, Amazon Alexa, or Siri.
Ekster wallets are affordable, starting at just $69, so they're great for gifting.
Bellroy
Bellroy wallets are known for their softness and slimness and are still able to hold about 4-12 cards. Their leather wallets are tanned under Leather Working Group standards and then dyed one of their 11 color shades. Many of their wallets have more prominent compartments for your most-used cards, and then a pull-tab to access your less-used cards. They're about the same price point as Ekster, starting at $69.
These wallets also have RFID protection to stop pickpockets swiping data and electronic theft. These wallets are slightly more expensive, starting at $75.
Ridge
Ridge wallets are very sturdy, made from aluminum, titanium, and carbon fiber. They're small and resistant to being stretched out, but not as slim. They can hold up to 12 cards and have the option for a cash strap, a money clip, or both. They're unique and minimal, but come in a wide variety of colors and prints such as rose gold, navy, and even a tropical print!
Overall Verdict
Although we love the 11 different color options that Bellroy offers, we found that their wallets did not have the sleek, luxurious design of the Ekster and Ridge. Both of these have an elevated look compared to other wallets, along with a revolutionary design when it comes to their card design. However, the cold and metallic material of Ridge's titanium/carbon fiber wallets is not for everyone, and we personally were fans of Ekster's sophisticated leather look.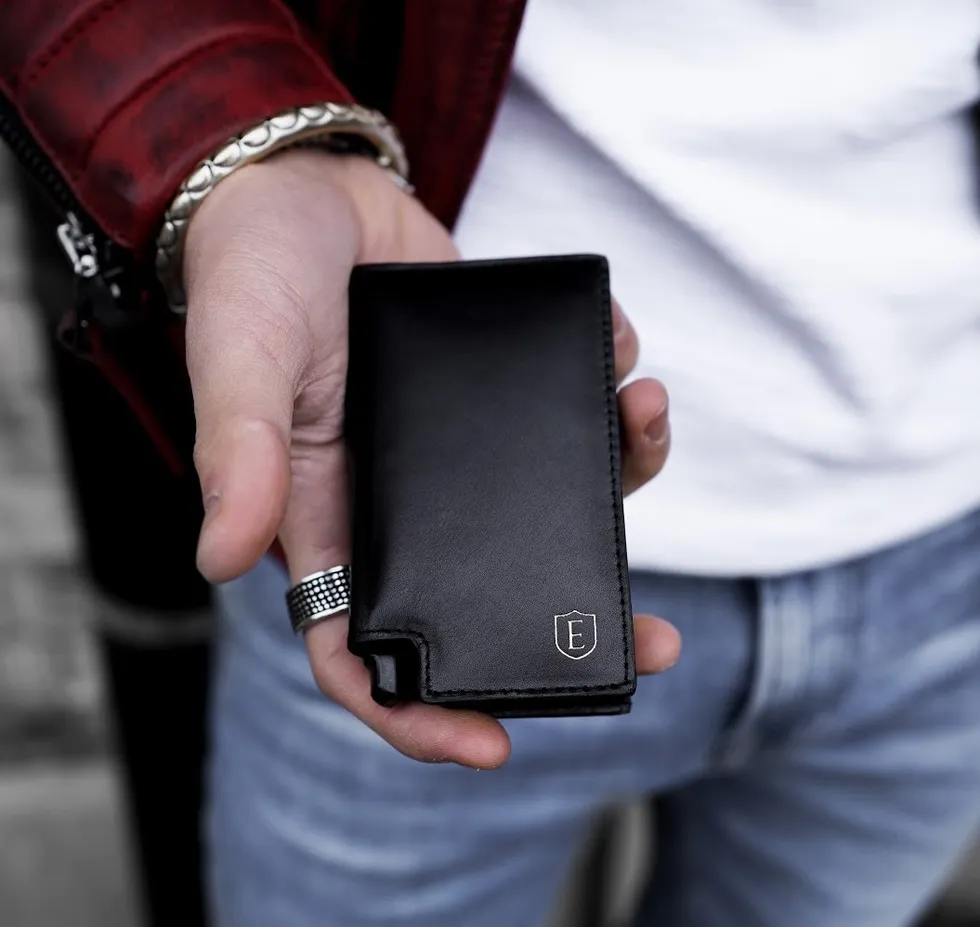 All of the wallets have RFID protection, but what makes Ekster stand out is the solar-powered tracking card, which fits almost invisibly into the back of their wallet. This is what truly makes them a smart wallet - if you lose your wallet, you can track it from your phone!
Between the two, Ekster wallets are slimmer, more affordable, and have the best card pop-up feature. If you're looking for a convenient, trackable, and aesthetically pleasing wallet, Eksteris the clear winner.