Sistema's containers are both affordable and durable
In the age of living green, brown paper lunch sacks have been replaced with portable, reusable plastic containers. There are tons of options to store your food and it can be hard to figure out which is the best investment. I've found Sistema portable food containers to be both affordable and durable enough to last years.
When most people think of plastic food containers, Tupperware immediately comes to mind. While these classic containers serve their purpose for leftovers or occasional use, they are pretty flimsy to take on the go and don't really handle dishwashers well. I can't tell you how many times I've tried to fit an old, worn Tupperware lid onto a container only to be unsuccessful. Sistema's containers are a little more expensive than Tupperware, but they aren't nearly as flimsy.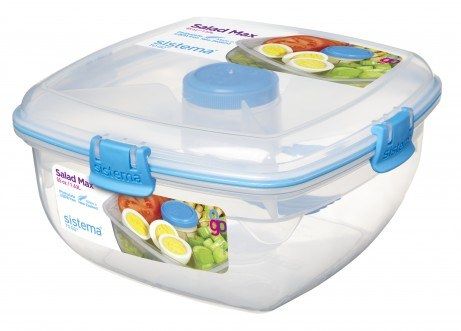 Sistema
I personally own five of Sistema's products. These are a sandwhich container, a salad container, a soup mug, a small side container, and a plastic cutlery set. I love each and every one of these products. I use the sandwhich, salad and side containers almost every day, depending on what I'm having for lunch. I use the soup mug and cutlery set less regularly, but still often enough to justify the purchase.

The soup mug is a fantastic microwave product. Because of it, I have experimented with a lot of breakfast in a mug recipes. The soup mug comes with the lid that snaps on and off easily and has a vent for releasing heat or moisture. And it contains heat well enough to hold it without feeling like your skin is being burned off.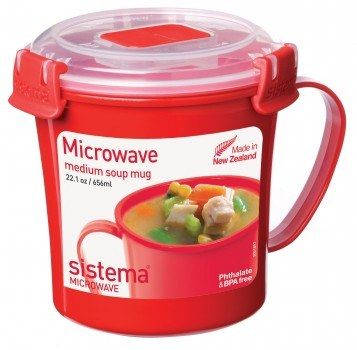 Sistema
One thing I like about Sistema's products is their hinge closures. All of the lids snap on and off easily with a simple hinge made of colored plastic. These closures are much more sturdy than Tupperware's simple snap-on lids. I've never once worried that the containers will pop open in my bag like I have with worn Tupperware. Sistema's products are well-built and will last quite a long time, even through many, many washes.

All of Sistema's products are dishwasher safe, but I usually hand wash them at the end of the day. That might have something to do with how long mine have lasted, but I haven't had anything so messy that it required a run through the dishwasher. And since I use these almost every day, it's impractical to run them through the dishwasher every night.
Another big perk of Sistema is that their products are available at almost any retail store. You don't have to set up a special order on Amazon. Next time you're out at Target, Wal-Mart or even Office Depot, you can just pick one up. Buying a Sistema product is just as easy as using them.