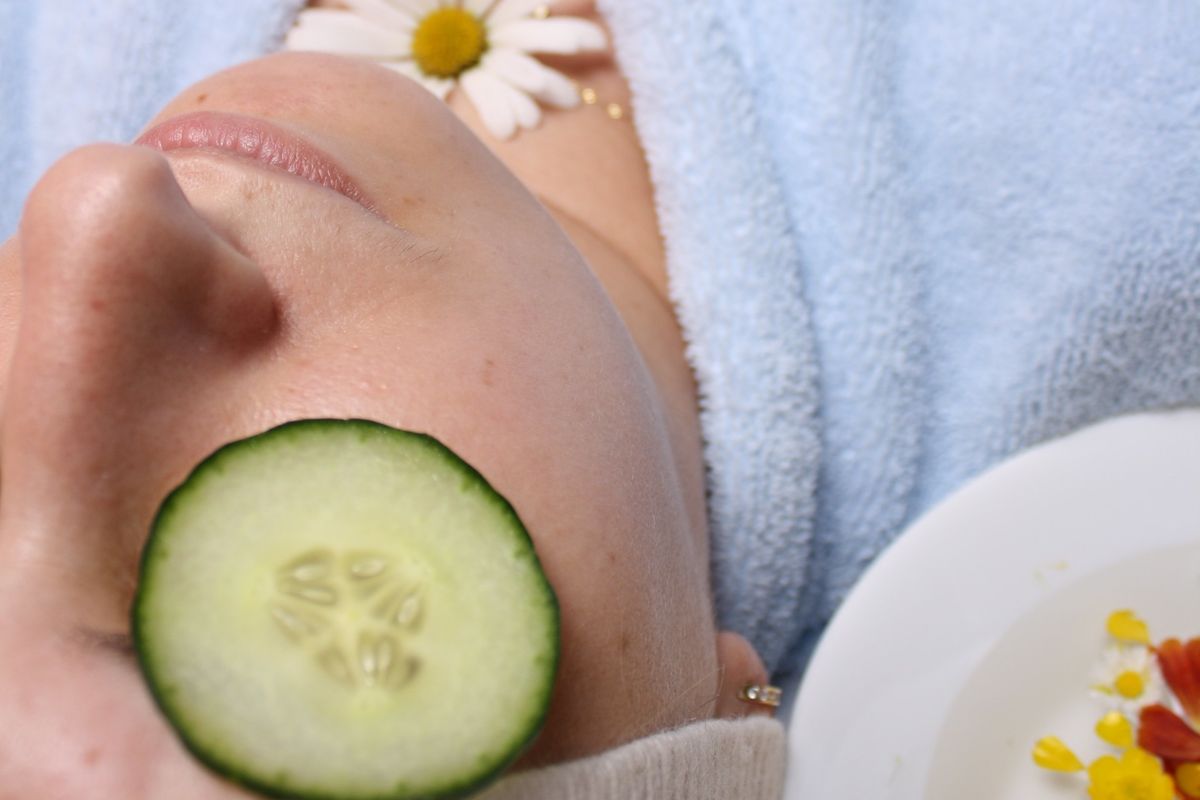 The Best Personal Steamers for a Home Facial
You may even take your facialist off speed dial.
Spa facials can be one of life's great joys. If done right, they are soothing, meditative and can leave your skin feeling refreshed. Unfortunately, they can also be quite pricey.
Luckily, those of us without unlimited stashes of cash can replicate the spa experience at home using some affordable but effective personal face steamers. Steam is key to a quality facial: while steam in of itself does not prevent acne, it does open pores, allowing the skin to absorb treatments better and make it easier to do extractions. But if you're acne prone you do need to take additional measures to prevent new blemishes from forming.
And it's more than just the existence of steam that dictates facial quality; the quality of the steam matters too. You could boil some water and place your head under a towel for a very DIY steam, but you'd be selling yourself short. With this method, the water cools pretty quickly and the water particles are larger than what you'd get with a personal steamer.
Those prone to redness or rosacea should be extra cautious when steaming because it could exacerbate their condition. A personal steamer allows you to control the distance between you and the hot steam, whereas if you're tucked under a towel you can only control your DIY facial so much.
If the thought of using extraction tools makes you feel squeamish, try a charcoal mask after steaming. Activated charcoal is known for its legendary binding qualities. It attaches itself to dirt and oil and drags it out of your pores as you peel or wash off your mask. This type of grime is what makes your pores look bigger.
To sum it up: if you're really looking for a spa-quality facial you should definitely explore personal steamer options. Here are a few of the most popular:
The people's choice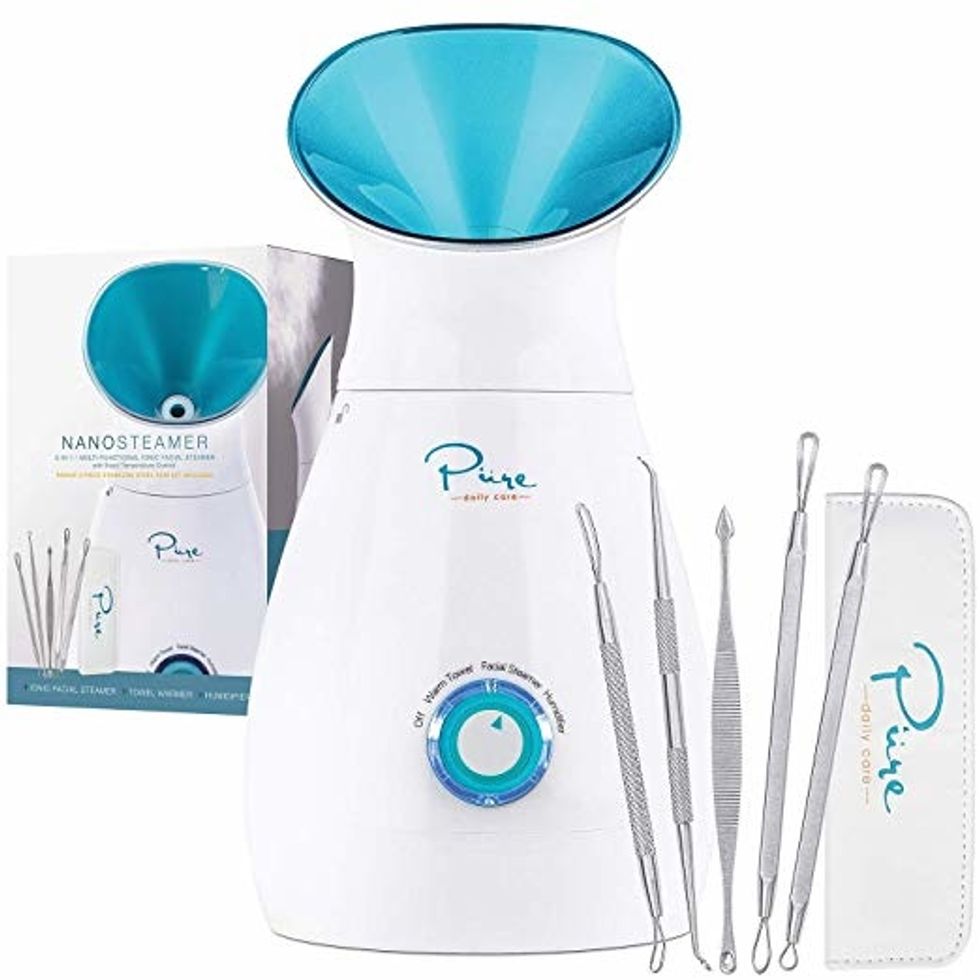 The people have spoken
The Pure NanoSteamer is one of the most popular steamers on Amazon, with over 1,000 reviews and a 4.3 out of five-star rating. It gently envelops your face with tiny negatively charged ionic particles that improve blood circulation, increasing oxygen flow for a younger complexion. This bad boy also acts as a towel warmer and a room humidifier and will steam for up to 30 minutes thanks to its 200 ml tank. If you're into the full facial experience, it also comes with facial tools for extractions. Fans love how quiet it is and the ability to control the temperature to avoid burning sensitive skin.
Inexpensive but gets the job done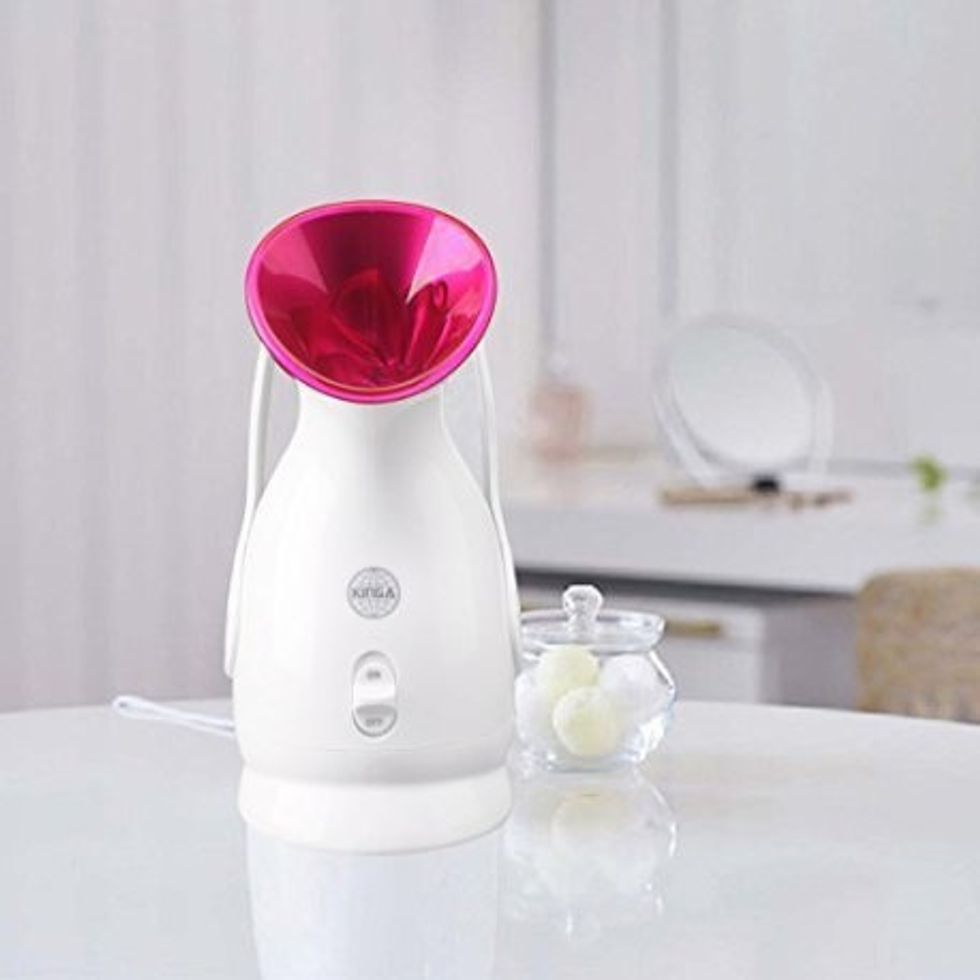 The wide nozzle makes it perfect for custom positioning
Like the NanoSteamer, the KINGA Nano Ionic Facial Steamer uses negatively charged ionic particles to open up pores. It accomplishes this in under 30 seconds thanks to its miniaturized PTC (Positive Thermal Coefficient), and its wide nozzle allows plenty of steam to escape, caressing your face. As an added benefit to those who tend to forget to turn off curling and flat irons, it automatically turns off when the water in the reservoir is all gone.
A one-two punch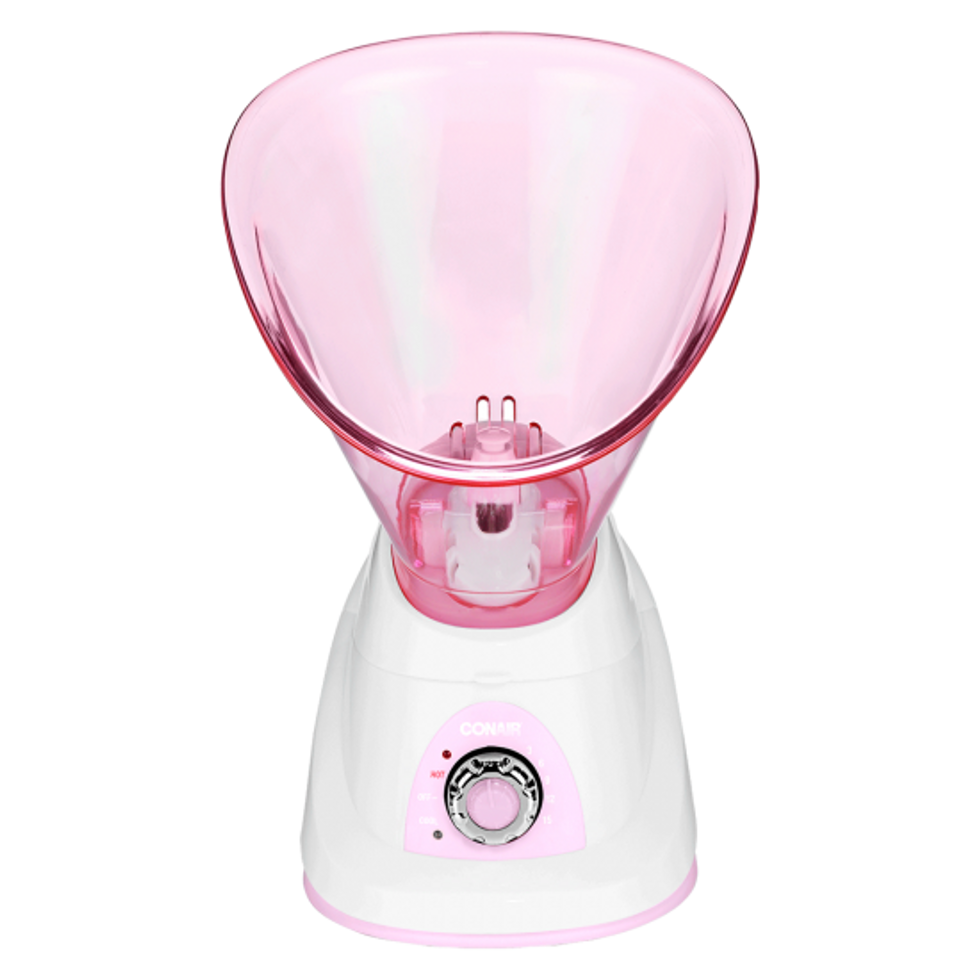 Opens up pores then shrinks 'em back down
Conair's True Glow Warm Steam/Cool Mist Facial Sauna allows you to open your pores with hot steam and then close them up for a smoother overall complexion. It has a ridiculously wide nozzle for comprehensive steaming without moving your face, and a timer that allows you to focus entirely on the sensation of the warm water molecules pinging gently off your skin. After you finish your warm steaming session, you can either apply your serums (which should always be applied on clean skin), a mask, or start extractions. Then once your routine is complete, turn on the cool mist to close your pores and finish up with moisturizer. Conair's model will also turn off automatically when the water in its reservoir is lower than its sensor.
Sensory overload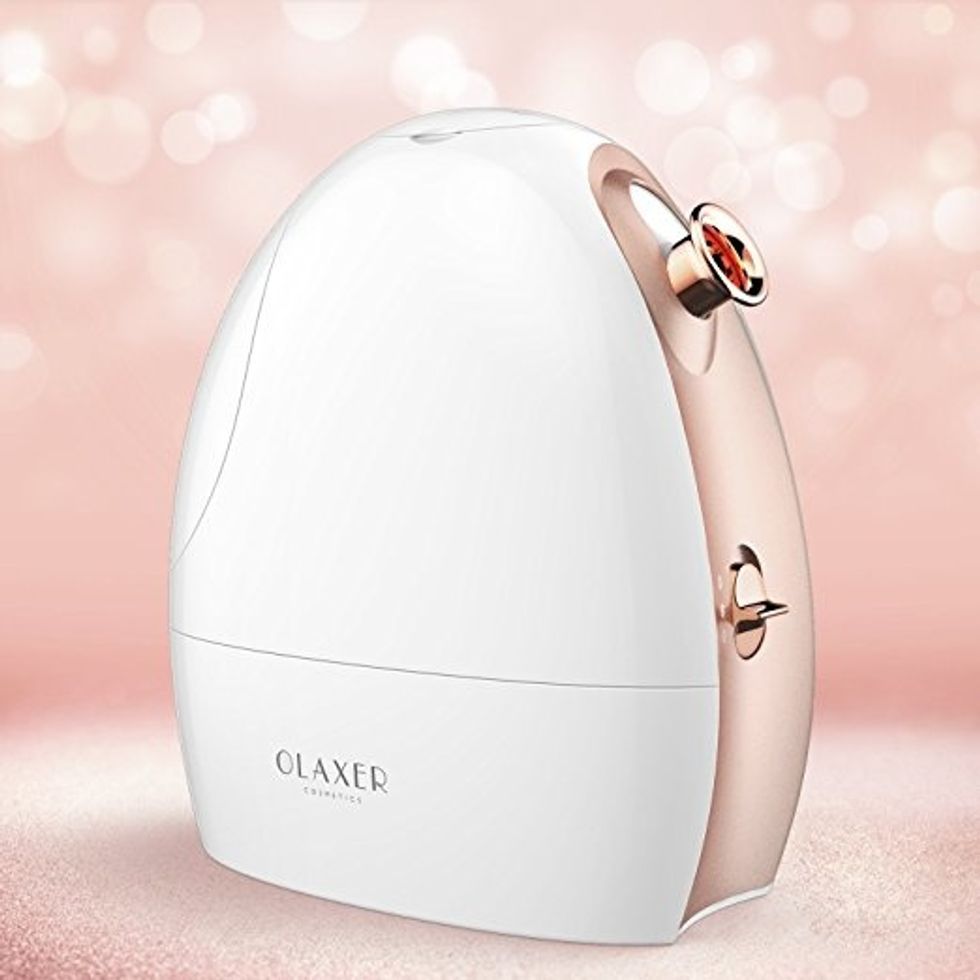 You can even use fruit for a fresh scent-sation
Aromatic oils are part and parcel to the spa experience. Unfortunately, many personal facial steamers don't play well with them. Luckily for those craving the soothing smell of lavender (or whatever smell relaxes you most), Olaxer Facial Steamer includes an aromatherapy humidifier with a basket you can fill with chopped fruit or a few drops of essential oils. (Just make sure you don't add the oil directly to into the tank, as it can damage the machine.) Like the Conair model, it also has a cool setting with a tank large enough to provide up to 70 minutes of soothing cool steam. Its convenient adjustable nozzle allows you to choose a position that is most comfortable for you.
As close as you can get to a professional at-home facial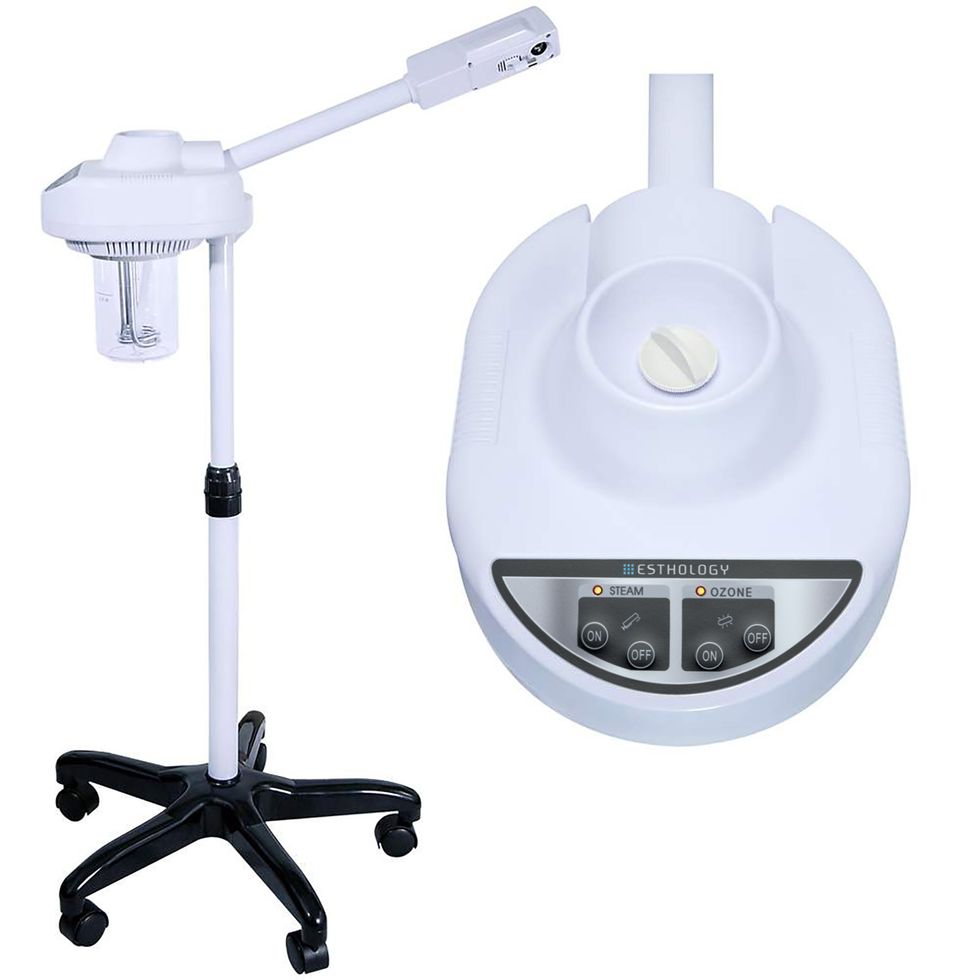 Now you're cooking with gas
Sometimes, you gotta go all the way. When nothing will do but a professional quality facial and you don't have time to get to the spa, put your faith in the Esthology Salon facial steamer with ozone and aromatherapy. While it's a bit pricier than its more portable brethren, you're pretty much guaranteed the best facial you can possibly do yourself. It utilizes a germicidal UV bulb to ensure that the steam is 100% clean of impurities, and boasts 750 watts of steaming power. You can also get your scent on by taking advantage of its aromatherapy option. The reservoir is easily removable to make cleaning a snap, and the steamer itself sits atop an adjustable rolling base. For the money, this is pretty much the best personal steamer you can buy that won't require you to open your own spa.
Water quality matters, not just the size of the particles
One thing to keep in mind before embarking on your personal steaming mission is to only use the distilled or high-quality filtered water in the tanks—unless you're using one with a germicidal light. Tap water is safe to drink but is far from pure. Tiny particles can nest inside water molecules and end up on your skin, negating the benefits of steam.
Regardless of what steamer you choose one thing is certain: nothing says self-care like a blissful steaming session where you can forget your cares and give your skin a little TLC. The icing on the cake is a beautiful, glowing complexion.