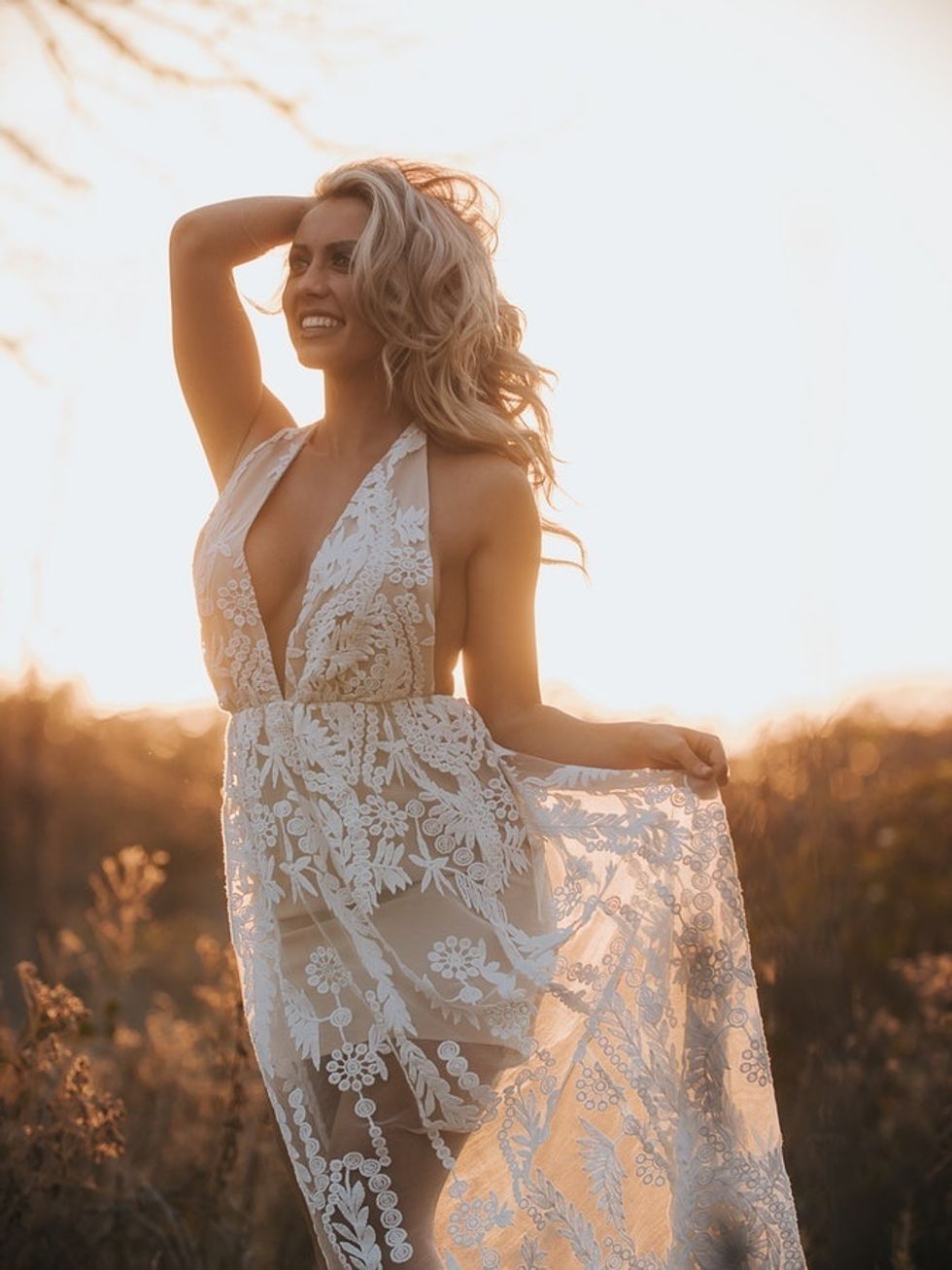 Ward Off "Wardrobe Malfunctions" with Fashion Tape That Really Sticks
Our 5 favorite "nip-slip" solutions. Fashion faux pas are a thing of the past.
Have you been keeping some of your favorite pieces of clothing stashed away in the closet because you fear you'll have a scandalous situation when your top shifts and something slips out? What about those bra straps that always fall off your shoulders or that tube top that continuously inches down? Call them "wardrobe malfunctions" in the making. And you're not willing to take the risk.
But now you can nix the "nip slip" and solve related clothing catastrophes too with a fix from fashion tape, sometimes referred to as lingerie tape, cleavage tape, or dress tape too. Here are five brands that will correct your clothing to fit your body.
Hollywood Fashion Secrets Fashion Tape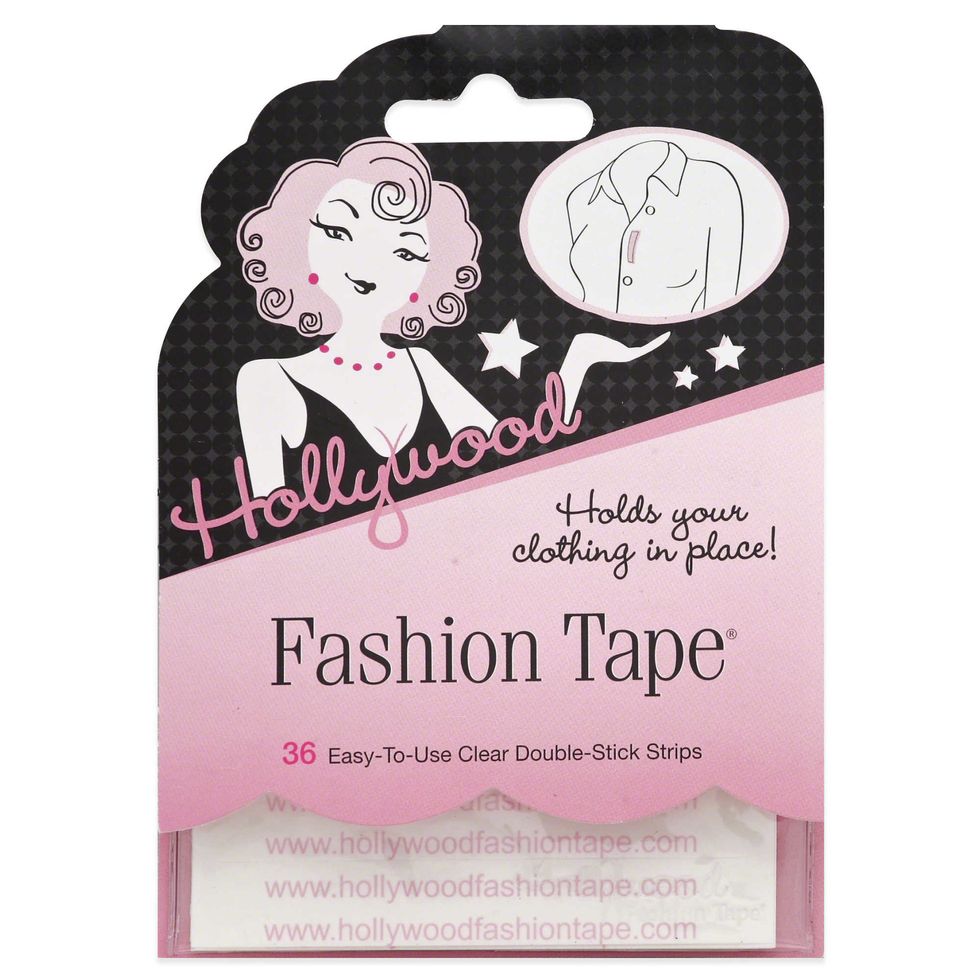 Via bedbathandbeyond.com
If they are good enough for Hollywood's hotties, they are good enough for us! Hollywood Fashion Secrets Fashion Tape is super-strong and keeps you feeling secure, even in the skimpiest of shirts. The double-stick tape strips are clear, so they'll never show through, not even when you dare to wear something silky or sheer. For those with sensitive skin, this tape is a plus, as it is hypoallergenic. Just stick one side of the tape to dry and oil- and lotion-free skin and the other to the piece of clothing you're concerned may fall out of place. And just like the stars, you'll be runway-ready!
Cost: $6.99 for a 36-piece Box
Fashion Forms Lingerie Solutions Dress Tape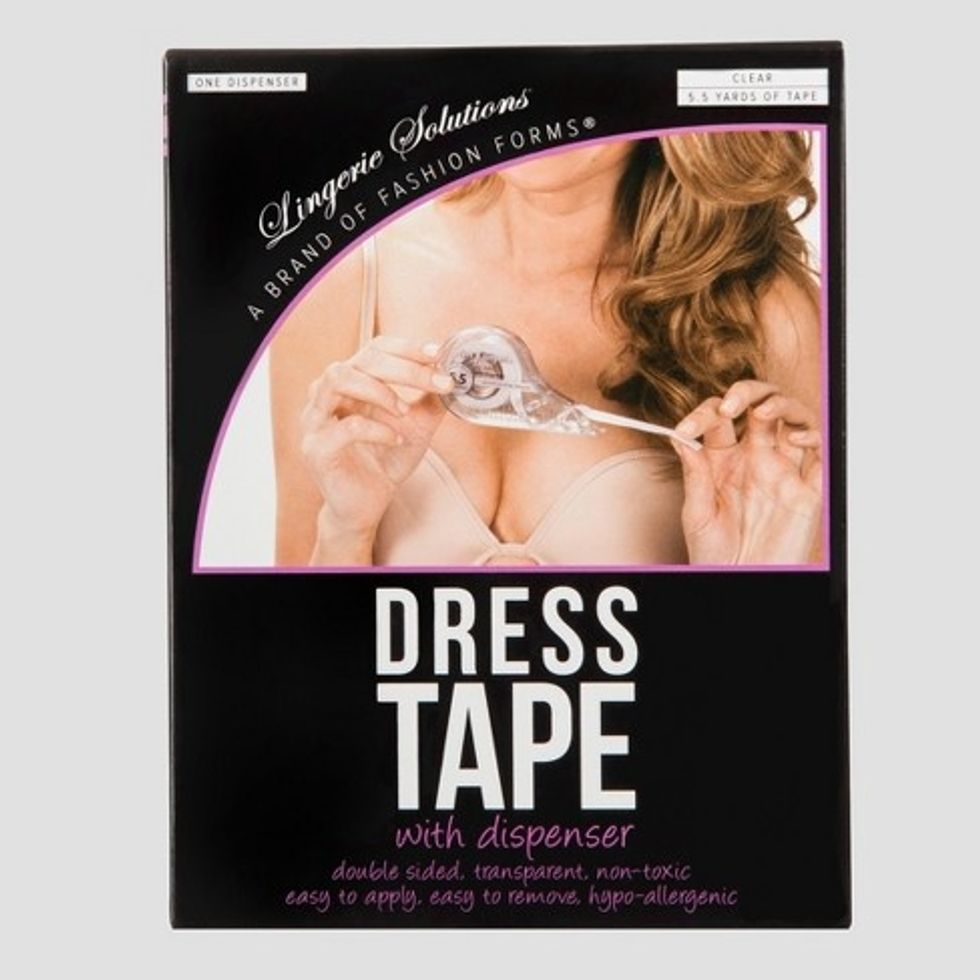 Via target.com
Dress without the mess or distress from suffering a "wardrobe malfunction" with the aid of Fashion Forms Lingerie Solutions Dress Tape. Transparent and created with double-sided stickiness as strong as a medical-grade adhesive, this easy-to-use tape sticks seamlessly to your skin and clothing and lasts all day. The best part? This tape comes in a dispenser, so take as much or as little as you need to get the job done. No waste and no worry. It's time to make your big reveal in your most revealing (without showing too much) clothing!
Cost: $7.99 for 5.5 Yards of Tape
Scotch Essentials Wardrobe Tape Strips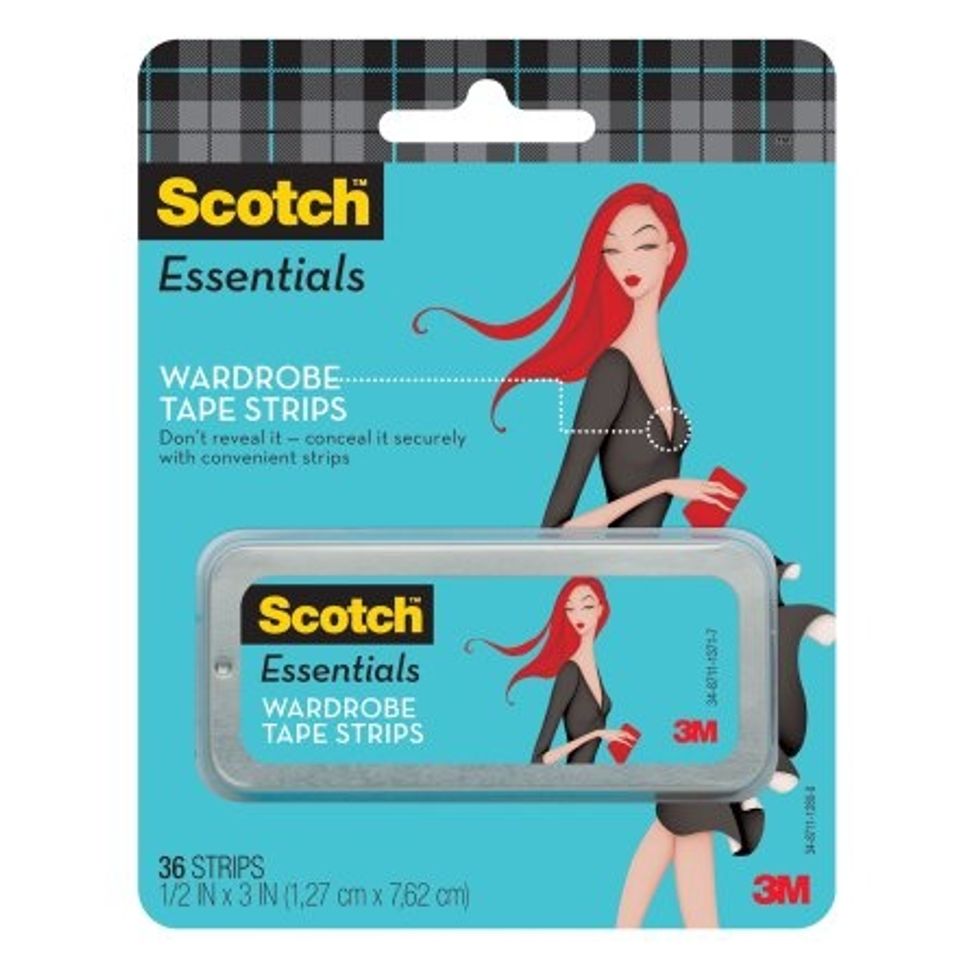 Via walmart.com
You have probably been using Scotch tape for crafts and household fix-its for years, so you can trust the longtime brand when it comes to concealing and covering up. Use Scotch Essentials Wardrobe Tape Stripsto keep clothing put. The double-sided strips are convenient and portable, perfect for tossing in your purse in case of emergency. They come in black or white to blend with your outfit, and you will never even know you're wearing them… and neither will anyone else.
Cost: $6.97 for a 36-strip Package
Heidi Klum Intimates Dressing Tape Strips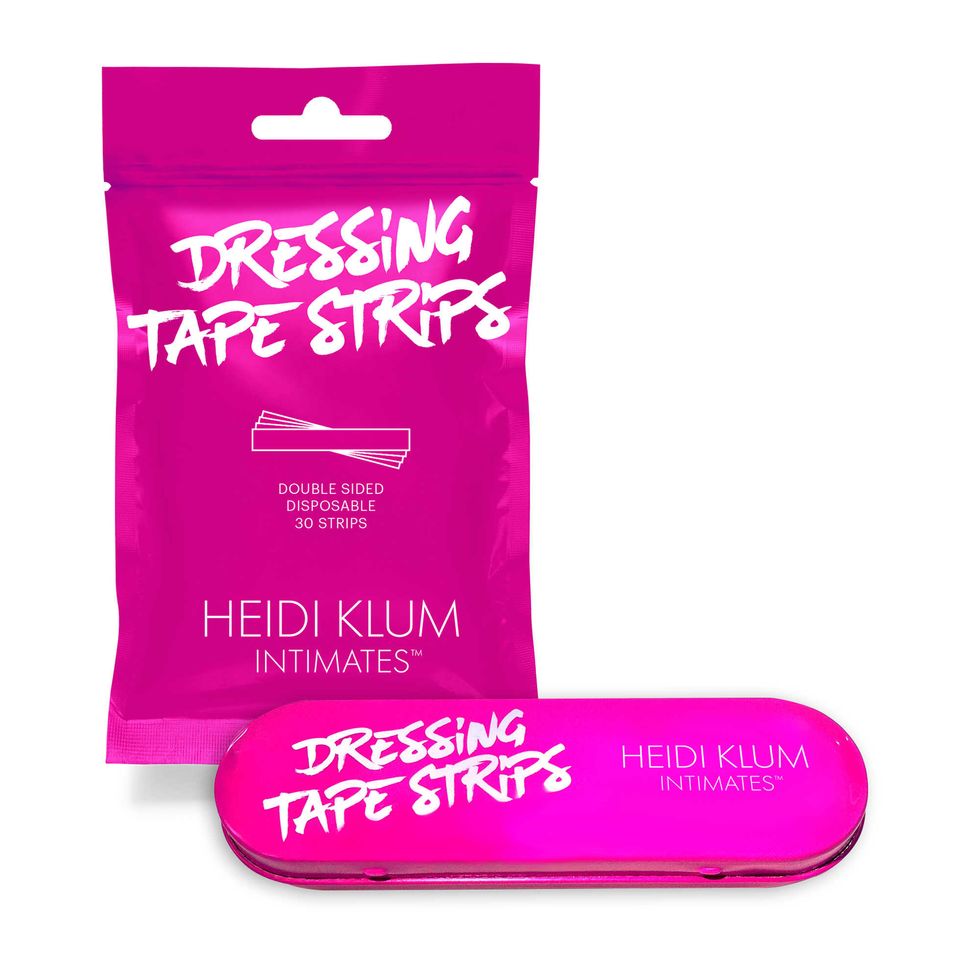 Via bedbathandbeyond.com
Model Heidi Klum is all about high fashion, so take a tip from a seasoned pro and keep your look together withHeidi Klum Intimates Dressing Tape Strips. The individual strips come in an adorable pink tin, perfect for stashing in your handbag for piece of mind while out and about. The strips are clear for the ultimate in discreet dressing, and they are hypoallergenic for skin safety. Klum is a killer on the catwalk. Take her lead and dress like a diva too!
Cost: $9.99 for a 30-piece Tin
Rhode Island Fashion Emergency Body Tape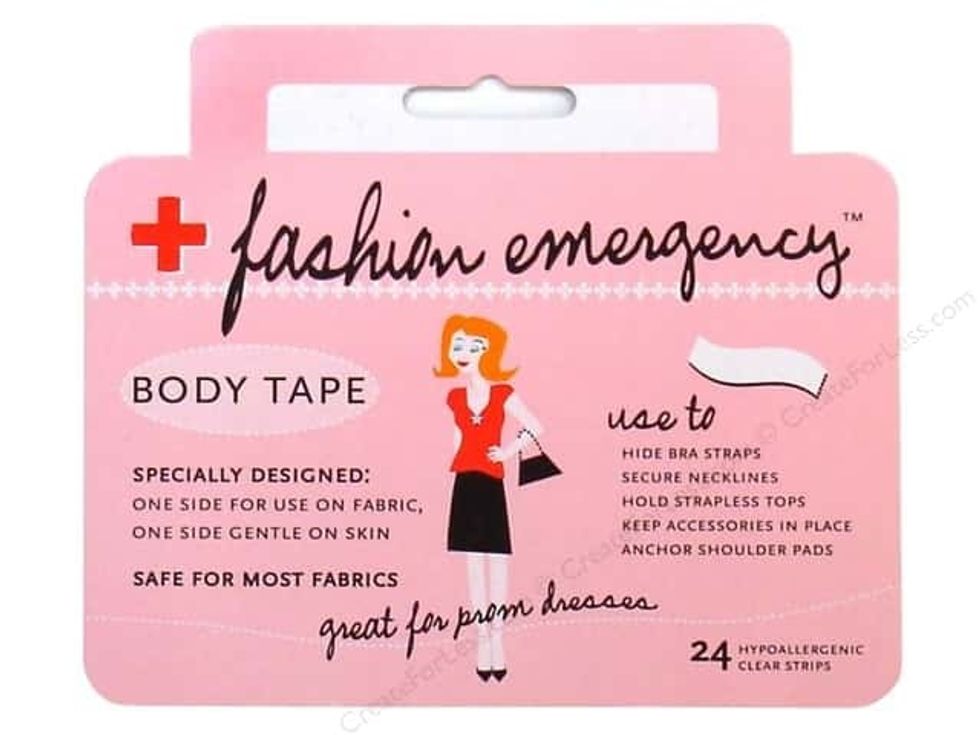 Via createforless.com
Hypoallergenic and clear, Rhode Island Fashion Emergency Body Tape comes to the rescue when fashion crises spring up out of nowhere. The well-designed two-sided tape features a medical-grade adhesive for the side that clings to skin and a special sticky side that's safe on fabrics. Keep yourself covered and looking cute without limited movement or messing up your material. Emergencies are eliminated, and your style is saved!
Cost: $2.89 for a 24-strip Package
Aside from slipping and sliding,In Style recommends fashion tape for adjusting necklace length, anchoring the end of your belt, keeping your shirt collar from drooping, closing gaps between buttons, and even keeping shoes from slipping by applying some tape on the soles.
Fashion faux pas are a thing of the past. Using a piece of tape is a piece of cake!