We spend a third of our lifetime in bed. One third.
So, you'd want to make sure it's a nice place to be. Whatever bed you get shouldn't be chosen lightly. Cheap, throwaway furniture just isn't an option when it comes to beds.
If you want a good quality, long-lasting bed, it shouldn't only be strong and sturdy; you should also love the aesthetic.
Our editors have looked into the sturdiest, most stylish beds out there and found the winner: The Bed, by Thuma.
Thuma's amazing minimalist wooden design was the first thing that attracted us to The Bed. Its smooth curved edges, neat PillowBoard, and extra under-the-bed storage are really eye-catching. It's simple, sleek, and classic.
The Bed is made from genuine wood that has a natural walnut coloring. It has no veneers or MDFs. Each bed is unique, with natural imperfections of handcrafted repurposed wood. The double-strength slats are lined with eco-fi felt made from recycled plastics.
What defines The Bed's modern aesthetic is also its most genius feature: the Japanese Joinery.
What is Japanese Joinery? you might be wondering. The Bed's use of the Japanese Joinery technique means each rail locks into the adjacent rail at the leg and the slats simply lock into place. It comes in 11 pieces that you can assemble yourself, no screws or drilling needed! Plus, The Bed arrives in three easy-carry boxes designed to fit through hallways, doors, and around corners with ease, so it's easy to transport.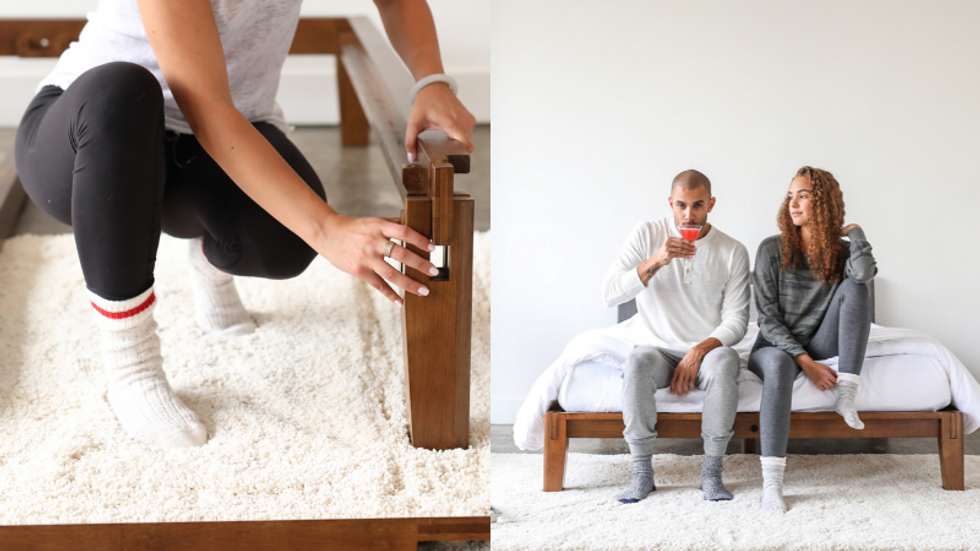 Not only does this technique mean easy assembly (and disassembly if you happen to move), but it creates a bed that's naturally noise-minimizing. No more awful creaky noises whenever you reposition yourself in bed.
So overall, The Bed, by Thuma ticks every box for us. It looks stunning, it's sturdy, and it's convenient to assemble and move. We also love the fact that it's environmentally friendly since it's made from up-cycled rubberwood and mindfully selected materials. And you won't find any styrofoam in their packaging either.
If you're in the market for a new bed, we'd highly recommend The Bed, by Thuma.It's built to last a lifetime, and thanks to it's timeless aesthetic and incredible craftsmanship, it'll be the last bed you ever buy.