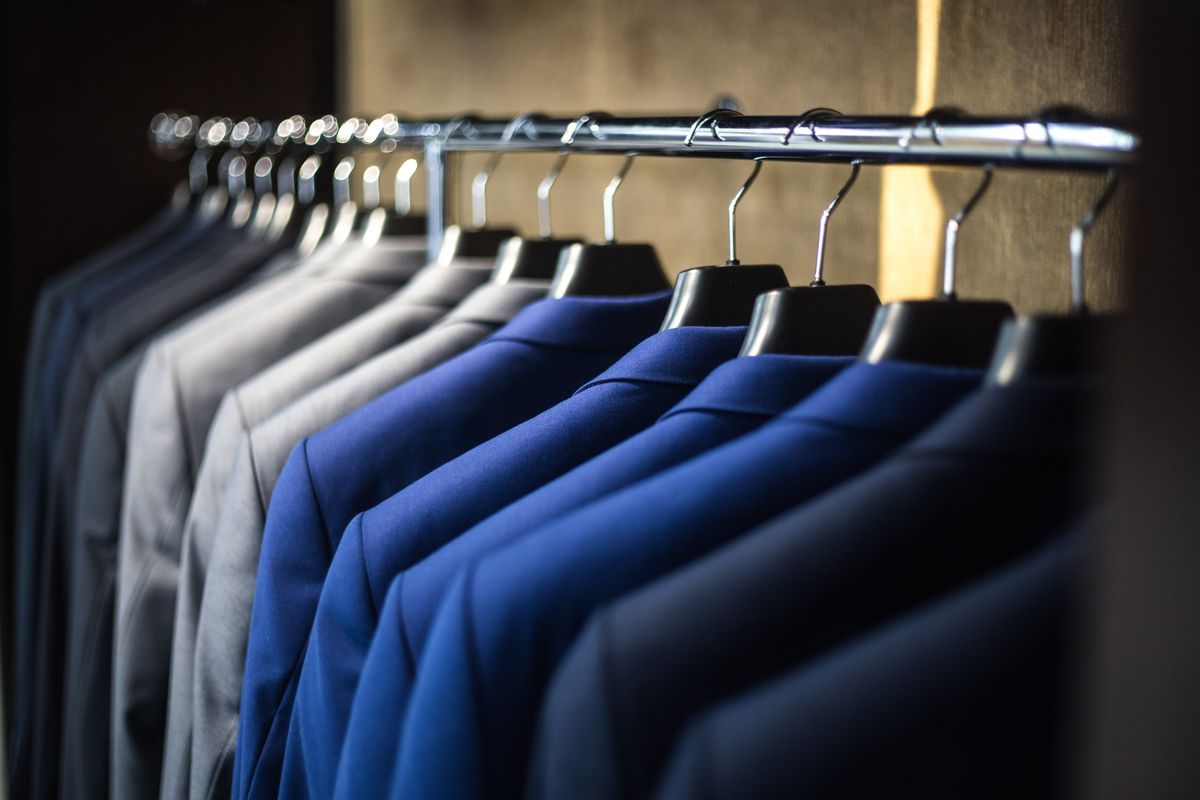 The 5 Pieces of Clothing Every Man Needs
Nothing makes you feel more sophisticated than a perfectly tailored suit. Everyone knows a suit is essential for any man's wardrobe, but it's that perfect fit that's essential for his confidence. With high quality custom-made style staples that are cut for your exact measurements, you can command a room or build an empire. No matter how much you're paying for clothing off the rack, even if you get pieces tailored later, you'll never get the confidence boost to bring out your inner James Bond that comes with the exquisitely-fitted luxury of a custom-made suit.
Astor Vance is a custom clothier that will create timeless style staples to your exact measurements. They turn you into the designer, letting you choose between a wide range of luxury fabrics, plus more color and pattern options than you'll find in any store. Details like a colorful lining or embroidered monograms elevate the design to make it completely unique to you. The best part is, Astor Vance lets you enter your measurements digitally by following their step by step videos which only take 10 minutes, making custom sophistication accessible at a reasonable price point without having to take a trip to the tailor. In fact, Astor Vance may cost less than what you'd buy from the store, with the added benefits of convenience and personalization.
There's a whole world of wardrobe staples you can have custom made for your body. Flip through the pages of GQ, and you'll know that men's fashion goes way beyond a suit and tie. Looking professional doesn't have to be boring when you mix and match these wardrobe essentials. Approach Formal events, poker night with the guys, networking opportunities, or winter date night with confidence in a range of outfits made just for you.. Read on for 5 style staples every man should own, and how to get them custom made from Astor Vance.
A Peacoat
Since the 1800's, this double-breasted coat has earned its status as a classic must-have. Rooted in military history, it's said that the Dutch, who had a strong naval force, used the word "pije" for a coarse, wool coat. It made its way to the U.K.'s naval force, and then eventually to the United States. A classic peacoat should come in black or navy and feature anchors on the large buttons as a nod to the coat's origin. Today's style uses a slimmer fit to give the traditional look a modern update, and Astor Vance has videos to teach you how to measure the lines of your torso, keeping the coat from flaring at the hips.
The Perfect Black Suit
Black is the new black. When it fits perfectly, it's a timeless addition to any wardrobe. A flat-laying collar, Italian or American-style-cut depending on your build, and a shoulder with the right amount of padding will give you a flawless fit. No fancy brand name or hefty price tag will make up for a gape in the collar or tightness in the shoulders, so go with a personalized fit in natural fabric.
An Everyday Suit
For Mondays through Fridays, solid-fitting suits in colors like Charcoal, Navy, and Grey should be your go-to. The neutral colors can be complemented by pops of personality with patterned ties or secret splashes of bold patterns in the linings. Astor Vance has dozens of color combos, so you can pick a bright lining that really looks and feels like you.
A Trench Coat
Another sharp coat with military origins, this classic coat was used by soldiers in the trenches during World War I (hence the name). It's double-breasted with wide lapels like the peacoat, but is belted, andcut much longer and thinner, giving it a casual swing. When Thomas Burberry invented "gabardine," a waterproof twill fabric in 1879, the coat became breathable as well as waterproof, making it a fashionable rain coat. The khaki-colored coat's popularity in Hollywood has cemented it as iconic, but today's trench coats look more modern with a detachable belt. If you're going to go with an oversized look, the shoulders still need to be proportionate, so leave the cut up to the experts.
A Classic Formal Tux
For black-tie weddings, formal parties, and James Bond impersonations, the black tuxedo's peaked lapels are the epitome of class. Instead of renting, get one without the sagging pants and too-short sleeves that will go well with your shaken, not stirred martini. A classic like this will last you a lifetime.
Astor Vance is tailor-made for the man of style who knows the difference the perfect fit can make, and not just on special occasions. Their custom details make a suit look like you, whether you want some flair to stand out from the pack or just the little elegant touches that bring out the best in classic. Best of all, they make having the best affordable and convenient. Stop trying on an endless parade of suits, or throwing your money away on a tailor and join the bespoke movement:step into one-of-a-kind class with Astor Vance.
Update: For a limited time the folks at Astor Vance are extending a special offer to our readers! Follow this link to get 15% OFF any purchase! Use promocode: GeistM
Offer Expires In