The idea of cooking as a therapeutic practice has become a hot topic for discussion, especially through quarantine. As a self-proclaimed culinary counselor, I've used baking as a coping mechanism since my early days of childhood, even when I didn't know it. As a teen, cooking became my refuge.
As times grew busier with age and longer lists of responsibilities, I found myself viewing the acts of preparation and cooking as tedious tasks or impediments in my day. Despite the obvious challenges the last year has brought, it has also flipped my perspective on cooking from a burden to breathing room. As I've made taking care of my mind and body a daily priority, cooking fell into this space naturally. For some time now I've wanted to explore what it means to cook for the purpose of self-care, in contrast to cooking for necessity or cooking to "get in" essential nutrients for the day. HelloFresh provides the perfect opportunity.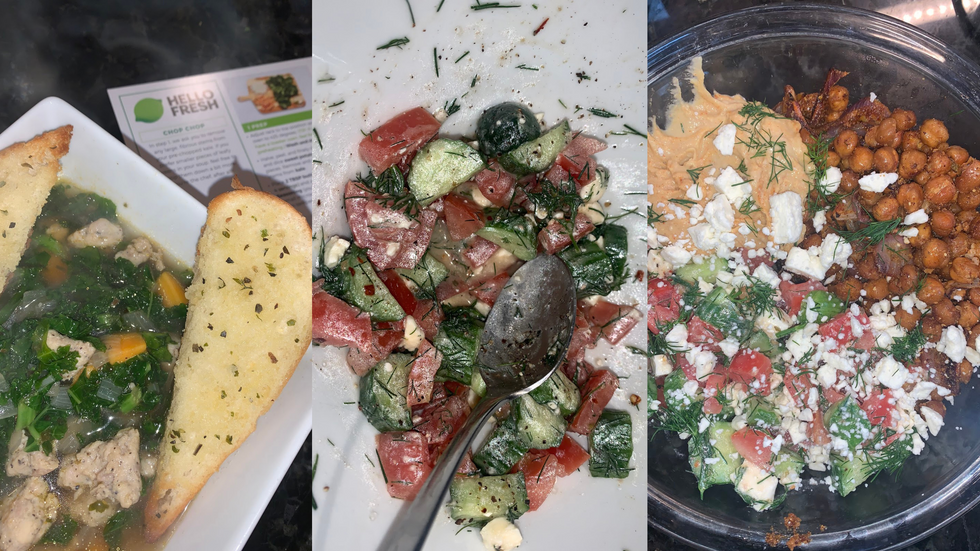 As soon as I opened my first HelloFresh package and viewed the neat brown packages filled with pre-portioned ingredients, I knew I'd found the perfect source for cooking to heal. What I love about HelloFresh's fresh ingredients and recipe cards is that they eliminate any home cooking hiccups, like grocery store indecisiveness, scouring pages of Google searching for " quick dinner ideas", or figuring out the timely balance between not burning the protein in the oven while simultaneously chopping vegetables for the side. There was no need for this stress while unboxing the Chicken Sausage and Sweet Potato Soup, Cheddar WonderBurger, and the award-winning Greek Goddess Bulgur Bowl.

As I began to experiment with the new spices, proteins, produce, and ingredients outside my typical comfort zone, I grew more and more comfortable with the idea of spontaneity and letting my taste buds take the reigns.
I found solace in the sounds of onions sizzling in olive oil and long chops of sweet potatoes, relief in the crisp and fragrant smells of fresh dill and old bay seasoning infusing the potato wedges, and fulfillment in the salty taste of a well-seasoned soup and a crave-worthy feta cucumber and tomato salad. Not to mention, the smell of roasting chickpeas in harissa powder can NOT be beat. Each meal card provided goal-oriented tasks that helped alleviate my feelings of procrastination or disorganization with my time, while still allowing me to experience joy in the process. In the end, I could do my happy dance, eat a meal that would leave me excitedly exploring next week's new menu on the HelloFresh site, and feel like my time was worthwhile rather than wasted.
HelloFresh is the perfect solution for those that love the parts of cooking that make them feel joyful and at ease, but hate the complexities that come with making a meal from scratch. To make things even better, the brand is entirely conscious of its impact on its consumers and the environments they inhabit, reducing food waste and producing a carbon footprint 25% lower than that of meals made from store-bought groceries. They also offset 100% of their carbon emissions!
HelloFresh enables me to feel secure, empowered, and confident in cooking skills and helped me try new recipes I would never have tried on my own. Every week, there are over 22 global recipes, all designed by chefs. And the cuisines on offer? Truly impressive- Thai, Chinese, Italian, Mexican and so many more.
With a HelloFresh plan, you can order 2-5 recipes a week with 2 or 4 servings per recipe, making it perfect for both single folk and families. Before any discounts, HelloFresh is as low as $7.49 a serving, making it way more affordable than takeout.
Included in their menu every week are options for vegetarians, calorie-conscious eaters, and gourmet meal thrillseekers. The meals did not disappoint- every flavor was so well balanced and putting everything together was easy- I had dinner on the table in less than 30 minutes. HelloFresh has helped me fall back in love with cooking again.
I'd like to leave off by encouraging others to view the kitchen as their safe haven, and a place to let down their guard, be playful, be creative, and be open to life's messy moments. Let go of perfectionism when it comes to the kitchen and criticizing yourself.
In the words of Ali ibn Abi Talib, "eating food is nourishment to the body--preparing food is nourishment for the soul".