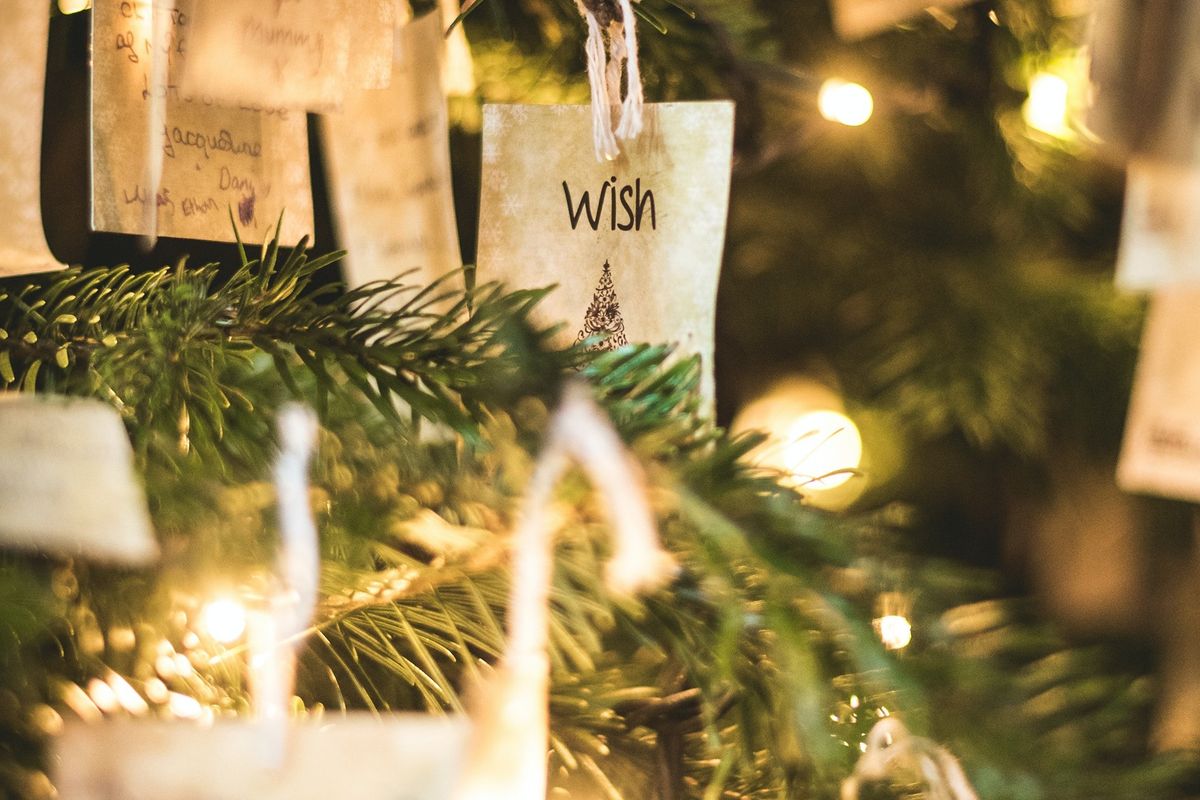 Deck the Halls… Sustainably
Not to be a downer as you deck the halls, but holiday decor is terrible for the planet.
While it might be too early to put a tree up, decorate your yard, and start playing the Mariah Carey or Justin Bieber Christmas albums (pick your poison, I won't judge)... it's never too early to start thinking about holiday decor. And this year, I've been seeing a lot more talk about how to deck the halls more sustainably.

---
There's something so satisfying about making up your house for the seasons. The ritual of decorating is a great way to bring together your family or your roommates and add some festive cheer to your space. No matter who you are or what you celebrate, adding some festivity to your life is serotonin-inducing, but traditional decorations can be the Grinches of sustainability.
Picture this: a sea of twinkling lights, glittering ornaments, and the warm glow of a perfectly trimmed tree. It's a beautiful sight, but here's the not-so-merry truth: the cheap and easy decor you find at big box stores often come with a hefty eco-price tag. From single-use plastics to energy-guzzling lights, our festive traditions don't exactly put you on the 'Nice List'.
Not to be a downer as you deck the halls, but holiday decor is terrible for the planet. Do you think tinsel is biodegradable? And what about those plastic trees? Reusable ornaments that you keep and use forever are one thing, but the things you use and discard all end up in a landfill.
But good news! There are brands and companies helping make decor more sustainable. And helping you rethink the holidays. Sustainable decor doesn't have to be drab.
With the help of sustainable brands and mindful decor tips, we can start small this holiday season to redefine what it means to be festive. Plus, sustainable decor is often an elevated approach to kitschy decor. From ethically sourced wreaths to paper garlands, unconventional decor choices don't just reflect your sophisticated taste but also contribute to a more sustainable, stylish future.
From DIY decor options to telluric tinsel alternatives, here are some sustainable decor options to deck the halls with both style and sustainability in mind.
Actually Organic Wreaths
Why did we stop making wreaths from real plants? Ditch the plastic and opt for wreaths made from locally sourced, biodegradable materials. These days, many local artisans make wreaths for your doorway and home crafted from twigs, pinecones, and dried flowers. Plus, they decompose harmlessly. You can also add LED battery-operated fairy lights for a sparkling touch without the energy drain.
DIY Decor
Get the family or the friend group together to make some paper snowflakes, origami ornaments, and paper garlands. Bonus points if you use recycled paper like junk mail and old scraps. This creative activity is a great way to kick off the holiday season and get everyone in the sustainable spirit. They're not only charmingly nostalgic but also entirely recyclable. Plus, crafting your decorations adds a personal touch to your home, rather than run-of-the-mill corporate pieces.
Living Centerpieces
Calling all plant parents! Add some greenery to your holiday scene with potted plants and succulents. Not only do they bring some vibrant life into your home but they also live on long after the holiday season. Opt for locally grown varieties to reduce your carbon footprint. Arrange a cluster of potted plants as a festive centerpiece on your dining table. Tie a festive ribbon around each pot for that extra touch of holiday glam.
Secondhand, Sustainable Decor
Vintage and thrift decor is the epitome of sustainable chic. Hunt for unique, pre-loved ornaments, candle holders, and even a quirky secondhand tree. It's a win-win – you get one-of-a-kind pieces, and the planet avoids unnecessary waste. Create a theme with your vintage finds – be it rustic farmhouse, mid-century modern, or eclectic boho. Embrace the mix-and-match charm for a look that's effortlessly eclectic
Energy-Efficient Lighting
Everyone knows that you don't want to turn on the big light. Mood lighting is all the rage, especially in the holiday season. Replace your clunky string lights with LED lights you can control from your phone. They're energy-efficient, longer-lasting, and emit a warm, inviting glow. Bid farewell to those outdated incandescent bulbs and revel in the eco-chic radiance of LEDs. Adorn your tree, mantel, or even your outdoor space with LED string lights — you can even opt for solar-powered versions.