I moved apartments this summer and it has been a nightmare. Living between two places, plus going on trips to the beach and different cities made for a manic summer.
So, as you can imagine, my diet took a back seat. Having half my kitchenware in each house meant I ended up eating out or ordering in most nights during the move. Don't get me wrong, the local pizza place is delicious, but it definitely took a toll on my system.
Now that it's Fall and I'm finally settled into my new place with a somewhat normal schedule, I decided it was time to get back into a healthy routine. I tried prepping meals with healthy ingredients for a while, but I was terrible at staying consistent.
I wasn't feeling great about myself, so I went online to search for a no-prep healthy meal plan. That's when I came across Splendid Spoon. It's a simple subscription service that sends you ready-to-eat superfood-packed soups, smoothies, and grain bowls. At first, I was skeptical that smoothies and soups could possibly ever satisfy my appetite. As I said, I'm used to eating pizza for dinner.
But if this worked out, it would be a game-changer for me - I could even bring them to work. Plus, I read that they're all vegan, gluten-free, with no added sodium. Sounded good, but I still didn't think they'd be enough and I'd probably have to supplement my meals. And even though I wasn't sure how they would taste, I decided to take the plunge and sign up.
The smoothies and soups arrived on my doorstep a few days later. The first thing I noticed was how appetizing they looked - they were so brightly colored, but I still wasn't sure how they'd taste.
The next day I was late for work (surprise), so I was thankful I had a breakfast smoothie (the Chocolate Cherry Smoothie!) to grab while running out the door. It was so yummy, and surprisingly, it actually filled me - must've been the almond butter and the pea protein. I brought the Mexican tomato soup with me to work that day and had it for lunch – it was delicious and had such a nice spice to it.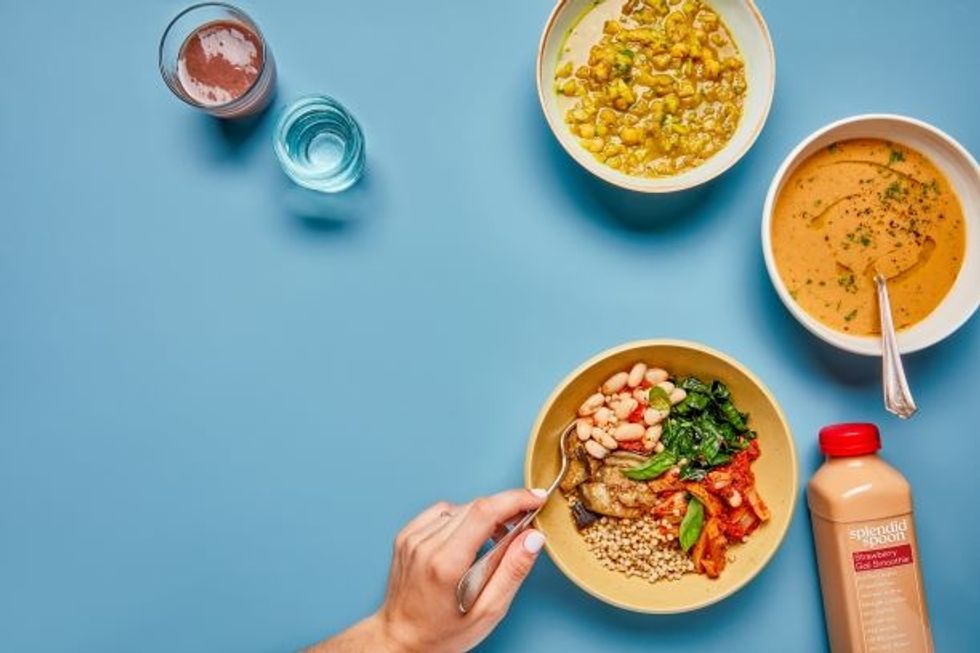 A week in, I had zero regrets about trying Splendid Spoon. I started to feel refreshed and full of energy, I was saving time and money by not having to prep meals, and I always look forward to the meals. My favorite Smoothie by far is the Strawberry Goji smoothie and I LOVE the Brown Rice Taco Bowl - it's a great replacement for the burrito bowls I used to always get when I was first moving in.
I've been eating Splendid Spoon for a month now, and I'm really starting to feel the benefits. I have so much more energy - which is great since I'm always on the go. Plus, it's a great way not to overindulge as all the meals are portion controlled. Since starting Splendid Spoon, I've definitely lost a few pounds without even trying, which is just an added bonus. If you want to eat healthier but don't have time to prep meals, I couldn't recommend Splendid Spoon more. I wish I signed up sooner!