At first glance, Daily Harvest and Splendid Spoon look to be very similar vegan meal delivery services. Both meal plans deliver plant-based smoothies, soups, and other offerings containing high quality meals right to your doorstep on a weekly basis.
But if you take a closer look, you'll actually find that there are a lot of differences between the two.
Convenience is king. And that's why so many people are turning to solutions like meal subscriptions to help them get through a busy week. To help you decide which company is a better fit for you, we've clearly outlined the key similarities and differences, so you can stop researching and start enjoying the convenience of having your meals delivered.
Key Similarities
Both deliver vegan smoothies and soups right to your doorstep
Both are subscription options (with the ability to pause or cancel at any time)
Both let you choose your recipes each week, and change it up based on your preferences
Both are vegan and GMO-Free
Key Differences
Splendid Spoon smoothies arrive ready to drink, whereas you have to blend the Daily Harvest smoothies
Splendid Spoons smoothies are 16oz and two servings, whereas Daily Harvests are one serving and just a little over 7oz before you add water
Therefore, Splendid Spoon is better value for money considering their smoothies are 2 servings
Daily Harvest has more options per week - 60 vs. Splendid Spoon's 50
Almost all of Splendid Spoon's smoothies contain between 5-12g of sugar per serving; however, most of Daily Harvest's smoothie sugar content ranges from 14g-32g per serving Yikes!
Splendid Spoon contains an amazing range of health-boosting ingredients like turmeric (a natural anti-inflammatory) and hemp seeds (rich in healthy fats)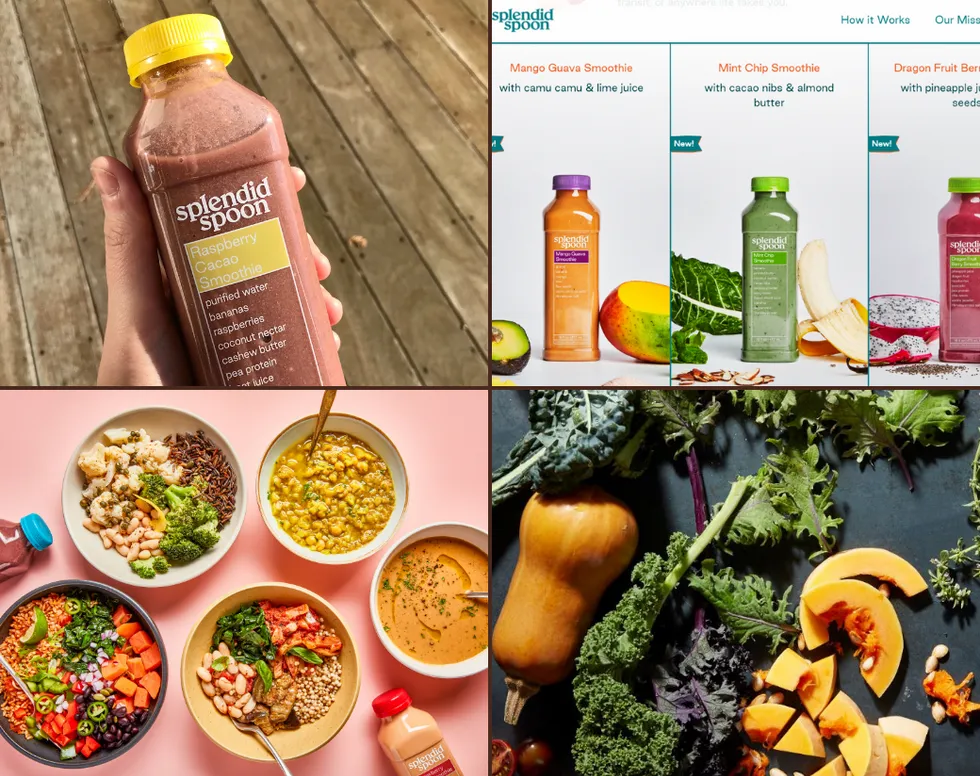 Splendid Spoon wins on convenience. Their Smoothies arrive ready-to-drink, and their soups and grain bowls just require a few minutes in the microwave. Splendid Spoon will keep you fuller for longer due to their larger portions – their bowls are 12oz, and their smoothies are 16 oz.
Their smoothies feature ingredients such as acai (strengthens immunity and boosts energy), spirulina (jumpstarts endurance), and baobab (great for your skin!). Plus, their site is very easy to navigate and could have all of the information you could possibly want.
Their product offering also contains everything you could possibly need to keep your healthy eating on track. In addition to soups and smoothies, Splendid Spoon also offers grain bowls, Wellness Shots that give you a hit of immune-boosting ingredients like ginger and lemon, and something called "The Reset" - 5 light soups designed to restore your digestive system.
Splendid Spoon really has mastered the balance between texture and taste. Customers love the Kabocha Congee and their Mexican Tomato Bowl, and the reviews on their site speak for themselves.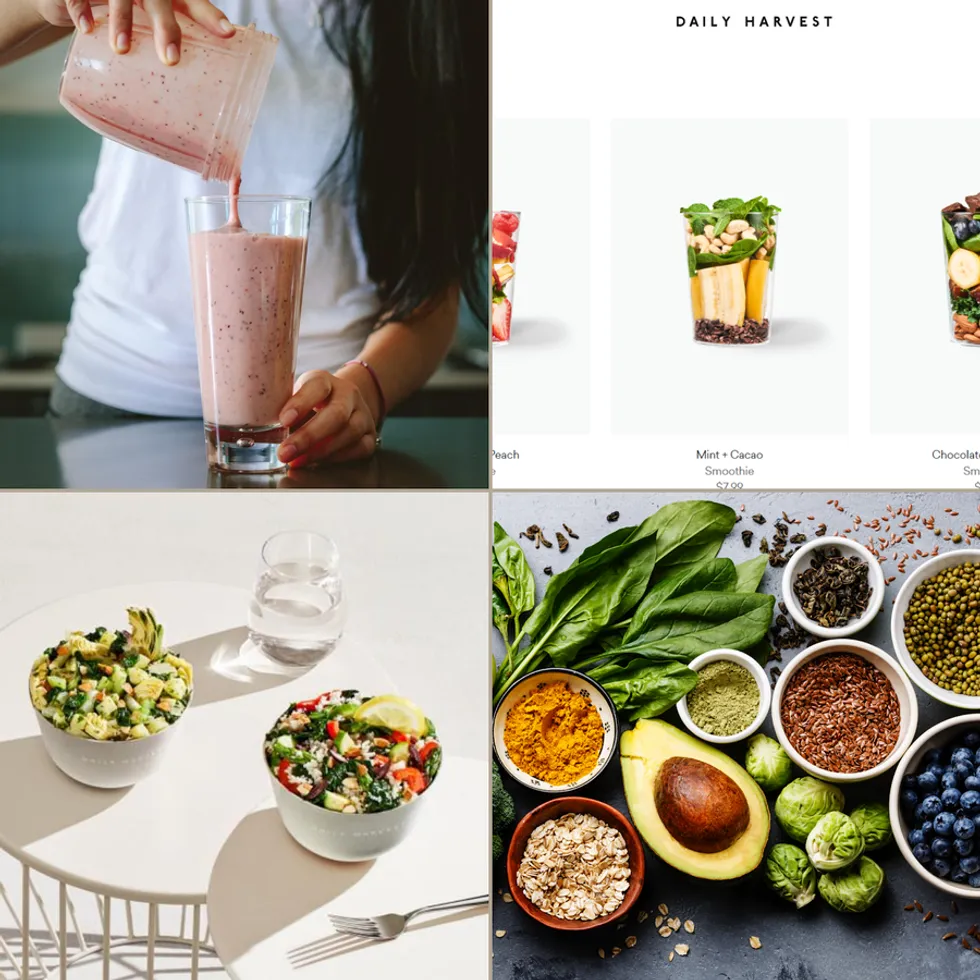 Daily Harvest has a great product offering of items like grain bowls and flatbreads, but their smoothies must be blended, and meals can take up to 5 minutes to prepare.

Daily Harvest's bowls are between 8.5-11.5oz each, so their portions are a little on the smaller side. Although Daily Harvest's flavors are nice, their smoothies are a little on the thin side.
They have an impressive variety of recipes, such as the Kale + Kalamata Harvest Bowl and Green Chickpea + Turmeric Soup.
Final Notes
Whether you're a vegan, vegetarian, or carnivore, everyone can benefit from eating a wide variety of superfoods and reducing their intake of animal products. There are zero downsides to sticking to a plant-based diet, even if it's only for a portion of your week. You can't beat the convenience of having meals that are ready to eat, delivered right to your doorstep. Both services deliver just that, but if you're looking for value for money, a bigger range of nutritional benefits, bigger portions, and less sugar content, Splendid Spoon is the right option.
Splendid Spoon and Daily Harvest meals start at around $8 each, but considering their smoothies are 2 portions each, and the ingredients list contains such an amazing range of superfoods, we think that Splendid Spoon is the best option for those wanting to add more plant-based wellness into their day.
For A Limited Time, Follow This Link To Save On Splendid Spoon!