I'm a huge smoothie fan. Throwing fruits and vegetables into my blender has always been my favorite way to sneak healthy foods into breakfast or snack so I can skip the bowl of dry kale.
But now that my life is way busier, I've had to outsource my smoothie-making skills and start buying pre-made options if I still want to get in all my fruits and veggies. I started looking around for pre-made alternatives that could deliver plenty of yummy, healthy options in a variety of flavors. I picked up smoothies from major brands and also subscribed to Splendid Spoon, a delivery service that sends you plant-based, superfood-filled soups, and smoothies designed to nourish your body using all-natural, non-GMO ingredients and as little sugar as possible.
I kept track of what I was eating when and definitely noticed that one brand was helping me feel my best.
Here's how I was able to determine the best smoothie company around.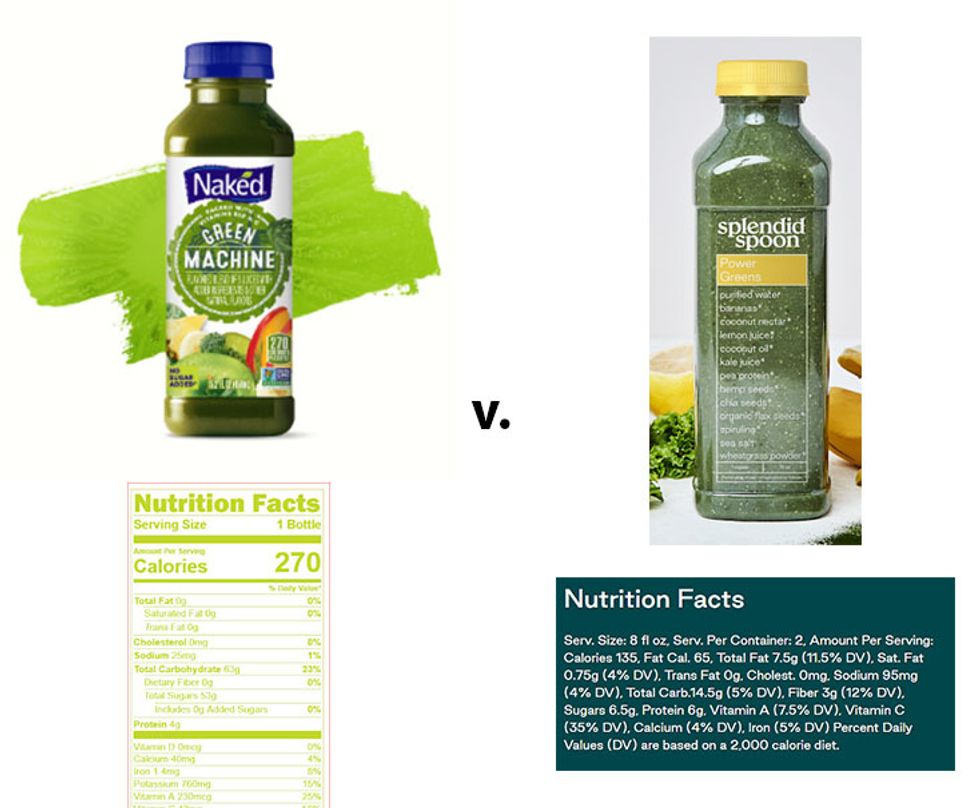 Naked's Green Machine was the very first pressed juice I ever drank. When I was in high school I remember thinking it was synonymous with being totally healthy, mostly because of the color and the name. I revisited my old "healthy" stand-by, and it was just as delicious as I recalled…but I think the "healthy" feeling I got was just a placebo; This time around I took a look at the label and found 53 grams of sugar per bottle! I discovered that every juice brand has a "super greens" option but Splendid Spoon's "green juice" has only 13g of sugar, which are predominantly from bananas and coconut.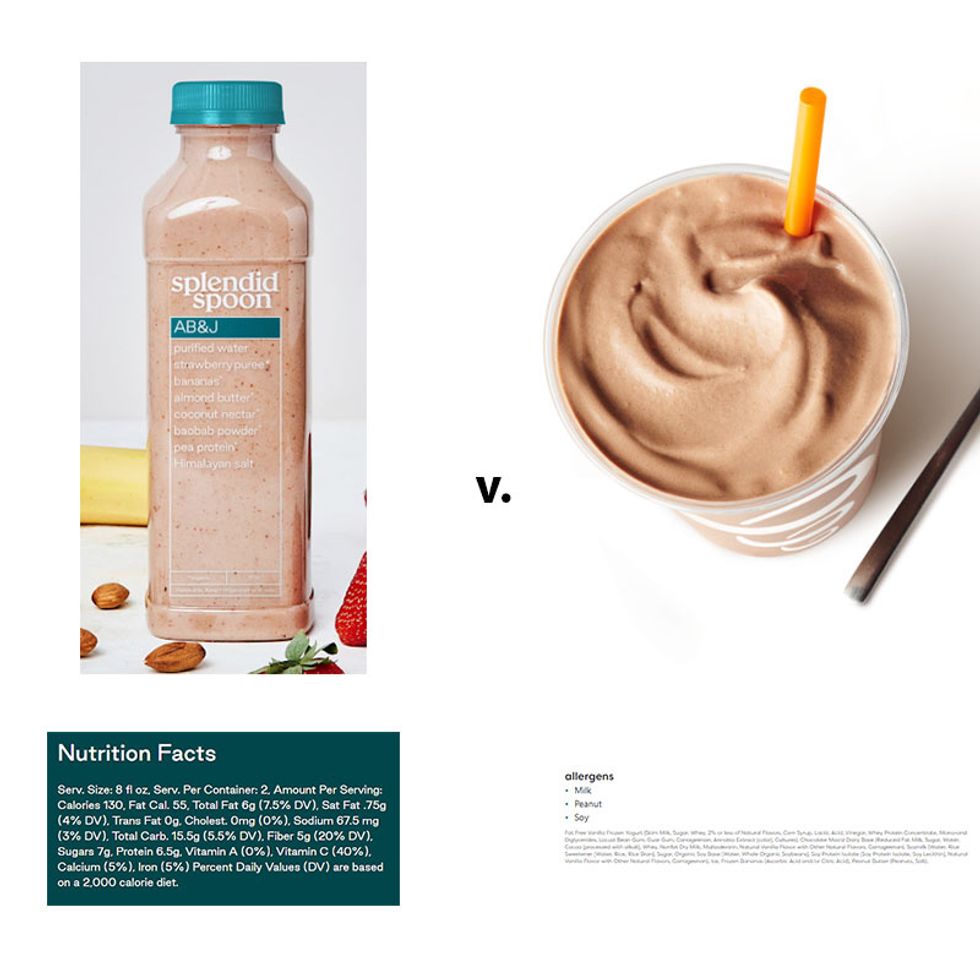 For high protein smoothies, I really love ones that include nut butters. I ate a pb&j every day from ages 10-18, so I craved a grown-up version in my life. I used to get the Peanut Butter Moo'd smoothie from Jamba Juice, as a sugary treat, and now they've come out with a healthier version, made with fat-free vanilla frozen yogurt and soymilk! The dairy makes it super delicious and creamy, but with 63g of sugar in 16 ounces, it's still a dessert. Also, my favorite food in the world, pb&j, is vegan, so I'd prefer a vegan version. The use of almond butter and pea protein in Splendid Spoon's ab&j makes it incredibly filling, with only 14g of sugar in the same amount.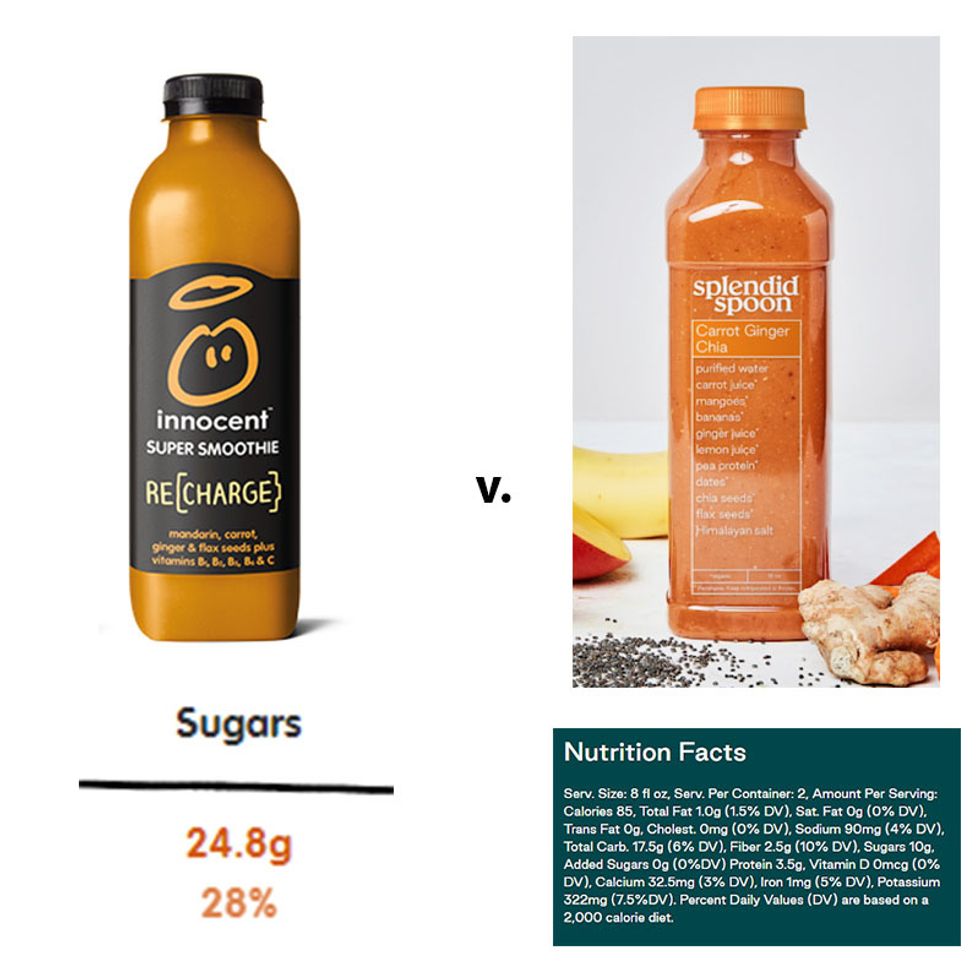 Splendid Spoon was winning against the big smoothie brands, but I wondered if it could measure up to other boutique health-oriented brands. I loved an innocent juice I'd had while I was abroad, so I compared their carrot ginger smoothie to Splendid Spoon's since the ingredients were so similar. One serving of innocent's had 24.8g of sugar, 28% of what you need for the day, while Splendid Spoon has only 10g of sugar for the same amount, and it tastes sweeter because of the addition of dates.
Smoothies are a fun and delicious way to add more plant-based foods to your diet. Thankfully, ready-to-go smoothies have gotten healthier over the years, so I know that I can get the nutrients I need without the hassle. However, added sugars can quickly turn these smoothies into desserts. Even natural sugars can have negative effects on your energy levels, weight gain, and more. Splendid Spoon is my new smoothie go-to for the shockingly low amount of sugar for such delicious taste and their delivery options; with a subscription, I'm always fully stocked with healthy smoothies and soups ready to grab first thing in the morning. No more leaving work to get a snack or reaching for quick junk food anymore.