Let's all agree - nothing gets a day started better than a good cup of coffee. But since running late is part of the norm, we often end up at Starbucks or Dunkin' Donuts, overpaying for a latte that tastes burnt or even sour.
While some people have come to accept the awful bitter tastes of big coffee chain brews as normal, our editors wanted to dig a little deeper - bitter-tasting coffee shouldn't be normal at all, especially when paying $5 or more!
We were stunned to find out that many coffee giants in the US and Europe use ultra low-quality, under-ripe coffee beans, responsible for their brews' dark color and bitter flavor.
And that's only the beginning of our findings… Nevertheless, we wanted to find a solution to our coffee problem. There had to be something just as convenient as picking up a latte from Starbucks without sacrificing quality, taste, and money.
We came across Copper Cow Coffee, a brand of Vietnamese ground coffee that doesn't require any machines or gadgets to brew it, making sure you always get your caffeine fix, even when running late.
Here's what we discovered when comparing Copper Cow Coffee's at-home lattes with our coffee chain faves:
Key Similarities
All offer different flavors
All have hot and cold options
All are incredibly convenient
Key Differences
Copper Cow Coffee delivers to your door - Coffee Chains don't
Copper Cow Coffee is sustainable - Coffee Chain's isn't
Copper Cow Coffee is affordable - Coffee Chains overcharge
Copper Cow Coffee tastes delicious - Coffee Chain's tastes bitter and dark
Copper Cow Coffee

Copper Cow Coffee is a female-owned company that takes your self-care routine to the next level by offering all-natural coffees and lattes that are easy to make - just pour and sip! You can choose between various flavors for your coffees and lattes like Vanilla, Churro, and Lavender, as well as natural creamers.
Just hang their coffee filters over the edge of your mug, pour hot water, let it brew for 90 seconds, add one of the sweetened milk packets, and enjoy the best coffee you've ever had - no kidding! Since each coffee comes with its own pre-filled filter, you can also easily take it to work and brew your latte there - all you need is hot water.
Of course, Copper Cow also offers delicious ground coffee that works for drip, pour-over, and even french press. Their Classic Black is their best-selling one -- super smooth with subtle chocolate-nutty notes. But they also offer ground coffee in delicious flavors like Vanilla, Churro and Salted Caramel.
We love that Copper Cow Coffee is sustainably sourced and completely customizable. Their pricing is pretty affordable, too; $14 for 8 coffees plus free shipping, and you can save 20% when subscribing! Or simply get their Starter Kit for $38 which includes everything you need to overhaul your coffee routine; their Best Brews Latte Kit, a bag of ground classic black coffee, a sample mocha creamer packet, a sample hazelnut creamer packet, and a cute custom Copper glass mug.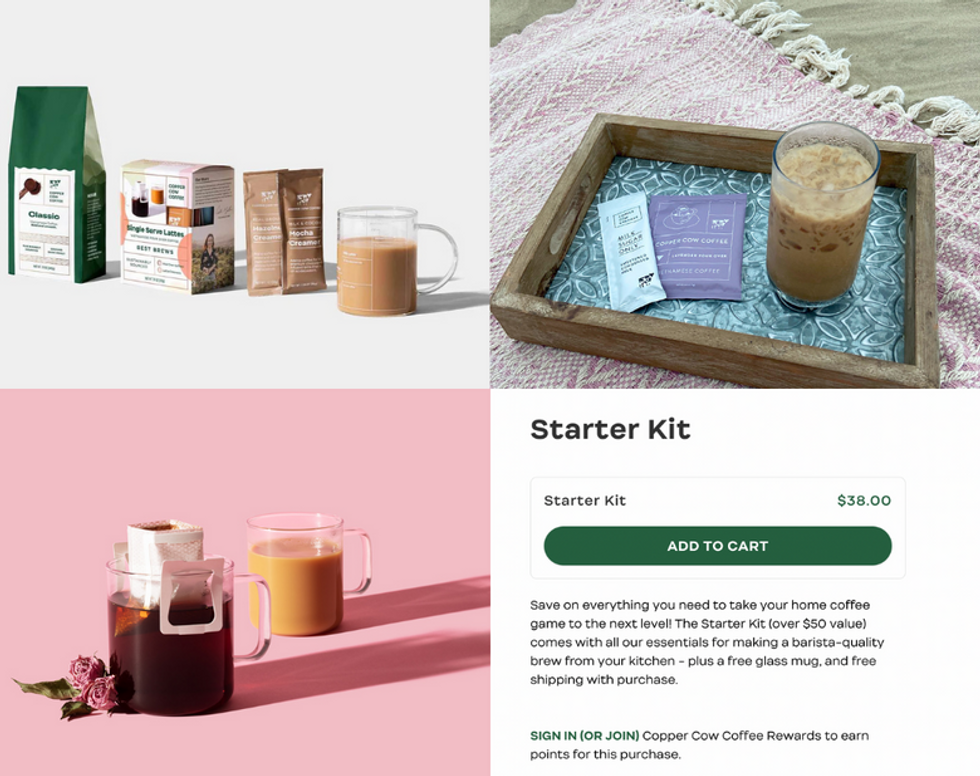 Coffee Chain Faves
Starbucks and Dunkin' Donuts are the most popular coffee chains in the US, having shops on literally every corner. Though Starbucks' signature coffee is described as a rich medium roast, it was dark to us and tasted bitter. On the other hand, Dunkin's medium roast was very watery and a lot lighter.
We learned that these coffee giants serve roasts meant to be done with sweeteners and flavors to improve their taste. No wonder Starbucks is known for its artificial sugar-packed Frappuccinos.
Without adding tons of milk and sweeteners, Starbucks and Dunkin' coffees honestly suck and are not worth overpaying. And especially those who care about sustainability, climate, and environment have better options to get their coffee from.
Final Thoughts
Although Starbucks and Dunkin' Donuts are known to serve "America's favorite cup," their coffees are rather disappointing. Yes, ordering a brew while driving through is convenient, but what's the point when it tastes horrendous?
Our editors had no idea there was a solution for convenient coffee that's also great when on the go - without it being instant coffee, of course. But we found Copper Cow that beats it all! Their coffee is super easy to make, perfect to take with you, and it tastes mouthwatering. There is no going back for us, that's for sure!