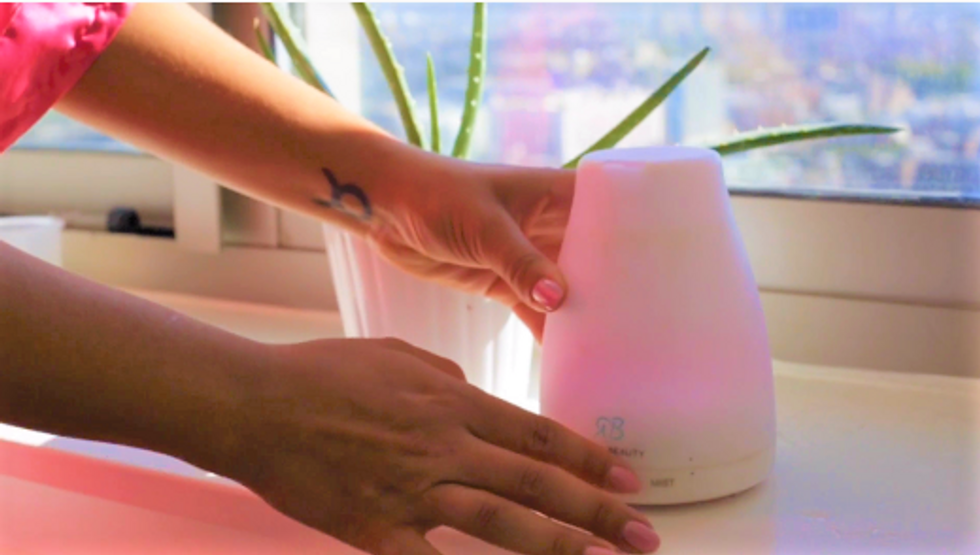 Create a relaxing environment in your home with this Radha Essential Oil Diffuser
With this diffuser, dive deep into the healing world of aromatherapy
Aromatherapy is a soothing practice that, with the use of essential oils, aims to purify your mind and home. I recently found myself getting more and more into aroma diffusers, as they can really help create a peaceful environment in your home. The MUJI ones entranced me, but not as much as their hefty price tag. That's when I hopped online, scoured Amazon for hours, and eventually found the diffuser most suitable for me: the Radha Essential Oil Diffuser.
The product description is as follows:
Use Ultrasonic waves to instantly vaporize water and essential oil in the tank, to produce a cool, dry fragrant mist.
Low water level auto cut off, safe and reliable.
Water tank capacity of 100ml that can continue use 3-5 hours according to different modes.
Colorful changing LED lamp, with independent light control, can keep 7 colors changing or stay on one color.
Easy to adjust moisture outlet.
This innovative aroma diffuser not only transforms the mixture of water and essential oil into one uplifting and pleasant experience, but it changes colors too! With a variety of seven different hues to choose from, it's easily customizable to fit into your home. It's perfect for yoga, office, spa, bedroom and baby room as well. It's sleek, modern design makes it an instant eye-catcher to whoever steps in the room.
People may get put off by aroma diffusers because they're not certain how they work, but the Radha Essential Oil Diffuser could not be more user-friendly. It contains visuals on it's instructions so you can always be sure of what you're doing, every step of the way. Essentially, you take off the cover, add water with a measuring cup up until the marked line, add 2 drops of any given essential oil (not included with diffuser), and then you close the cover and seal it tight. There you have it - your very own aroma diffuser that's half the price and work of the usual ones on the market.
As Patricia Balabari reviews over at Amazon, "I bought this to help keep my sinuses in check while pregnant. I'm tired of taking medicines. So I thought that I would give this a shot. Anything that changes colors catches my eye and I have to have it. So, I got a breathe and a sleepy time blend for this little wonder. Let me say this... I put in the breathe blend next to the computer desk. It really got the oil in the air and opened my sinuses. I could smell again!" she says. "Next day I put this oil diffuser next to my bed and I used the sleepy time oil I bought. Let's just say my husband and I sleep like rocks. Nothing wakes us up and we feel super refreshed when we wake up. This little thing makes an entire room smell good! It really works good for the price! 10/10 would buy again!"
What are you waiting for? Make your home the peaceful environment you've always wanted it to be with the Radha Essential Oil Diffuser.