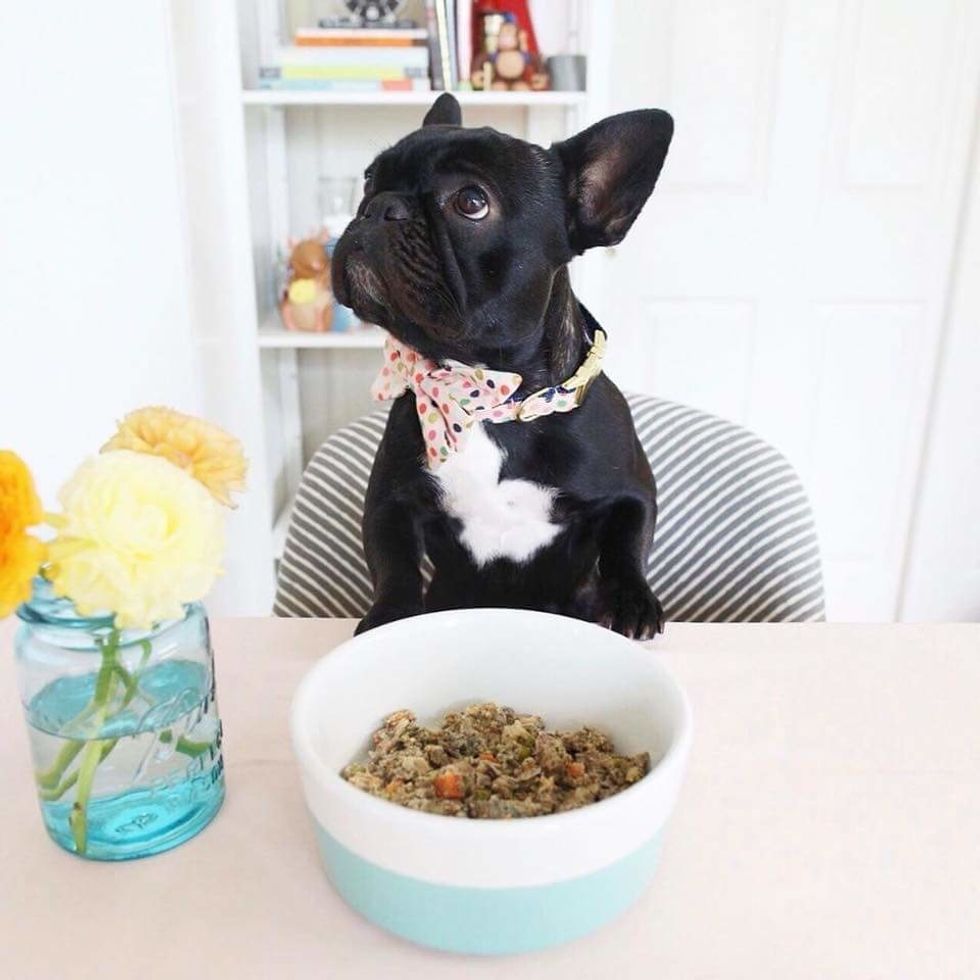 Asked & Answered: What Is Human-Grade Dog Food and Do Our Dogs Really Need It?
Is Human-Grade Dog Food The Best Way To Feed Your Dog Healthy Meals?
Our dogs are always there for us at the end of a long day. So, naturally, we want to treat them well-- most importantly make sure they're in good health. We recently discovered that the right dog food can help your dog live a longer and healthier life. But the dog food industry is confusing. Most of the time, we have no idea what's in our dog's food,. And often, it's not good for them at all! Ollie's team of certified canine nutritionists is here to change that.

What Is Ollie?
Ollie is a dog food delivery service that know what dogs need to be healthier and happier. Ollie sends your dog customized, human-grade vet-formulated meals, which are made with high-quality meat from human-grade farms in the U.S. and Australia. They believe in feeding dogs wholesome foods, full of fruits and veggies—nothing artificial ever.
What's Wrong With Kibble?
Kibble, along with other typical types of dog food, is often classified as "feed" and doesn't have a standard for the ingredients it includes. It can often contain byproducts, mystery "meat meal", or processed grains. None of which are good for your dog.
What Makes Ollie Different?
The food from Ollie is made with fresh ingredients from human-grade farms, and doesn't contain any by-product, fillers, artificial flavoring, or preservatives. The recipes are formulated with the help of a veterinary nutritionist and pass all AAFCO standards. All meals are cooked at low temperatures in small batches, and hand-packed by people that Ollie has a direct relationships with.
How Will My Dog Benefit From Ollie?
Like humans, dogs feel better when they eat higher quality, healthier food (which you would think would be obvious, but isn't to some people). Since they are eating a meal tailored especially for them that contains real, natural ingredients, it can have a huge impact on their overall health. Ollie food can improve your dog's heart health, increase their energy level, make their coat shinier, and their breath smell better. A healthier dog means less trips to the vet and (hopefully) a longer life for your best friend.
How Are The Meals Tailored To My Dog?
When you sign up, you simply answer a few questions about your dog, ranging from their breed and weight, all the way to their current diet and their activity level. This information then goes into Ollie's proprietary algorithm to determine the best meal plan for your dog. You can then choose from different recipes: turkey, beef, chicken, or lamb.
What If My Dog Doesn't Like The Food?
Transitioning to a completely new diet can be difficult for a dog, so it may take some time for them to get used to it. Luckily, Ollie provides a set of guidelines to help you make the change as smoothly as possible. If your dog truly doesn't like the meal, you can send it back and either get a new one or be refunded. You can also cancel your subscription at any time.
What Are The Downsides?
None for me yet! It's conveniently delivered to my door, so I no longer have to go out and pick up dog food at the pet store. More importantly, my dog is noticeably more energetic, maintaining a healthier weight, and I can't remember the last time we had to go to the vet for health issues. This new diet has dramatically improved my dog's happiness and can hopefully improve his lifespan. As a pet owner that's about as good as it gets.
Plus: Ollie is now extending a special offer to our readers. Follow this link to get 50% off your first Ollie delivery!