Founded in 2013 by self-proclaimed golf nut Bob Parsons (best known as the founder of GoDaddy), PXG is a global golf equipment company that specializes in custom-fit products, from clubs to accessories — and even apparel.
I recently had the opportunity to test out their mobile fitting, where a PXG fitting pro meets you at your nearest driving range and provides a custom experience that tracks every data point related to your swing.
But PXG also has over 20 brick-and-mortar stores across the U.S. So when they invited me to try an in-store fitting, you'd better believe I was raring to go.
What's the value of an in-store PXG club fitting?
Every in-store fitting is a 1-on-1, personalized experience with a PXG Master Fitter. It's designed to lower your scores, increase fun, and elevate your game by providing you with custom clubs and data to level up your play.
All PXG stores use Trackman technology to evaluate your swing and flight path plus each swing and club combination to see how they compare. They can also record your swing on video so you can re-watch it later and dive deeper into the (extensive) data collected.
How does an in-store PXG fitting work?
Duration: Roughly 2 hours.
Scheduling: PXG's website makes it super easy to find the closest store location to you. You can book an appointment online at a date and time that's most convenient (I chose Westchester, NY).
Overview:
PXG offers 5 different in-store fitting types:
The Full Bag Experience (2 hours)
Long Game Fitting (1 hour)
Irons Fitting (1 hour)
Lucky 7 Combination Fitting (90 minutes)
Putter Fitting (1 hour)
I went with The Full Bag Experience (which I'd recommend for anyone who's never had a proper fitting before).
It's an immersive, data-driven fitting that matches you with the right clubs to optimize your game. You'll receive a full fitting analysis for drivers, woods, hybrids, irons, wedges, and putters.
Stats captured include:
Carry
Total yards (with roll)
Club speed
Club path
Ball speed
Smash factor (which combines ball speed + club speed)
Spin rate
Face angle
Face to path
Attack angle
Make sure you bring your current golf set, golf shoes, and whatever gear you're most comfortable playing in. Even though you'll be hitting into a simulator, the goal is to mimic what it would be like out on the course or at a driving range.
My experience:
PXG's stores are like nothing I've ever seen. For one, no other golf company has its own box stores. They're also impeccably designed. From the moment you step in, it's clear you've entered a new tier of quality, from the sleek black leather chairs to the simulation areas to even the lighting.
As soon as I entered, I was immediately greeted with a cold beverage by a PXG Master Fitter named Brandon. We sat down in the lounge area while we chatted about how the process would work.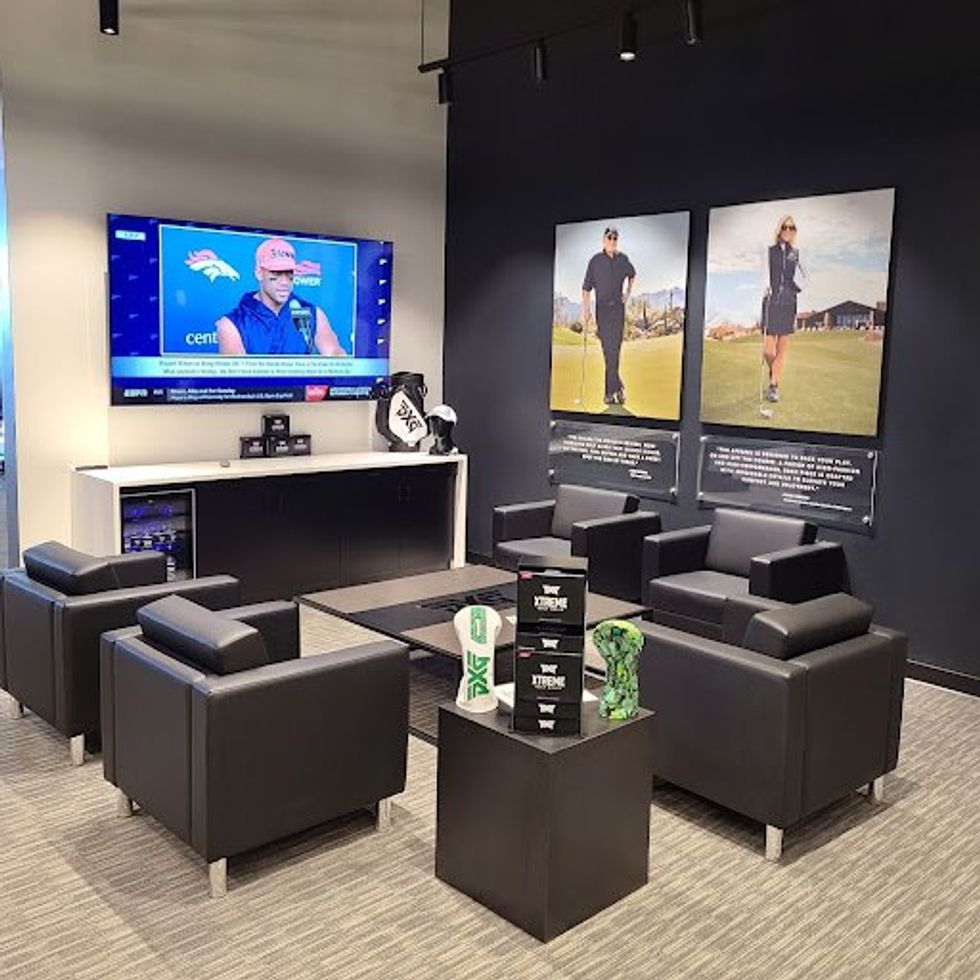 Now this is a proper store lounge
​Brandon spent some time getting to know me a bit — both as a golfer and what I was looking for, club-wise. He also explained how the experience would work, and answered any questions I had. I immediately felt at ease.
Then it was time to get to work. Brandon brought me to my personal bay, where I did some quick stretching and warmed up using my current club set.
First up, Brandon had me take out my current 7-iron and swing like I would on the fairway. The goal was to understand my current swing and get a baseline of what they're working with in terms of my skill level.
After a few swings, Brandon began to fit me with different PXG clubs. This is a trial and error process, where you swing consistently while PXG's pros make adjustments to find the perfect pairing. They explain every change they make to ensure you understand not only what club makes sense, but why.
I spent roughly an hour hitting my 7 iron, which is the only club you'll use — once they have the right fit for this one, they have what they need for all the rest of your irons.
Next, it was time for a breather. Brandon brought me to the store's putting green, where I went through a putting fitting.
​Let me tell you, there's a lot more to putting than you think! I was asked what putting head I liked best, and then I tested different lengths, grips, and weights (similar to irons).
After that, we went back to the bay, where I hit the hybrids, woods, and drivers. This is definitely where I had the most fun — who wouldn't love testing state-of-the-art clubs to see how far you can hit the ball?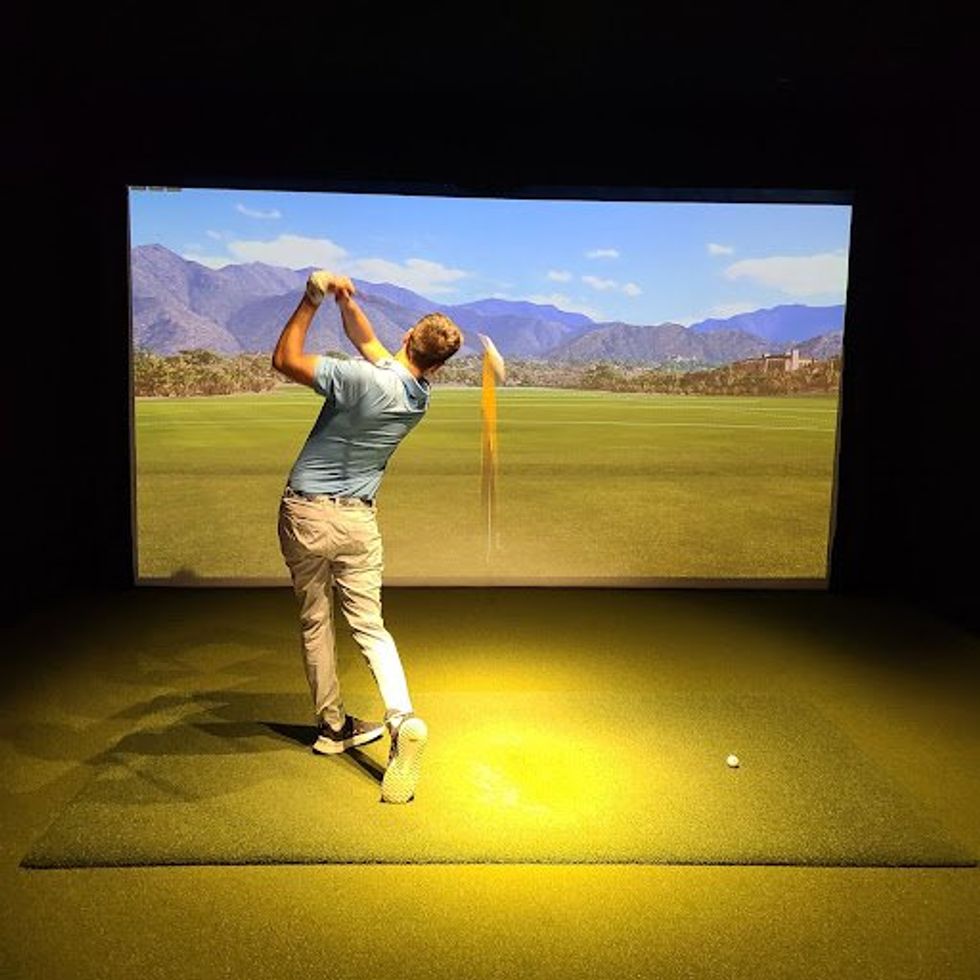 Spoiler alert: The PXG in-store simulator is a BLAST
Once I was done, I had the option to purchase the clubs right then or I could sleep on it for a little bit before deciding. Note that no one in PXG stores will ever mention the price unless you ask — which means no pressure to pull out your credit card if you're not ready. Now that's what I call class.
If you do decide to pull the trigger, it takes around 10 days to create your custom clubs and ship them to you. While you can't walk out the door with a new set of clubs the day of your fitting, you do get your Trackman stats and videos to take with you (conveniently sent via email).
However, you can walk out with apparel and accessories — I'm talking everything from performance polos to belts and socks. PXG literally has it all.

What I learned:
As with any sport, improvement takes both practice and the right set of tools and equipment. If you're serious about leveling up your golf game, then you have to be willing to invest.
PXG was created with a single goal — to develop and offer the finest golf equipment on the market. Why? So that golfers like me can play better and have more fun on the course.
After spending roughly 4 hours testing out every single club type they offer, here's my take: Mission, accomplished.
But don't just take my word for it… Here's what other customers have to say about PXG's in-store experience: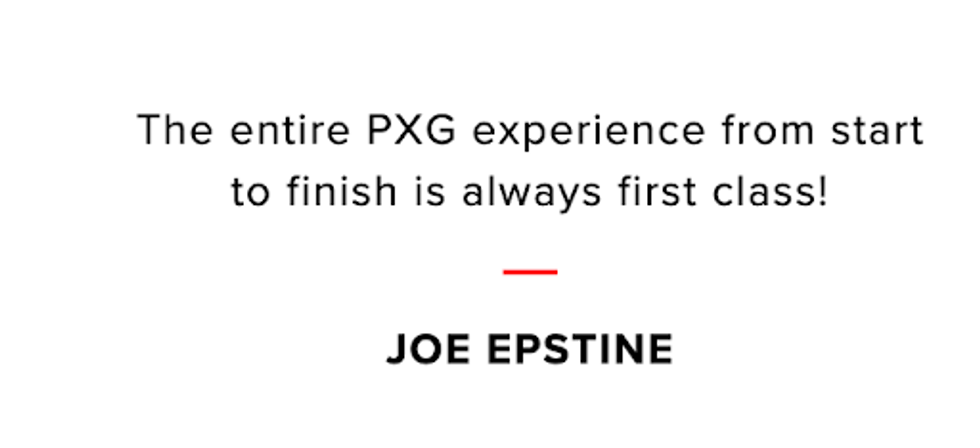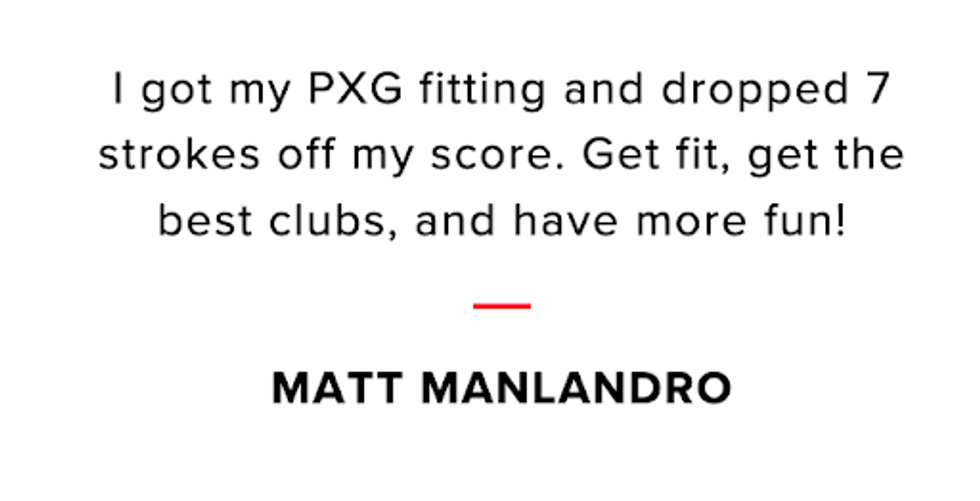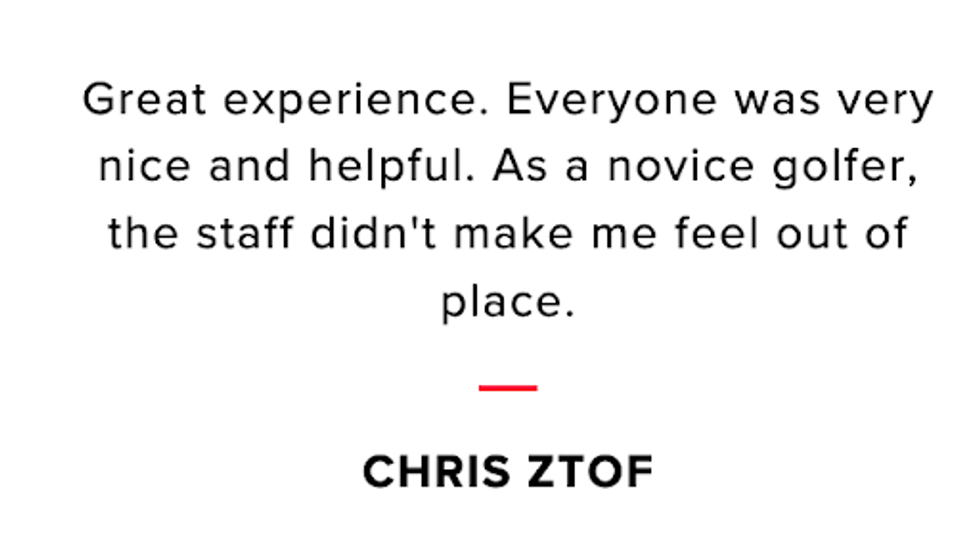 Final thoughts:
PXG's in-store experience is superb, hands down. From the store layout to the personalized 1-on-1 experience, they provide an opportunity that I've only ever seen pro golfers receive.
As someone who loves diving into numbers, seeing all the data points and watching my swing on the giant screen blew me away (and, I'll admit, gave me a lot to think about).
If you truly want to improve your golf game, no other company provides this much detail and insight about your swing and how to level up — and fits you with the clubs to do it.
You know the saying, "A good workman never blames his tools?" After being fitted by PXG, the thought will never again cross my mind.