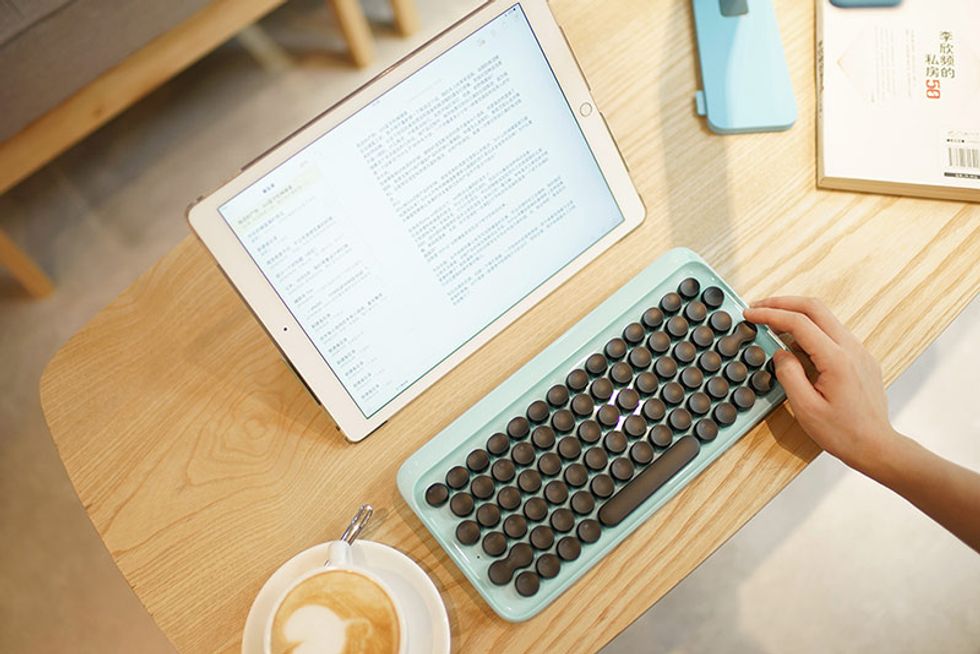 Lofree Dot: the affordable, flexible typewriter-inspired wireless keyboard
Have all the nostalgia of owning a typewriter without any of the hassle.
Almost every writer, reader or vintage collector wants to own a typewriter. The physicality of the keys and the sound of the ink hitting the paper. It makes just about any word lover go crazy. Unfortunately, actually owning and using a typewriter can be an expensive an inconvenient venture. To fill this need, there are plenty of typewriter-inspired bluetooth keyboards on the market. However, the most stylish and affordable is the Lofree Dot.
Many premium wireless keyboards will run you about $100 and up. On the cheaper side, there's usually the modern styled mechanical keyboards that pair well with your tablet. The more specialty typewriter styled ones can even go up to as much as $300 a pop. For many professional and aspiring writers, this price is just too steep. That's the price of a brand new tablet, for crying out loud. You might as well invest in a traditional typewriter at that point. However, the Lofree Dot is in a reasonable price range at $129. The mechanical keys will bring you back to those typewriter glory days and its modern design fits well in any office setting.
The Dot comes in three different base colors: pure white, sandstone black and turquoise blue. They keyboard I purchased as turquoise and its shiny, polished look makes me excited to write every day. The keys have a decent travel depth that really respond to your input and they sound exactly like an old-fashioned typewriter. I feel like I'm in Mad Men anytime I use it.

I love how portable it is. While the keyboard does have some thickness to it, it is lightweight and easy to pack into a bag. The bluetooth settings are phenomenal as well. Most wireless keyboards are locked into an operating system as far as the function keys go. If you want have the versatility of your Apple computer's function row, you need a keyboard that is compatible. The Dot supports this, but also allows you to easily switch to a Windows computer or Android tablet. You can have up to three different devices paired to your keyboard at any one point in time. A simple two-key command allows you to switch between these devices quickly. You can also use the keyboard with a wired connection while it is charging, so you never have to wait to use it. Oh, I also forgot to mention it comes with not one – but three – different backlit settings for use during those nighttime hours.
While I love my Dot keyboard, there is an adjustment period. The round keys, while stylish, led to some accuracy issues in the first couple days of use. Even months in, I still have trouble with typos when I'm typing at faster speeds. Definitely not the keyboard for typing tests. Another minor issue I have is that the right shift key is half the size of the left. This was done to fit the arrow keys on the left side, but I still have problems hitting the smaller shift key instead of the up arrow. However, I'm mostly used to it at this point. The Lofree Dot is much better for creative projects and writing than rote copying information or lighting fast touch typing.

Another slight drawback to consider is the noise of the keys. Yes, I know that's the point of the keyboard. However, if you really want to be able to bring it everywhere you go, using it in quieter environments, like a library, might be annoying to others. If you don't particularly care about that, then go nuts. Additionally, if you do want to take it with you, be careful where you pack it. There isn't a carrying case available for the keyboard available yet, although it is pretty sturdy and durable. I personally feel a little antsy about sliding tech unprotected into a bag. If you have a decently sized pocket for it, this shouldn't be an issue.
Overall, the Lofree Dot is a great lower budget wireless keyboard for typewriter lovers. The modern design won't be out of place in an office or coffee shop and the sound of the keys will inspire you to keep on writing. The flexible bluetooth support and productivity functionality will help you complete many a writing project too.