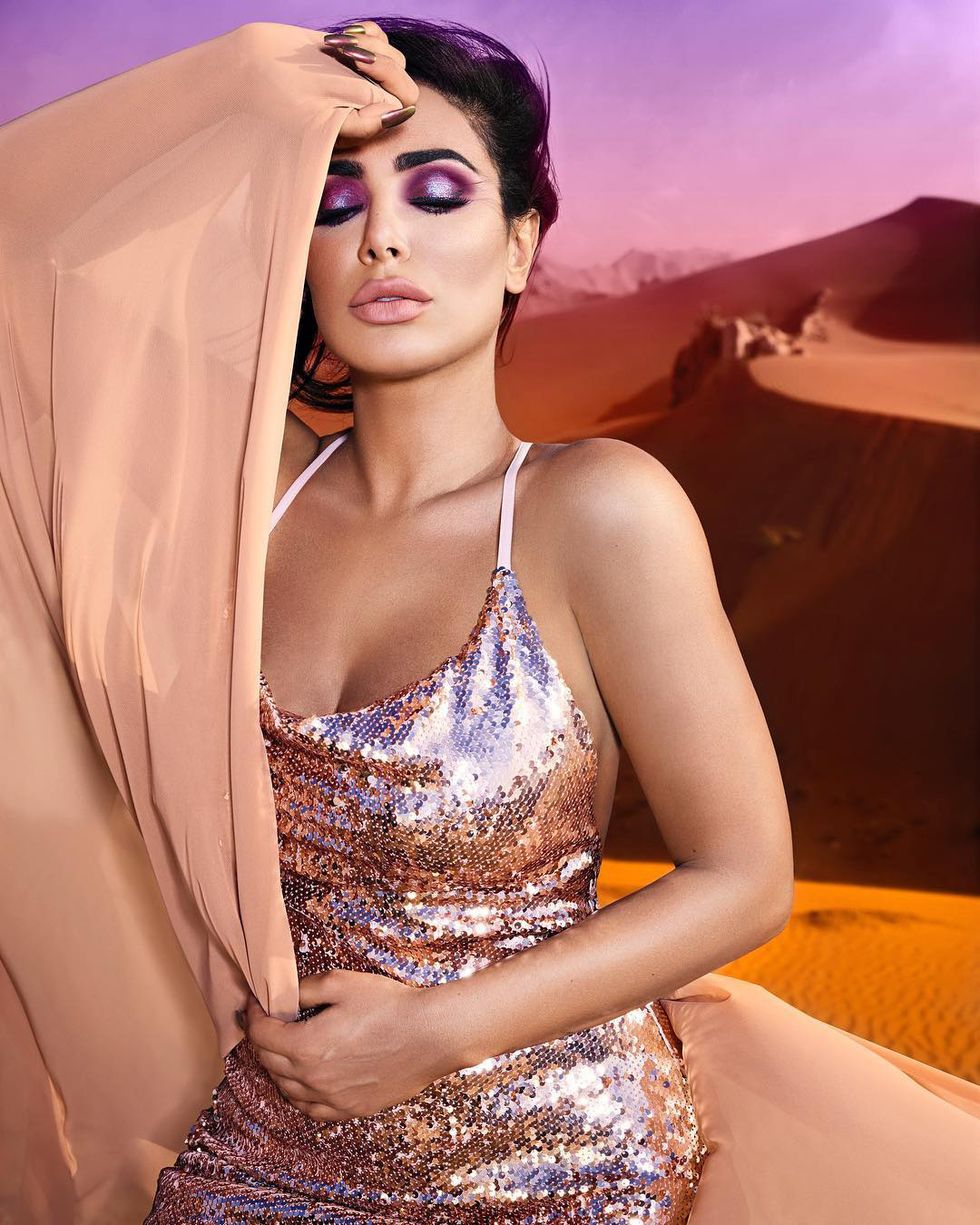 Why we love Huda Beauty's Desert Dusk Palette
I need more Huda Kattan! I need more!
Huda Beauty's Desert Dusk Palette is one of the prettiest palettes
Warm-toned makeup palettes have been trending for some time now and, I must admit, I've been suckered into buying one too many. Terracotta hues, cranberries, brick-reds and browns have taken over the makeup blogosphere with a plethora of products for the fall season. I'm the type of girl who rocks a red lip and warm eye throughout the year, so I knew I'd have to add the Huda Beauty Desert Dusk ($65.00) palette to my collection. Inspired by desert landscapes and the horizon hues of Dubai, the palette features an arrange of warm-toned matte and shimmer/glitter finishes. It's a beautiful palette to have on display and equally beautiful in its color arrangement, featuring some of the prettiest mattes and shimmers I've used all year.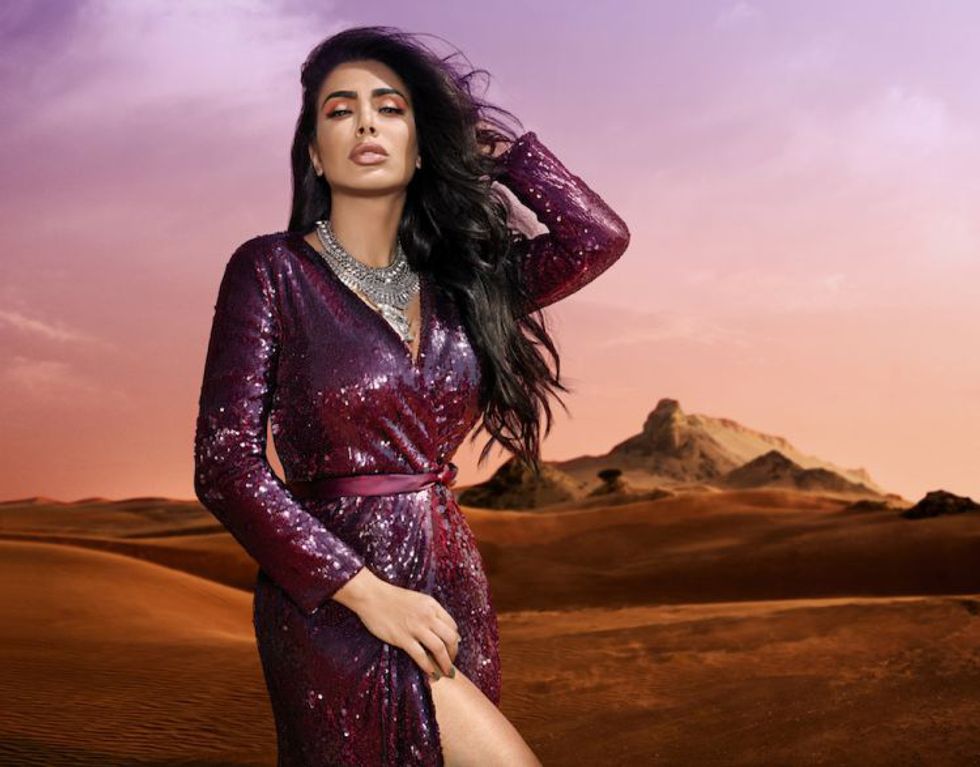 Huda Kattan for the Desert Dusk PaletteCourtesy of Huda Beauty
For those of you familiar with the beautiful Huda Kattan and her line Huda Beauty, you know of the very popular textured Rose Gold Palette that was met with praise from most of the makeup community. Desert Dusk seems to build off of its predecessor's success, sticking to a formula that works for intense pigmentation and color payoff, and adding an incredibly innovative mixture of eyeshadow toppers and glitters that can be used to enhance the matte shades.
I'll be honest, the Desert Dusk palette took some getting used to at first. Particular shades require a glitter glue or concealer base to ensure they stick to the lid. Going in with your finger seems to be the best method to apply, but with a glitter glue, brush applications are certainly easier and less messy. The shades are so pigmented, you barely have to dip your brush into the pan to pick up color. And when you do finally get it right, it's like having crushed jewels on your eyes — absolutely stunning.
With eight matte shades, six pressed pearls, and three duo-chrome toppers, and one pure, pressed glitter, the Desert Dusk palette is one of the most versatile palettes I own. The duo-chrome toppers give off a glossy, wet look that instantly brighten the eyes, and the mattes are so buttery and smooth, I actually look forward to waking up in the morning just to use them.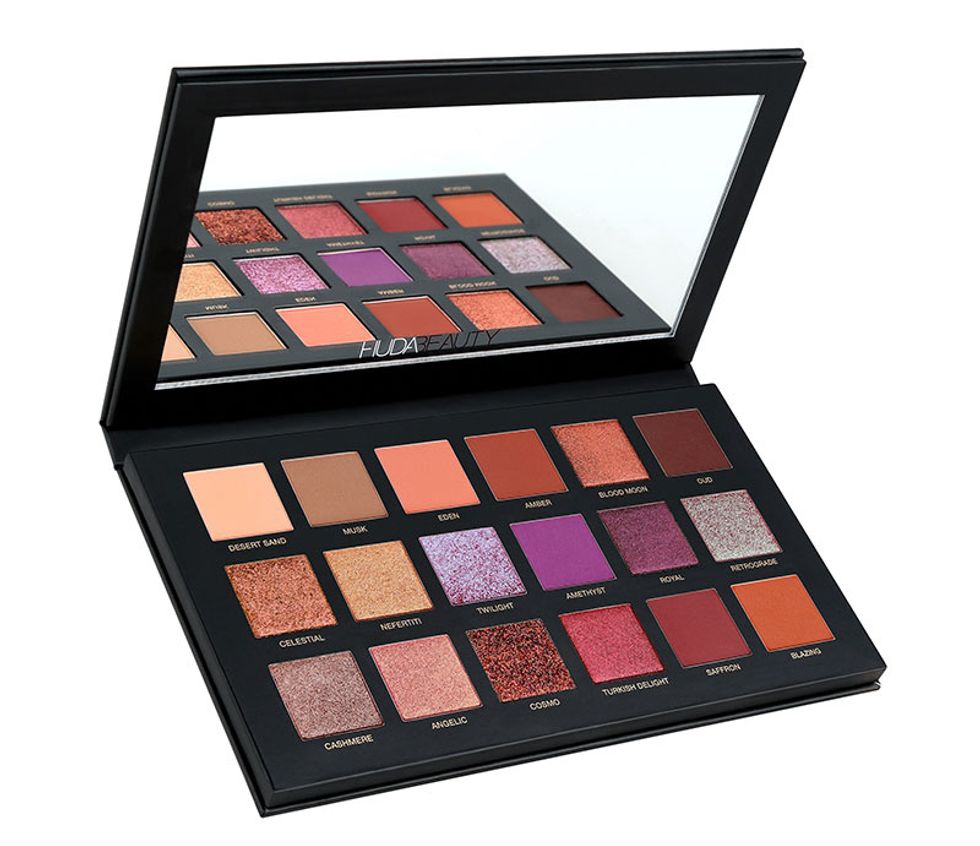 Desert Dusk PaletteCourtesy of Huda Beauty
And for those of you weary of deep red, purples and plums, not to worry. The mattes are extremely easy to build up and the shimmer shades can be toned down to a light iridescent wash of glitter. You can easily create office-appropriate looks for the day and more intense looks for the evening without having to bring in other shades from outside palettes. Compared to another cult classic, Anastasia Beverly Hills Modern Renaissance palette, the Desert Dusk certainly stands up against it in terms of pigmentation, color payoff, and blendability. And the Desert Dusk palette is a bit more creative than the Urban Decay Heat palette (another warm-toned contender that sticks very closely to the terracotta color range). I end up feeling like I'm an Arabian princess when I use this palette, ready to bat my lashes all the way to Dubai.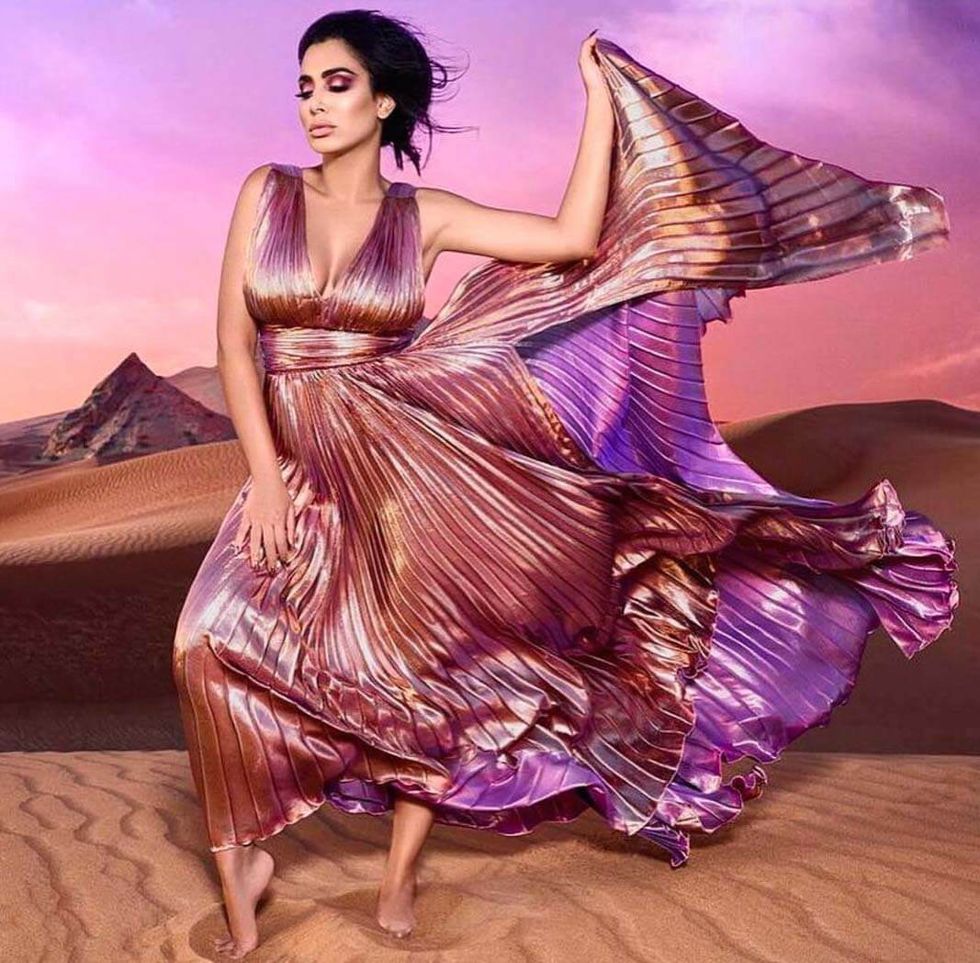 Huda Kattan for the Desert Dusk PaletteCourtesy of Huda Beauty
The duo-chrome shades can also double as a highlighter for your cheeks and collarbone (for those of you that are a little more fearless). A touch of sparkle, a pop of color, a pressed glitter — the Desert Dusk palette is a versatile addition to the warm-toned trend, and I'm glad it's a part of my collection.