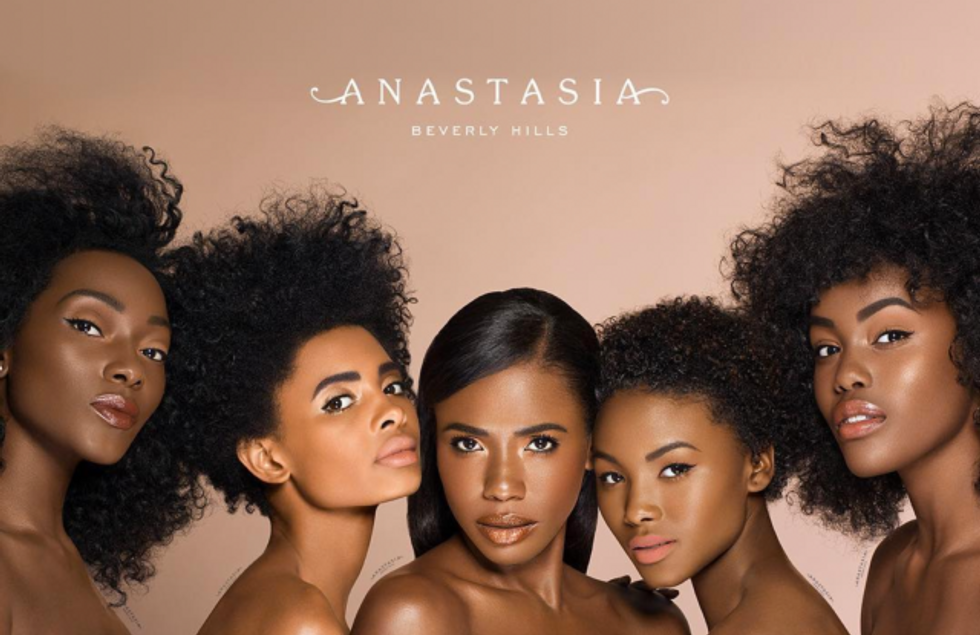 Freebie Fridays | Best Makeup Samples This Week
This week's free makeup samples are all about eyes!
We're making eyes in April.
This week we're back with our top beauty picks. I'll admit, the weather has me down. All these rainy days in NYC don't put me in a makeup shopping mood, but alas, a beauty guru's work is never done. After all, who would I be if I didn't spend every waking moment perfecting my eyeshadow? I would probably just be on time more often. I seemed to gravitate toward eyeshadow palettes the most, and there were so many new launches, I found myself a bit overwhelmed, you know, from all those creamy matte shades.
Eyes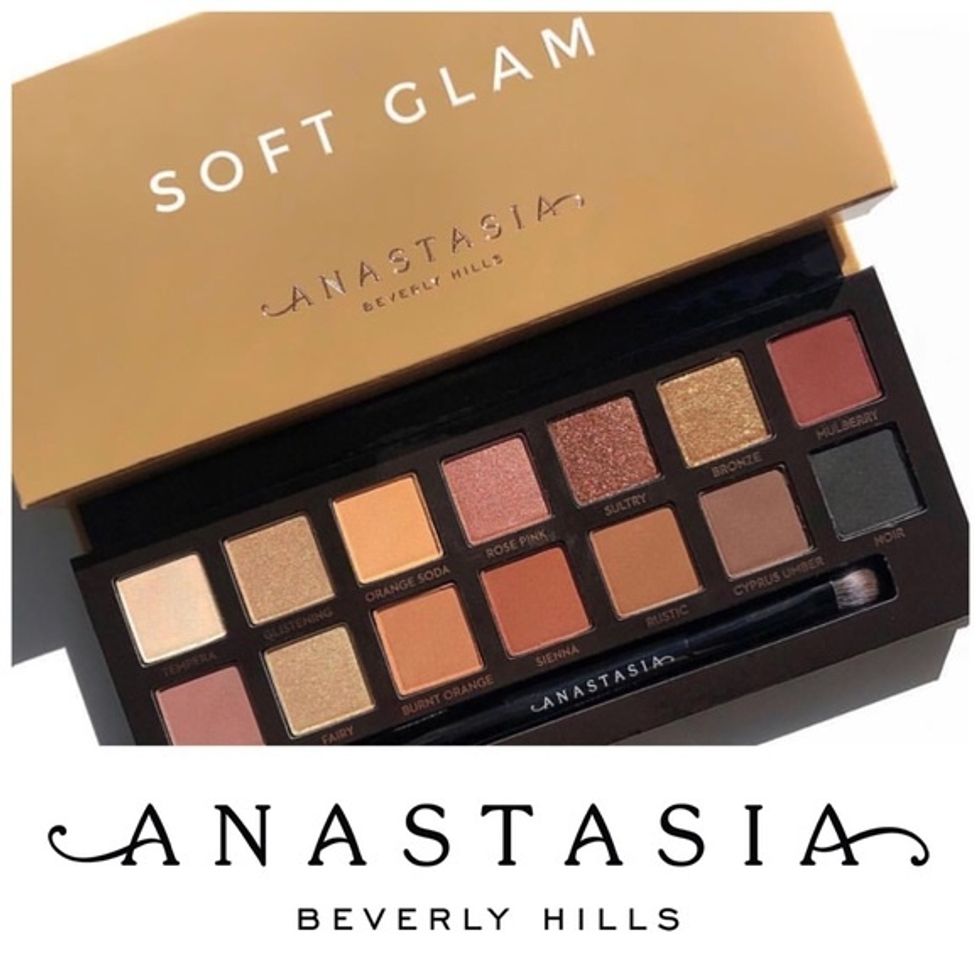 Soft Glam Palette
Anastasia Beverly Hills
I suppose, then, I'll start with eyes. So, you know how 2017 was the year of warm-tone eyeshadow palettes? Well, that trend hasn't died out yet; instead, the bright reds and oranges have given way to soft lilacs, purples, pinks, and warm berry shades. Normally, I would consider purple hues to fit a cool-tone look, but Nars NARSissist Wanted Eyeshadow Palette ($59.00) proves me wrong. A great mixture of pink mattes and light shimmer shades, this palette is perfect for the everyday woman who wants an easy, soft glam look without using 15 glitter and primer adhesives. The shimmer shades perform with little to no manipulation, some requiring a damp brush, others applying better with finger applications.
This palette is also very similar to another pink-themed release from Urban Decay—the Backtalk Eye & Face Palette ($46.00) inspired by their bestselling lipstick of the same name—that features eyes and cheek color all in one. (As a side note, if you're someone who finds yourself with more eyeshadow palettes then blush compacts, try using suitable eyeshadow shades for your cheek color. They blend out with ease and give excellent color payoff.) More on the chocolate spectrum, Anastasia Beverly Hills Soft Glam Eyeshadow Palette ($42.00) is another stunning formula to try out this spring. The Subculture Palette, released in 2017, made the beauty community gasp—and not in a good way, but they've certainly made a comeback with their latest palette that features an assortment of butterscotch and warm brick hues for the perfect sultry eye. The shimmers in this palette are buttery and give the most delicate sparkle on the lid.
NARSissist Wanted Eyeshadow Palette: I'll give this palette a solid ⭐⭐⭐⭐because some of the shimmer shades require additional prepping with either water or a setting spray to dampen your brush.
Backtalk Eye & Face Palette: Not bad. Not bad at all. Performs similarly to the Naked Heat Palette and makes your eyes look like a Starbucks Strawberries and Cream Frappuccino. ⭐⭐⭐⭐
Anastasia Beverly Hills Soft Glam Eyeshadow Palette: I'm giving this one a perfect score ⭐⭐⭐⭐⭐for its great price, quality, and performance.
Skin / Body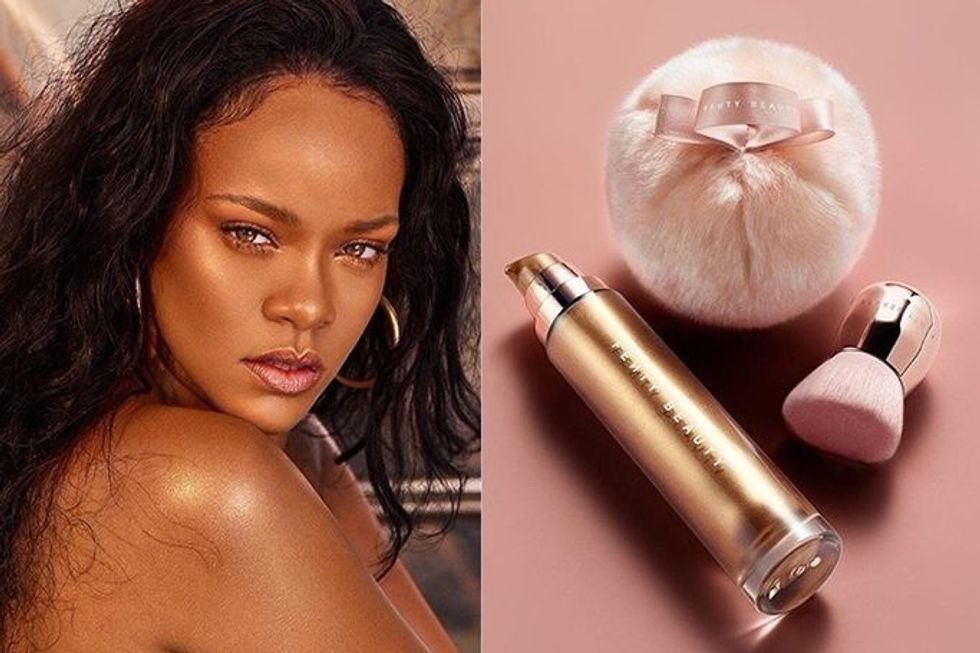 Fenty Beauty
Instagram/@fentybeauty
After obsessively swatching eyeshadows for an hour, I ventured to Rihanna's Fenty Beauty line. A makeup paradise for women of color who are often not included in mainstream beauty, Fenty Beauty has always remained one of those brands that stand for something more than just makeup. I've been impressed by their shade range and impressive formulas since the brand launch, and so far, bad girl RiRi hasn't let me down. But here's the tea. The latest launch from Fenty Beauty is all about showing your inner glow: beautiful, glistening skin that can be seen from outer space. The Body Lava Body Luminizer ($59.00)—say that ten times in a row—is a limited-edition gel-based skin luminizer that apparently uses micropearls to enhance the texture and radiance of your skin.
Well, it does what it says, offering a lovely shimmer to the skin in direct sunlight, but…yikes! This stuff is so sticky. It leaves the skin feeling tacky and leaves residue on everything. It transfers onto your clothes, hair, and even leaves residue when you're sitting on chairs—I learned the hard way. Beautiful? Yes. Practical? NO! This is an Instagram product, something that's great for pictures and editorial work, but impractical for everyday use. The problem is, I want to glisten this summer, so maybe I'll use it sparingly or opt for its sister product, the Fairy Bomb Glittering Pom Pom ($42.00), which directly deposits hyper-reflective glitter onto the body through an oversized body puff. (It kind of reminds me of kid makeup, but I'm not raining on anyone's glitter parade.) It delivers a pretty shimmer effect on the skin and is less sticky than the Body Lava Luminizer formula.
Fenty Beauty The Body Lava Body Luminizer: ⭐⭐⭐
Fenty Beauty Fairy Bomb Glittering Pom Pom: Nothing here but glitter folks. ⭐⭐⭐
As I was playing with the Body Lava Luminizer, I started looking at dry oils for the body. I've been a longtime fan of skincare oils. When applied on top of cream lotions, oils have a way of making my skin feel like silk without leaving any type of stickiness (excuse me, Rihanna). I asked for a sample of Caudalie's Divine Oil, a very luxurious and expensive ($49.00), multi-purpose dry oil for the face, skin, and hair. This oil truly smells divine and its formula mostly consists of grape seed oil—rich in antioxidants, fatty acids, and vitamins—and also features hibiscus, sesame, and argan oils. This is a yummy concoction for the skin and hair, though I'm wary the perfume will irritate my face, which is beyond sensitive and temperamental. As a body oil, it's especially nice to put on right out of the shower. The formula sinks into my skin nicely and gives a simple "highlight" to my neck and collarbone.
Caudalie's Divine Oil: You don't need this. You will absolutely live without this product, but it's a wonderful splurge if you're looking for a luxurious add-on to your beauty regimen. I'm giving it ⭐⭐⭐ and an additional ⭐⭐ for making me smell a lot more graceful and expensive than I really am.
Face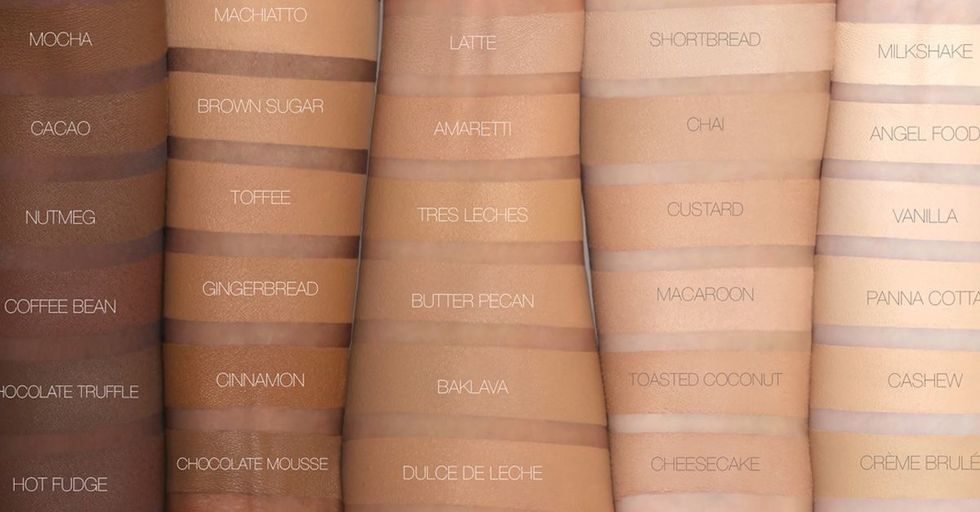 Faux Filter Foundation
Courtesy of Huda Beauty
Now for the main course of the evening: foundation. Any makeup lover will tell you, foundation can make or break your face (and bank account). I tend to use drugstore foundations, usually opting for Maybelline's Fit Me Foundation—a wonderful matte formula that gives full coverage without making your skin cakey—I tend to stick to one brand at a time and nothing over 12 dollars. I asked for a sample of Huda Beauty's #FauxFilter Foundation ($40.00) since the hype was explosive when it first launched, and I kind of fell in love. I never thought that I could achieve mannequin skin, but I believe I have done so. Someone cue the trumpets—I'm looking in the mirror right now and I cannot see any of my acne scars, no lines, no redness. I look airbrushed. My sample is mostly gone—surely there's rehab for former sample addicts—and now I'm worried I might indulge another beauty obsession. The kicker is a lot of women, including myself, have noticed clogged pores and minor breakouts. Whether or not the foundation actually irritated my skin, I'm not entirely sure. Yet, I usually don't break out so…oops. Maybe mannequin skin is a pipe dream, but I'm not eager to find out if the foundation can undo all of the face masks and deep-skin treatments I've done.
Huda Beauty #FauxFilter Foundation: ⭐⭐⭐ and an extra ⭐ for making me look like I actually exfoliate.
This week was all about the eyes, but along the way, I actually found some fun skin products. And for anyone looking for some extra sparkle, at least you know there's a thriving market for glitter and micropearl fanatics. The winner this week, you may ask? I'm going with the Anastasia Beverly Hill Soft Glam Palette, a stunning curation of wearable colors and finishes for office and everyday looks, to full-glam party looks. Check back in next week to see if I'm able to pay my rent despite all these makeup goodies.