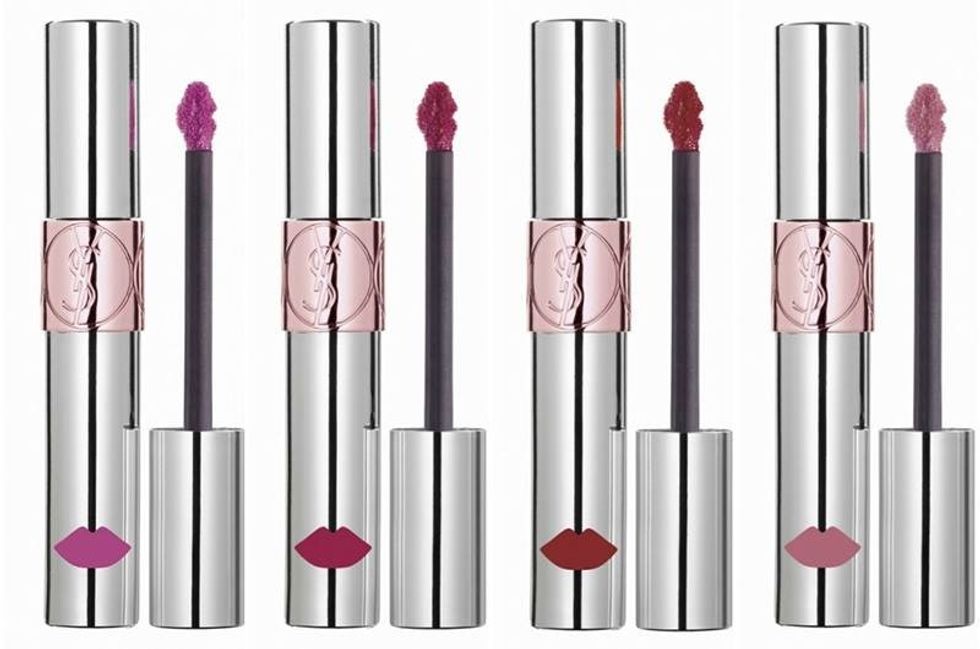 Freebie Fridays | New Liquid Lipsticks You'll Love
The '90s pout is here to stay.
This week we are going for the '90s pout baby.
Hi. My name is Shaun and I'm a recovering beauty addict. Just kidding—I have some goodies to discuss with you. Those of you that are in the know probably had your credit cards ready for the splurge-fest known as the Sephora Rouge, VIB, and Beauty Insider sale. 15 percent off your entire purchase may sound like chump change, but to those of us that dream of eyeliner and glitter pigments every night, 15 percent is whip cream to a banana sundae on a hot summer day. It's also the type of sale that begets absurd shopping anxiety and guilt—deciding whether or not you should spend your month's grocery budget on a new Kevyn Aucoin palette is child's play. When you've already considered living off of carrots for two weeks to adorn your face with Natasha Denona, you're beyond repair.
Last week, I played with tons of new skincare along with the most recent foundation launches. I've always said that your skin is the first step to a perfect makeup application. But this week, I'm all about the lips. If Kylie Jenner and Angelina Jolie breathe life into your lip goals, follow me.SmaSmashbox Cosmetics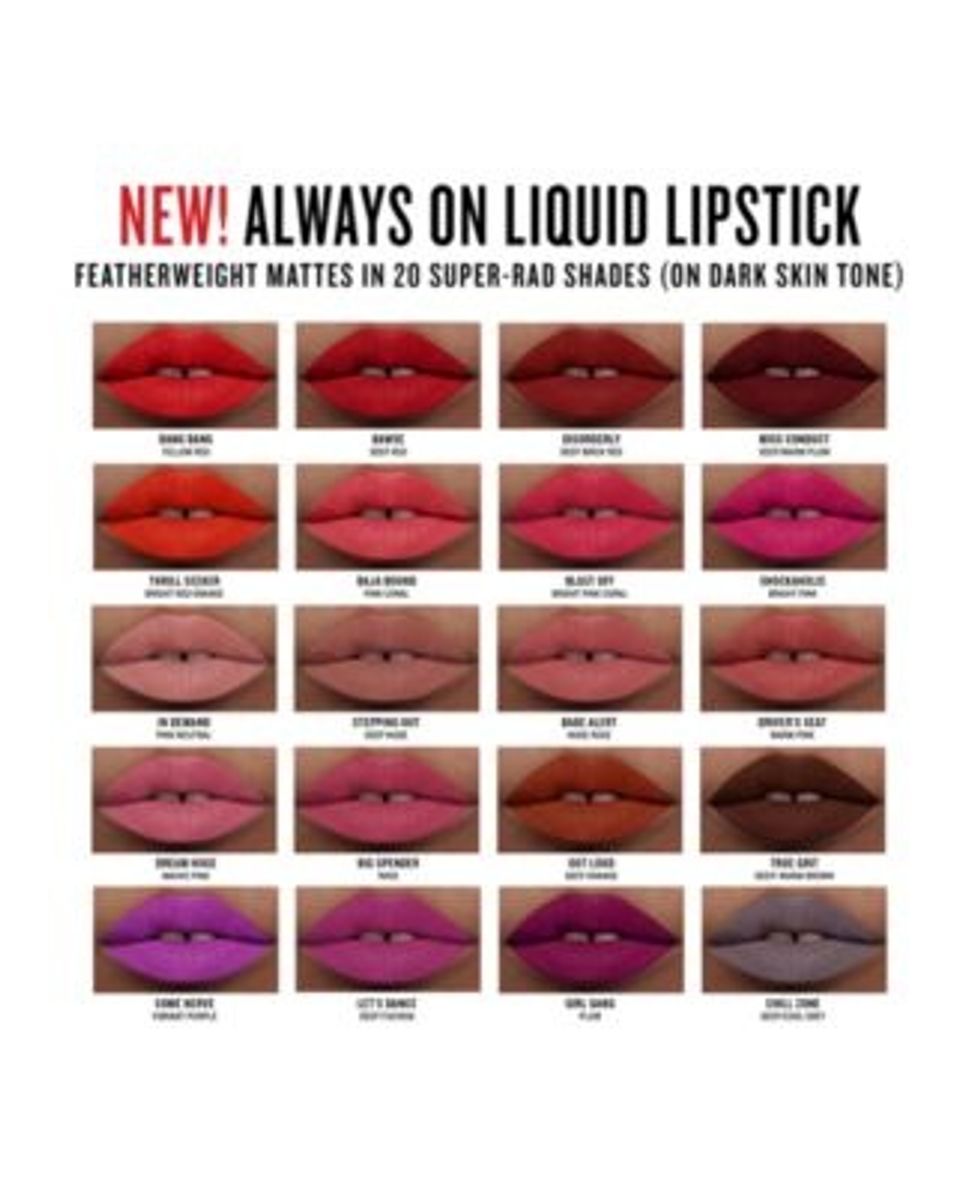 Smashbox Cosmetics
Hello '90s. I was born 5 years into the decade, yes, but I claim its fashion, music, baggy denim, and lip inspo—an aesthetic resurfaced in present mainstream fashion from a not-too-long-ago past. Think Clueless Stacey Dash meets Cindy Crawford circa 1992 and you've got the vibe I'm going for this summer. During the sale, I shopped as many liquid lippies I could find and landed on Smashbox, a brand I have managed to ignore for years. Well, apparently their liquid lipsticks are EVERYTHING. They recently launched a new metallic formula that gives a subtle light and shimmer to the original matte lipstick. And by the way, it's now my favorite liquid lipstick finish on earth. TheAlways on Matte Liquid Lipstick ($24.00) doesn't budge, crack, bleed, fade, or make your lips feel like you've walked 5 hours in the Sahara Desert. The color payoff is insane with no visible streakiness or gaps in color. The formula contains jojoba oil and it's one of the most comfortable matte lipsticks I've worn. I'll be wearing "Out Loud," "Maneater," and "Desert Rose" this summer, so look out for a girl with a perfect matte red lip.

The Always on Matte Liquid Lipstick: Yes. YES! ⭐⭐⭐⭐⭐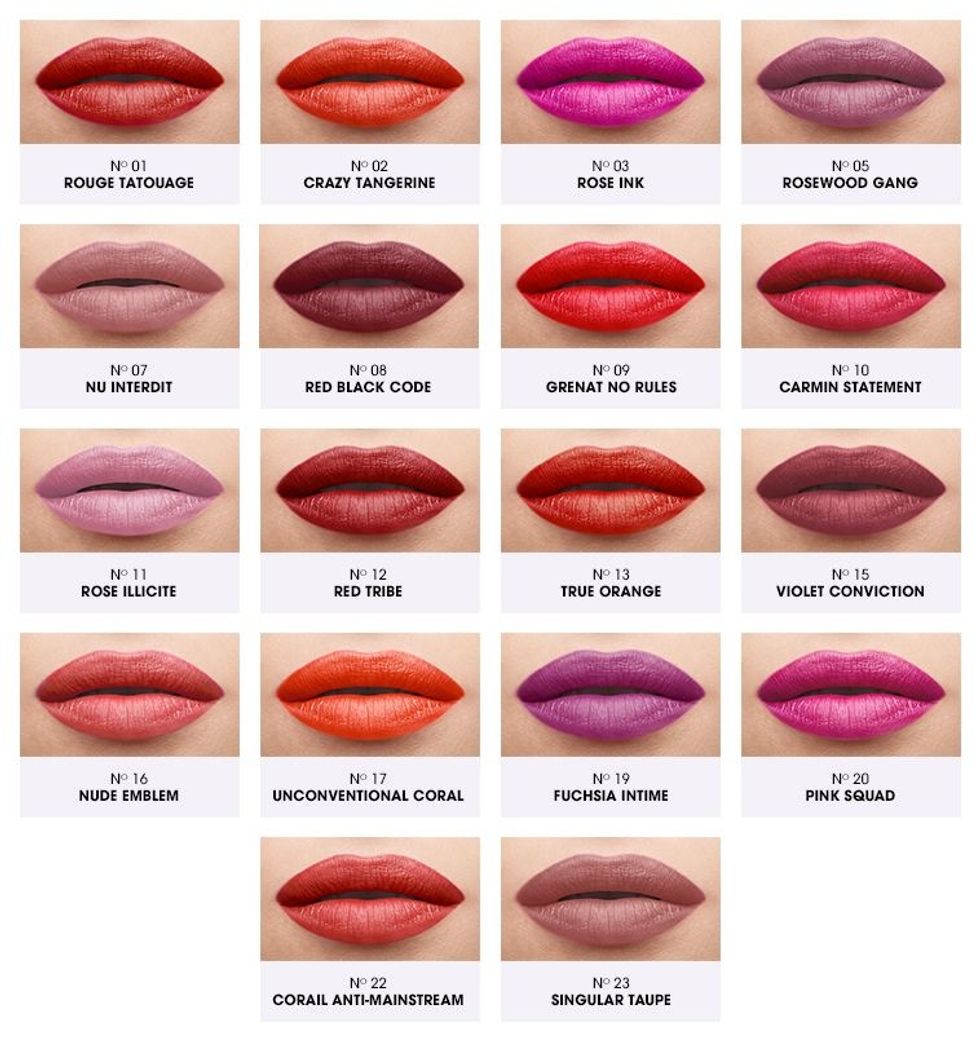 Yves Saint Laurent
But I didn't stop there. I mean, it's me after all. Yves Saint Laurent is a brand that's super expensive and luxurious—and sometimes not that good. Yeah, I said it. Sometimes they launch products inspired by editorial/runway looks that are irrelevant to the everyday woman. (Who is dying to wear a yellow liquid stain that doesn't even perform as such?) TheTatouage Couture Liquid Matte Lip Stain ($36.00), however, is good, really good. It has a light texture on the lips and has a soft powder finish, so it feels weightless and effortless. The color payoff is nice and even fades into a natural stain when it does finally wear off. It's perfect for women who want extreme color payoff with minimal effort. "Fuschia Intime," a beautiful, bright, vibrant fuchsia is perfect for spring and summer. It's also one of those shades that will work for multiple skin tones from light, medium, and deep complexions.
Tatouage Couture Liquid Matte Lip Stain: Expensive? Yes. Good? Oh yeah. Plus, I'm a sucker for gold packaging. ⭐⭐⭐⭐⭐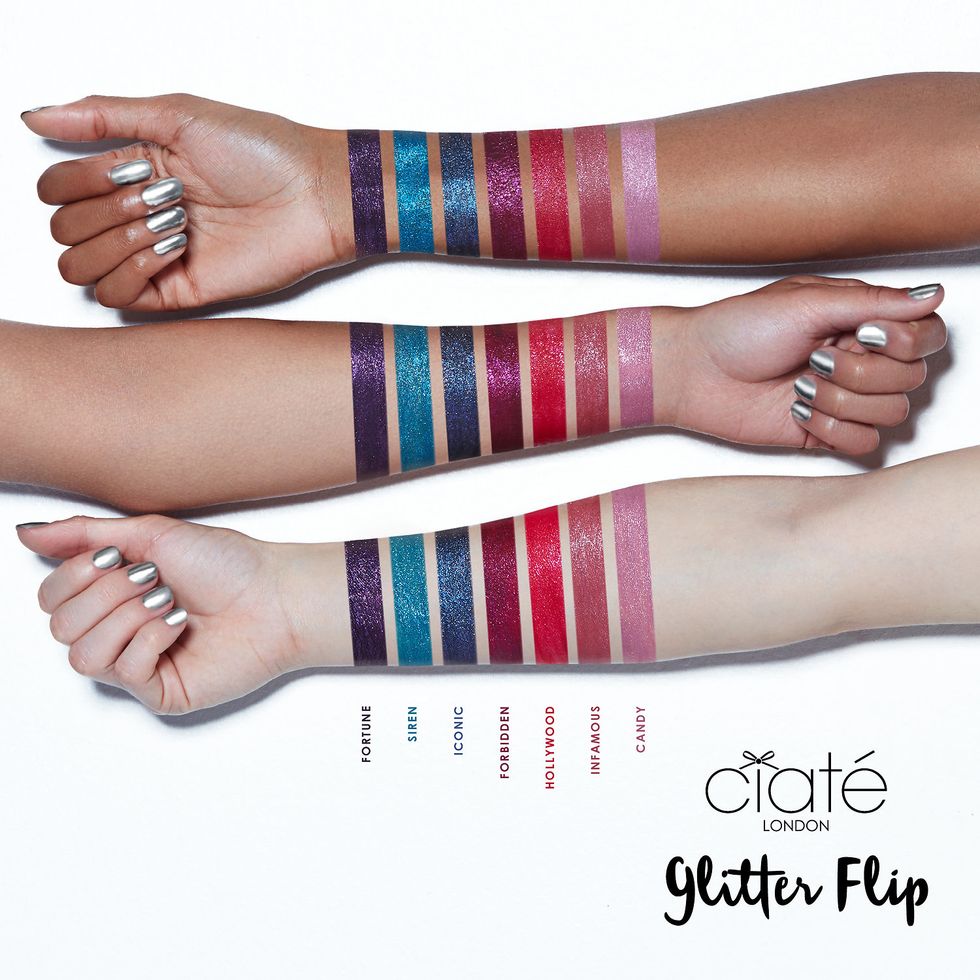 Ciaté London
Calling all glitter fanatics: I finally tried the Ciaté LondonGlitter Flip ($19.00), a metallic matte liquid lipstick that transforms into a glitter finish. Sounds gimmicky, right? Not often do I want my lips to look like a disco ball. These are perfect liquid lippies for women who want a matte look with a pop of glitter. The glitter particles are finely milled and are subtle enough to be worn during the day. Still, I think this is a look that is best for a night out. (Just a note: The glitter is so fine, the majority of the glitter transformation will take effect at the center of the lips. Don't expect an even glitter finish.)
Ciaté London Glitter Flip: Pretty, fun, and above all, a new take on the current glitter/metallic craze in makeup. ⭐⭐⭐⭐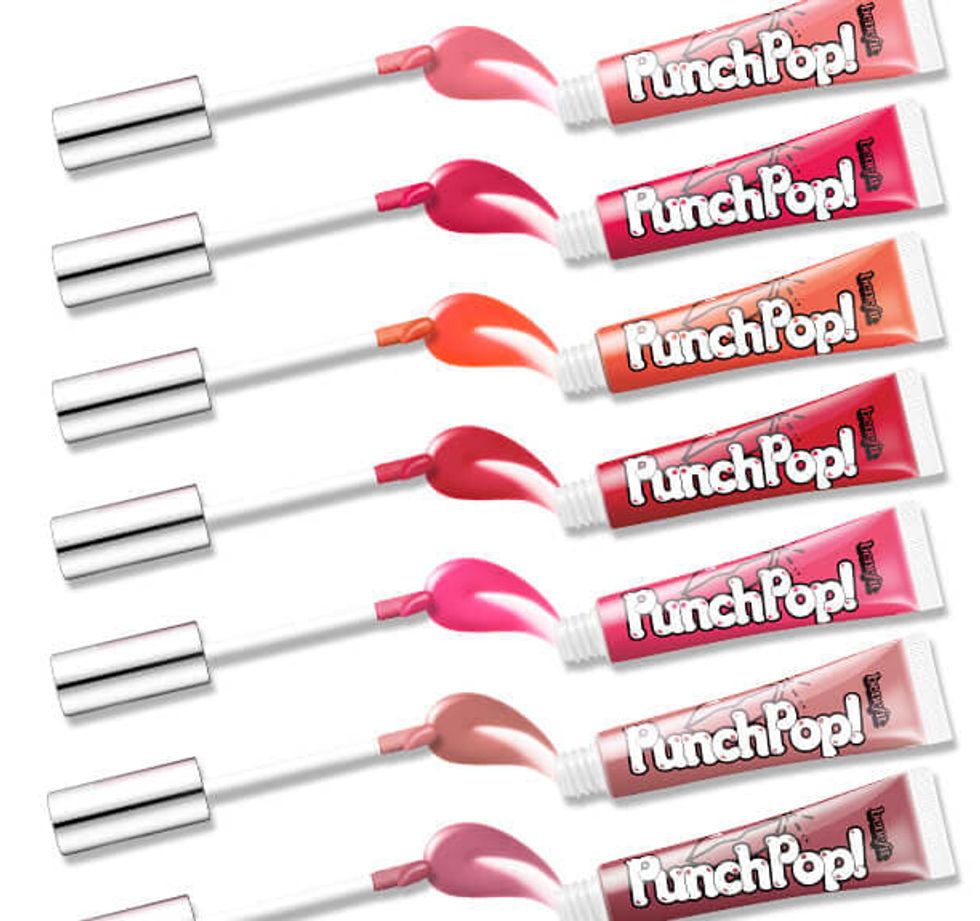 Benefit Cosmetics
I was approached by a beauty advisor who saw that I was wrestling other lip lovers while browsing Huda Beauty. She recommended the Benefit CosmeticsPunch Pop! Liquid Lip Color ($18.00). She raved about its color payoff and lasting power. I love to rock a glossy nude lip when my eye makeup is more dramatic, but this particular formula is so gooey and sticky. Yikes. It's like the Too Faced Melted Latex formula on steroids: sticky, messy, and always on your teeth. If you want to look like a defective blow up doll, slather this on.
Benefit Cosmetics Punch Pop! Liquid Lip Color: It's melted plastic for your lips and it feels like it. ⭐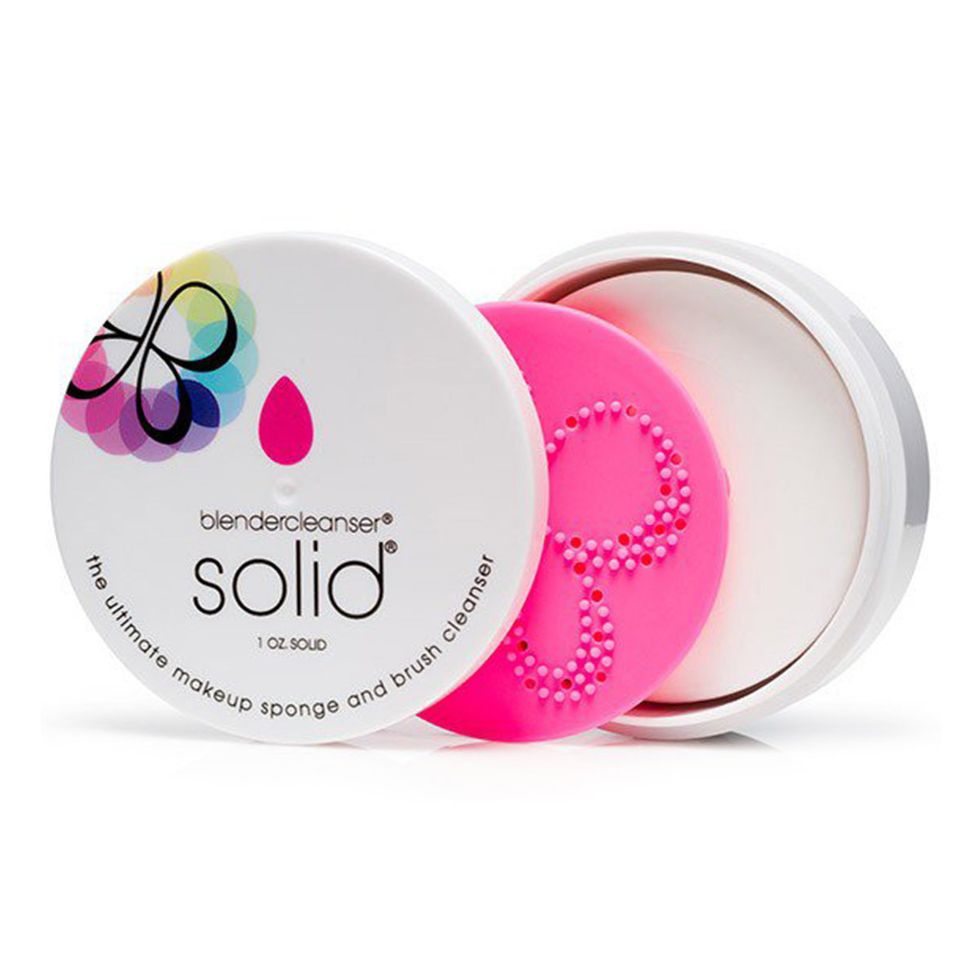 BeautyBlender
Okay, so this one has nothing to do with lipstick, but I think it's worth mentioning. For years, I have said that you can use your shampoo to clean your makeup brushes. And although I still stand by that, I am a new woman. You guys…BeautyBlender'sblendercleanser solid ($16.00) soap works. My brushes are pristine. I got a really cute sample of the cleanser—after spending a mortgage and then some on lipstick— and rushed home to try it. It removes goop from your brushes you didn't even know was there. Turns out, my brushes were missing out on some much needed TLC. The negative? The bar itself doesn't last that long. My sample is nearly gone after washing one set of my eye and face brushes. Maybe that's normal, but I'm not sure how practical that is for someone who washes their brushes regularly.
Hopefully, you reach your lip goals this spring and summer. I'm rooting for you, of course, but you'll have to excuse me. I've got to touch up my red pout. Until next time, go forth makeup junkies and find your best '90s lip.