Recently, we've all realized just how much we love our pets - our stay-at-home experience would be a lot more lonely without them.
And we're not the only ones - people have really been spoiling their pets lately, spending hundreds on the best toys, carriers, and even human-grade food.
But as much as we want to pamper our pets, what use is it if we can't take care of them if and when they become unwell? Of course, none of us want to ever imagine our bundles of joy suffering, but just like humans, animals can undergo all types of ailments.
Pet healthcare can be pricey, and unfortunately, ongoing care and unexpected procedures can sometimes cost more than we can afford. So, there has been a surge in insurance options that help enable the best pet care possible. The Editors at Topdust Pets are pet people, so we narrowed it down to two of the top dogs (pun intended): Pumpkin and Healthy Paws.
Here are the key differences between Healthy Paws and Pumpkin as provided on the Pumpkin site ( pumpkin.care):
Exam Fees for Accident & Illness Related Vet Visits:

Behavioral Issues & Dental Illnesses:


Preventative Illnesses:


Prescription Food & Supplements:


Coverage Options for Seniors or Specific Breeds:


The Annual Limit:


Preventative Care:


No Prior Clinical Examination:


Hip Dysplasia:


Family Discount:


Final Notes:

When one of our editors found out his dog, Toby, had gum disease, he was shocked.
"I thought I had done everything right - as much as he hated it, he made sure to brush his teeth on a regular basis. I brought him for regular vet check-ups. But after he was diagnosed, I found out that 80% of dogs have gum disease by age 3, so I wasn't alone. This is why dental illness coverage is so important.
Toby's treatment wasn't cheap, and I really wish I had pet insurance when the unthinkable happened".
When it comes down to it, Pumpkin offers best in class pet health insurance and preventive care. They offer extensive coverage throughout your pet's life. Healthy Paws doesn't cover preventative care like Pumpkin does.
The thought of our furry friends being sick is almost unimaginable, but with Pumpkin at least you know that you'll have help giving them the best care possible.
Here is comparison info Pumpkin provides on their website (Pumpkin.care):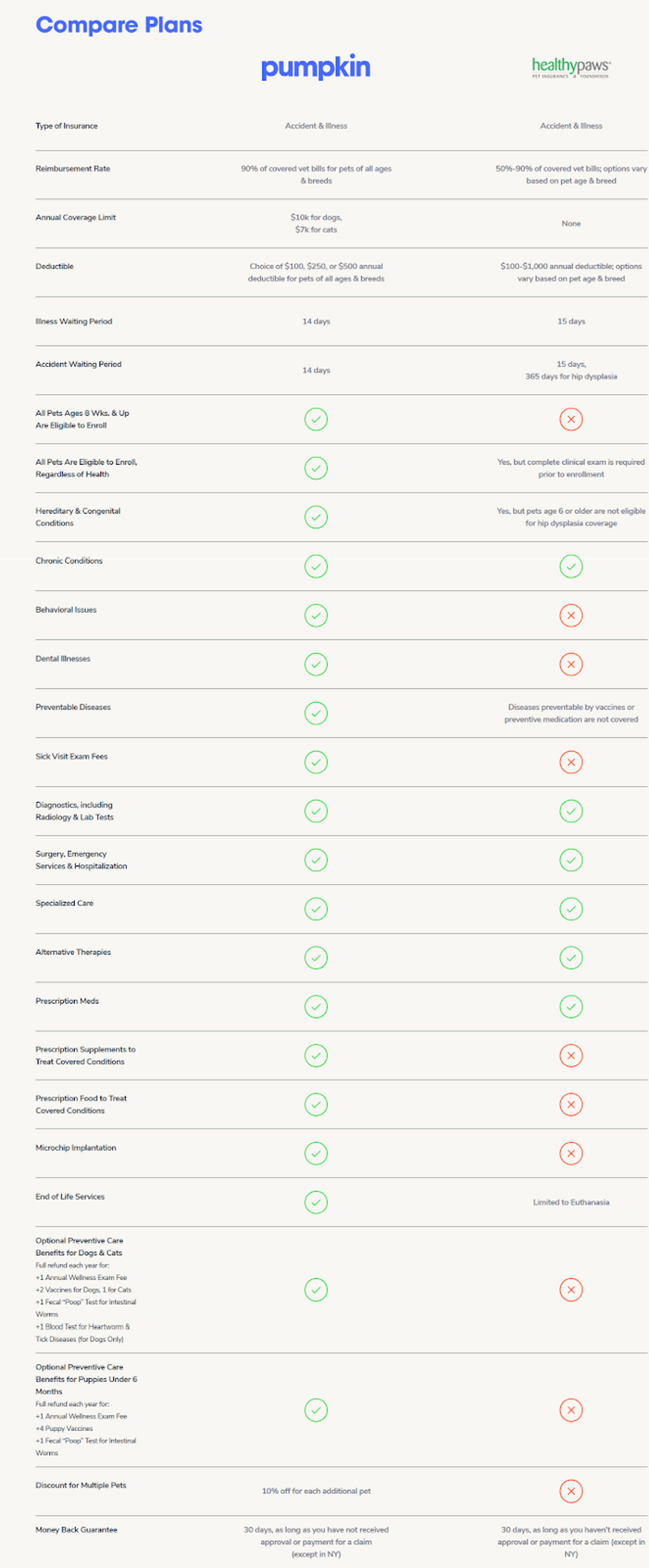 COMPARISON INFORMATION: Comparison information is provided using publicly available information as of 8/2/2020 and is only meant to summarize program features, not a specific plan. Review the provider's plan terms for more details. The description of the providers' plans are not provided by that company. If you have questions about other plans, please contact an agent of that company. It is our intention to provide fair and accurate comparison information. We attempt to keep information up to date but it may change from time to time. If you are aware of any inaccuracies or changes in the information provided, let us know by emailing [email protected].
Pumpkin Company Info: Pumpkin Pet Insurance policies do not cover pre-existing conditions. Waiting periods, annual deductible, co-insurance, benefit limits and exclusions may apply. For full terms, visit pumpkin.care/insurancepolicy. Products and rates may vary and are subject to change. Discounts may vary and are subject to change. Pumpkin Insurance Services Inc. (Pumpkin) is a licensed insurance agency, not an insurer. Insurance is underwritten by United States Fire Insurance Company, a Crum & Forster Company and produced by Pumpkin. Pumpkin receives compensation based on the premiums for the insurance policies it sells. For more details visit pumpkin.care/underwriting-information. Pumpkin Preventive Essentials is not an insurance policy. It is offered as an optional add-on non-insurance benefit. Pumpkin is responsible for the product and administration. For full terms, visit pumpkin.care/customer agreement. Pumpkin Preventive Essentials is not available in all states. Paid endorsement - Pumpkin Insurance Services, Inc. is responsible for this advertisement.