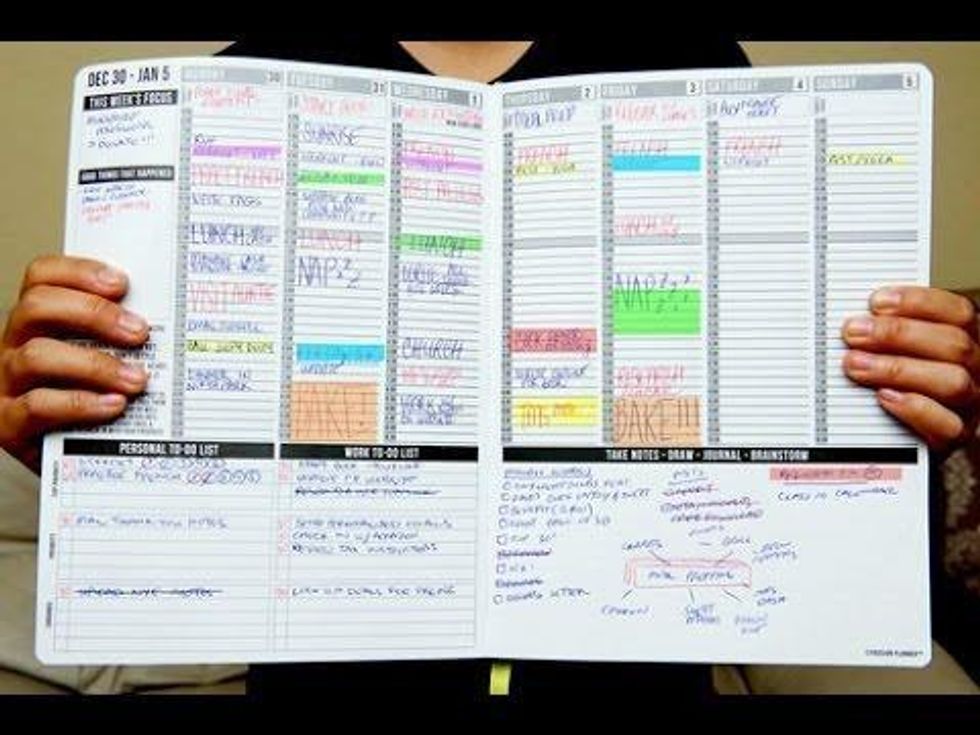 Why a Passion Planner will help you keep it together
Why settle for any old planner?
Your life is in a mess, and you need to get organized.
In the age of Google Calendar and think pieces about how looking at a screen for too long is bad for you, it's becoming more and more important to go back to basics: more young people than ever are reading print news, and vinyl-pressing plants are opening left and right. For those looking to get their life together and not look at a screen, it's easy to switch from iPhone Notes to Post-Its, but then how do you keep those organized?
The more advanced among us can cope with a plain notebook, but for those of us who need a little more of a push, an agenda is really the only way to go. There is, perhaps, no better agenda than the Passion Planner. Complete with a chic, durable faux leather cover (think of a classic Moleskine notebook), these little wonders of organization are able to survive the elements while surviving the crazy life you're trying to schedule; gone are the days of spiral notebooks falling apart, and what's inside is just as important.
[rebelmouse-proxy-image https://media.rbl.ms/image?u=%2Fstatic%2F52bbd653e4b0525234c48f43%2Ft%2F55e62f8fe4b05e0262ca1817%2F1494842683828%2F%3Fformat%3D1500w&ho=http%3A%2F%2Fstatic1.squarespace.com&s=644&h=b58bf6766e94aa8c1de2cff506437afc4f694f2d0be713cc225b02a3967af166&size=980x&c=3234787643 image-library="0" caption="" pin_description="" crop_info="%7B%22image%22%3A%20%22https%3A//media.rbl.ms/image%3Fu%3D%252Fstatic%252F52bbd653e4b0525234c48f43%252Ft%252F55e62f8fe4b05e0262ca1817%252F1494842683828%252F%253Fformat%253D1500w%26ho%3Dhttp%253A%252F%252Fstatic1.squarespace.com%26s%3D644%26h%3Db58bf6766e94aa8c1de2cff506437afc4f694f2d0be713cc225b02a3967af166%26size%3D980x%26c%3D3234787643%22%7D" expand=1 photo_credit="via Passion Planner's official website"]via Passion Planner's official website
The Passion Planner is equal parts classic agenda, journal, and interactive map to the self. With boxes organized for short and long-term goals, as well as a monthly tracking of said goals through the planner, the Passion Planner helps you see what you've done to achieve bigger goals, and commends you for achieving the smaller ones. There are even weekly sections where you can track all your goals and errands for the week by order of importance, as well as a box at the top where you write the "good things that happened this week." A journal to help you get it together that also cares about your well-being? Count us in.
[rebelmouse-proxy-image https://media.rbl.ms/image?u=%2Fbuzzfeed-static%2Fstatic%2F2015-12%2F17%2F17%2Fenhanced%2Fwebdr08%2Fenhanced-27007-1450390822-3.png%3Fdownsize%3D715%3A%2A%26output-format%3Dauto%26output-quality%3Dauto&ho=https%3A%2F%2Fimg.buzzfeed.com&s=782&h=98685fa60c6f97ff53bfd2fa44cdf6c485692254626bfa1e283e36d9b7aa90c8&size=980x&c=475618601 crop_info="%7B%22image%22%3A%20%22https%3A//media.rbl.ms/image%3Fu%3D%252Fbuzzfeed-static%252Fstatic%252F2015-12%252F17%252F17%252Fenhanced%252Fwebdr08%252Fenhanced-27007-1450390822-3.png%253Fdownsize%253D715%253A%252A%2526output-format%253Dauto%2526output-quality%253Dauto%26ho%3Dhttps%253A%252F%252Fimg.buzzfeed.com%26s%3D782%26h%3D98685fa60c6f97ff53bfd2fa44cdf6c485692254626bfa1e283e36d9b7aa90c8%26size%3D980x%26c%3D475618601%22%7D" caption="" pin_description="" image-library="0" expand=1 photo_credit="via Instagram"]via Instagram
It's time to get it together. Head to Passion Planner's official website and get your own.