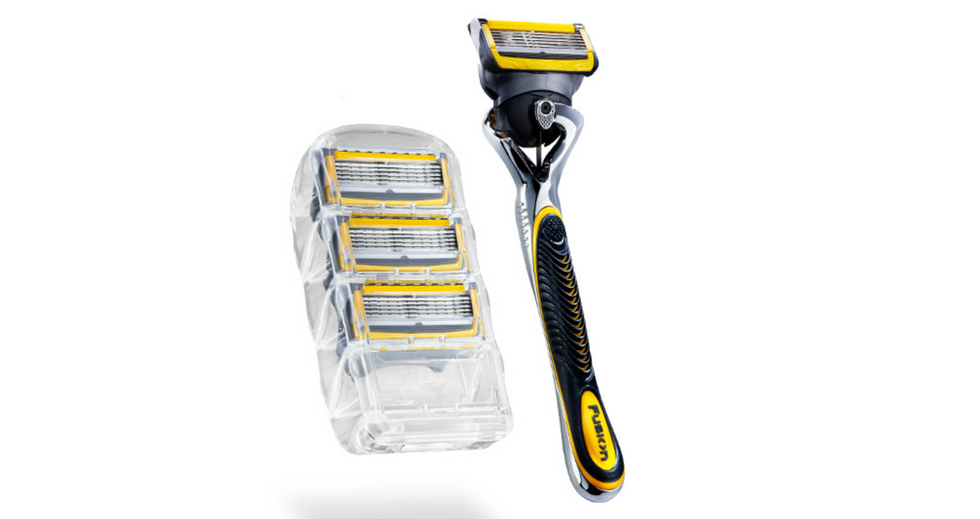 Our Editors Tested Gillette On Demand: Here's What They Learned
We here at Topdust have always been in search of a better way to shave. That's why the idea of shave club subscriptions appealed to us. Convenience is a huge advantage when it comes to something we do every day, but it should never take a backseat to quality. When we found out that Gillette has their own razor delivery service, we were curious to see what they had to offer. Versus other shave clubs and their razors, Gillette has a history of quality, but how did their service stack up? Two of our editors, Mike and Chris, had prior experience with using Gillette's razors, so they decided to be our test subjects. Here's how it went.
Signing Up
Making an account was easy and straightforward. It took only three steps: picking the razor, choosing the delivery schedule, and finally payment and billing. First, each of them had to pick out which type of razor that they wanted: the Sensor3 Disposable, the popular MACH3 Turbo, or the more advanced Fusion ProShield. Mike opted for the MACH3 Turbo because he's used a similar model in the past. Chris went for the Fusion ProShield because he has sensitive skin, and he's had some rough experiences using different razors in the past. For the subscription plan, Chris prefers to shave every few days, so he chose to have his razors delivered more often, while Mike shaves less frequently, so he opted out of subscribing and picked the one-time purchase option. Gillette On Demand lets you order at your convenience, so Mike could just text "BLADES" to their dedicated ordering number, 252-337 (BLADES), whenever he needed to restock. The process took all of five minutes. Within a few days, their first razors had arrived.
The Shave
Now it was time to test the razors. Grip is always an important factor in a quality razor, and Mike found the MACH3 Turbo was comfortable and stable in his hand. He noticed right away how easily the razor moved across his neck, which in the past has been where he consistently missed spots: "My face felt clean, and I didn't have to go over the same area multiple times. The blades moved easily on my face, and it just gave me a nice smooth shave." For Chris, the Fusion ProShield felt "solidly built, with some nice weight to it and a good grip." The most surprising thing for him was how effortless the shave felt. "I didn't feel like I had to press down with the razor in order to get a close shave," he said. "The ProShield did a great job giving me a clean shave on the first pass, and in places under and around my chin. It was like night and day compared to other razors." We'll spare you the details on his experiences with other razors, but the words "cheese grater" were thrown around.
The Aftermath
We gave Mike and Chris about a month to use the service to see how smoothly Gillette On Demand reordering and subscription deliveries would work. For both of them, the service worked well. At the end of the month, just as Chris was about to run out of cartridges, the new set came to his apartment right as scheduled. "My facial hair tends to grow back pretty quickly, so if I'm out of razors for a few days, it gets ugly. Fast," he said. "It was nice not to have to worry about swinging by the store to have to pick up some refills. They were just waiting at home for me right when I needed them." Mike didn't need a new refill right away, but for our readers, he tested out the text-to-reorder function, sending the "BLADES" text to Gillette before the weekend. Shortly after sending the text, his new refills arrived. "Obviously I've got enough razors to last me a little while," said Mike, "but it's good to know that the text-to-reorder option works as well as it does."
The Verdict
Overall, Mike and Chris give Gillette On Demand two thumbs up, and it's become their go-to shaving solution. For as low as $2 a blade for the MACH3 Turbo and under $5 for the Fusion ProShield, they found the right shave and value they were looking for. Gillette On Demand allows them to order at their convenience, without locking them into a long-term subscription. Now they get their refills delivered right to their door. That's why we give this service our official Topdust seal of approval.
Update: The folks at Gillette are extending a promotion for first-time users. Follow this link to get $3 off your first order* and get every fourth order free when you choose the subscription option and remain on the same plan!
*First-time customers for first order only. Offer terms subject to change. This content is brought to you by by Gillette.