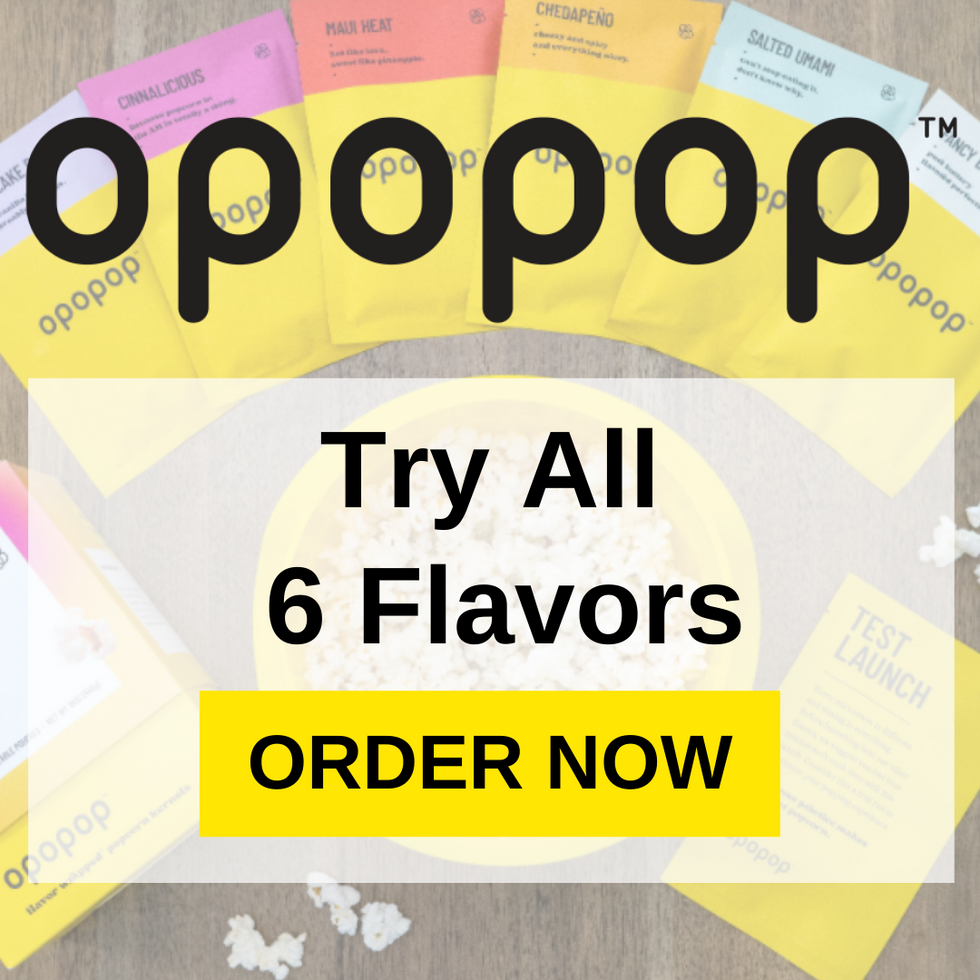 The only bad thing about a great snack is how quickly it runs out. You stock up, and then demolish it within days.
So thank goodness this out-of-this-world snack has a subscription: Meet Opopop. It's gourmet popcorn that's much higher quality than your regular ol' microwave brand.
Here's everything you need to know about the next biggest snack obsession:
What is Opopop?
Opopopis what flavored popcorn is supposed to be. They created a completely new kind of popcorn that comes with each kernel pre-coated in one of their 6 incredible flavors: Vanilla Cake Pop, Cinnalicious, Maui Heat, Chedapeño, Fancy Butter, and Salty Umami. With their unique Flavor Wrapped™ Popcorn Kernels, you get delicious and evenly distributed flavor.
How do I make it?
Your Opopop order comes with a bright yellow dishwasher-safe, BPA-free popper! It's super easy to use and as a bonus, looks great in any kitchen. It also comes with a Test Launch packet of their Flavor Wrapped™ Popcorn Kernels so you can get your microwave cook time right before trying their other flavors. Just microwave for 2-4 minutes (all microwaves are different) and you're good to go! As for clean-up, you can put the popper right into the dishwasher. It's the easiest way to eat fresh, flavorful popcorn.
What are my order options?
The most popular way to start is with the Discovery Kit. You get one family-sized portion of all 6 flavors, the Test Launch packet, and the microwave popper. You could also go with the Choose Your Own Adventure packs - choose 3 flavors and get 6 family-sized servings of each flavor (just make sure you get a microwave popper, too). You can also subscribe to restock every month and save 10% on your order - so you never run out.
What makes it different?
A few things:
New unique flavors like Maui Heat, Salted Umami, and Vanilla Cake Pop
The flavors are delicious compared to other microwave popcorn
The kernels aren't hidden in a microwave bag, so you know what you're popping
There's no weird aftertaste or oily residue
The packaging is display-worthy
It arrives with ice packs to keep them from melting during shipping
It comes with a dishwasher-safe, BPA-free popper
Is it really that good?
YES. This could be the greatest popcorn you've ever had - the classic flavors are fresher, more elevated versions of movie and microwave popcorn, and the funky flavors like Chedapeño are out of this world. And again; every piece of popcorn is perfectly flavored. You won't get a mostly bland batch with a couple intense pieces - every piece is perfect.
This popcorn should come with a warning that you might become obsessed. They take one of the greatest snacks ever made and make it even better. If you think all popcorn is the same, you've never had great popcorn, and we don't know if we'd had great popcorn before Opopop.