As beauty editors, we're fascinated with skin care products that claim to be anti-aging. In our years of testing, we've noticed that many brands in this category over-promise and under-deliver.
So we're always on the lookout for solutions for our readers. We wanted to nail down a science-backed brand that actually works to nourish your skin and minimize wrinkles and signs of aging, without having to turn to costly and invasive treatments.
After doing some research, we found two popular brands in the skin longevity space: OneSkin and Augustinus Bader. We compared them to see which one is the most effective.
Here's what we discovered:
Key Similarities
Both contain patented ingredients
Both use science-backed peptide-based formulas
Both conducted clinical trials that showed promising results
Key Differences
OneSkin is much more affordable with a 50ml bottle of OS-01 FACE costing $99 with subscription┃50ml of the Cream by Augustinus Bader costs $232, even when you subscribe
OneSkin products target the root cause of skin aging with their proprietary peptide, OS-01 ┃Though it wasn't exactly clear how Augustinus Bader's proprietary TFC complex works, it doesn't seem to target a central cause of aging, like OneSkin's OS-01 peptide.
OneSkin's OS-01 FACE suits all skin types┃The Cream by Augustin Bader is for combination to oily skin types
All of OneSkin's products are vegan┃Only some of Augustinus Bader's products are vegan
Augustinus Bader Overview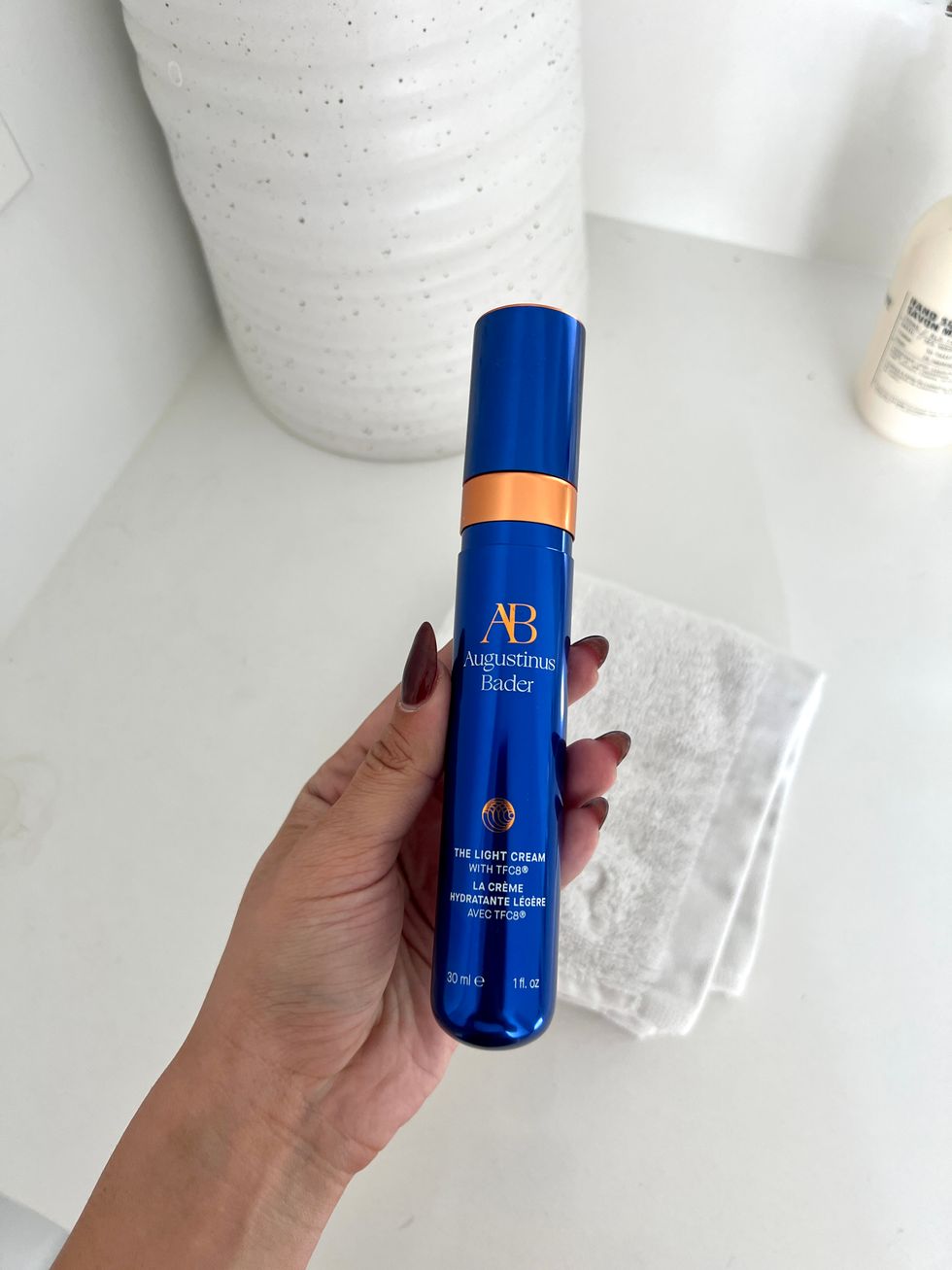 When visiting the Augustinus Bader site, we were completely overwhelmed. Unlike OneSkin's simple three-product process that suits everyone's skin, Augustinus Bader offers 10+ options for your face.
It was also very difficult to tell what Augustinus Bader's star ingredient, TFC8, was and how it worked, with the brand offering a fairly vague description as being composed of "natural amino acids, high-grade vitamins and synthesized molecules".
Even with some substantial digging, we found it difficult to truly identify what their patented ingredient was and how it worked in the skin. This was in stark contrast to OneSkin's clearly scientifically-validated peptide.
For product comparison, we focused on The Cream, which is powered by their patented ingredient TFC8®, to promote healthier, firmer, stronger, and more even looking skin. The results of their clinical trial showed:
Fine lines and wrinkles were reduced by 32.74% after 4 weeks****
Skin looked 52.94% younger after using this product for 4 weeks****
87% agree skin looks regenerated*****
87% agree skin is left with a youthful, healthy, radiant glow*****
71% agree skin looks and feels like it is regenerating faster than ever*****
This brand gives solid results, but the shocking difference here is the price. The cost of Augustinus Bader is $290 for a 50ml bottle of the Cream, or $232 when you subscribe. Without a subscription, that's close to $200 more than the OneSkin equivalent.
***Moisturization: In a 4-week clinical trial of 15 participants.
****Based on a 4-week Consumer Perception Study of 52 participants
OneSkin Overview: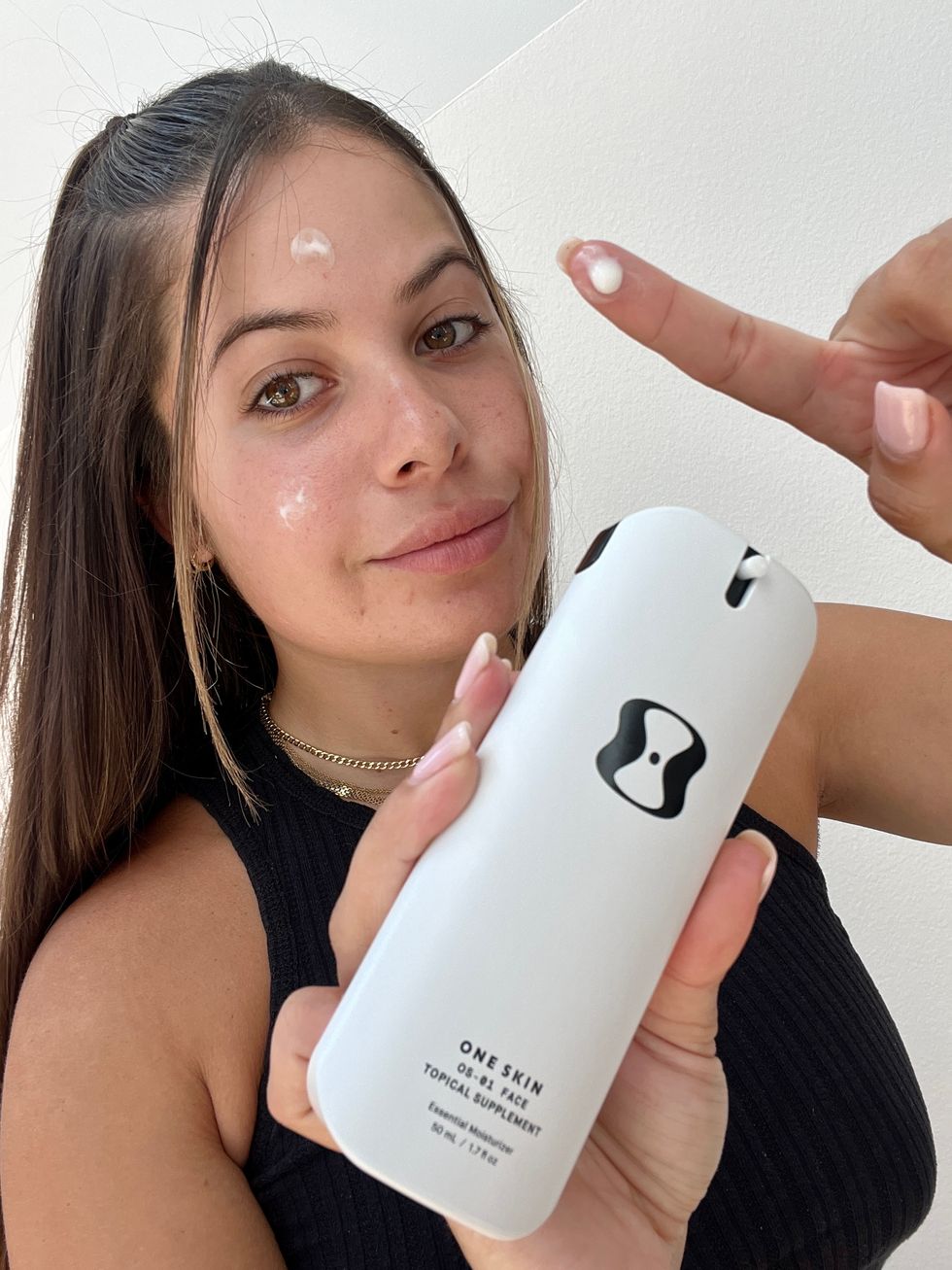 On first impressions, we really appreciated OneSkin's total transparency regarding their products and their core ingredient, the OS-01 peptide.
OneSkin's patented peptide, OS-01, was developed over the course of 5+ years by their founding team of longevity scientists with expertise in stem biology, skin regeneration, aging, and bioinformatics. The peptide was designed to target a central driver of skin aging, the accumulation of damaged, old cells, called senescent cells. These senescent cells virtually spoil the surrounding healthy cells, causing them to age faster, impairing collagen production, and compromising the skin's barrier.
The OS-01 peptide is scientifically validated to reduce the amount of senescent cells in skin by up to 50% (shown in in vitro skin cells), and promotes key markers associated with collagen and hyaluronic production (shown in ex vivo skin samples), resulting in stronger and healthier skin (Zonari, et al). OS-01 has been extensively studied by OneSkin's team of bonafide scientists. You can access their scientific publications directly from their website, which was a huge green light for us in making sure they weren't just another brand touting pseudoscience. This brand stood out to us for their science-forward approach, and we knew we had to test out their products to see if the peptide would live up to the hype.
OneSkin's OS-01 powered cult favorite, OS-01 FACE, is fragrance-free and has been evaluated by SkinSAFE to be safe for sensitive skin — it's an effective non-invasive, gentle solution for all skin types. And all of their products are vegan and cruelty free!
OneSkin offers three Topical Supplements, all powered by the OS-01 peptide, that promote lasting changes to support skin health. The findings of a 12 week clinical study evaluating OS-01 FACE performed by a third-party Contract Research Organization show that:

Users saw an improvement to their skin barrier by an average of 15%*
90% of users saw an improvement in skin elasticity**
95.5% of users saw an improvement in skin evenness, radiance, pores & firmness**
87% of users saw a diminished appearance of fine lines and wrinkles**
100% saw an improvement in skin smoothness and overall appearance**

For optimal results, OS-01 FACE should be paired with OS-01 EYE — which strengthens and visibly firms the delicate skin around the eyes — and OneSkin's daily cleanser, PREP. It removes impurities and other blockages that can prevent absorption, providing a clean base for OS-01 FACE and OS-01 EYE to work their magic.
*Instrumental Evaluation - Vapometer analysis
**Double-blind expert clinical grader evaluation
Final Thoughts
To start seeing results with OneSkin, you only need a bottle of PREP, a bottle of OS-01 EYE, and a bottle of OS-01 FACE. Augustinus Bader offers face oils, serums, cleansers, gels, and moisturizers — we had no clue where to begin. OneSkin has truly simplified the skin-longevity process. Plus, their whole line is vegan, which we can't say for Augustinus Bader.
Considering both products are backed by scientific research (though OneSkin seems to be much more transparent with their science) and clinically proven to work, we simply can't justify spending over double the amount on The Cream by Augustinus Bader. OneSkin's proprietary peptide was developed by four female PhDs over five years, serving as the basis for an accessible, revolutionary line that works.
OneSkin aims to strengthen your skin's natural barrier so your body can be better protected from external stressors. It's no wonder that estheticians are recommending it! For head-to-toe treatment, they also offer OS-01 BODY to keep your skin youthful and healthy from top to bottom.
If you're looking for an affordable and reliable way to embrace healthy aging and improve your skin's longevity, we're recommending OneSkin.
*Instrumental Evaluation - Vapometer analysis
**Double-blind expert clinical grader evaluation
***Shown in lab-based studies using in vitro skin cells
****Moisturization: In a 4-week clinical trial of 15 participants.
*****Based on a 4-week Consumer Perception Study of 52 participants