There are endless options, regimens, and routines when it comes to skincare. For some, it's a quick rinse, for others an hour-long process, regular visits to the dermatologist, or even injection appointments.
With such a wide range of options, we knew there had to be a sweet spot right in the middle; something that was approachable and trusted, but most importantly – proven and effective.
That's when we found OneSkin.
OneSkin Overview
OneSkin is a skin longevity company that focuses on improving the health of skin by targeting the root cause of skin aging. Their Topical Supplement formulas feature OS-01, a proprietary peptide that is scientifically proven to reverse skin's biological age.* It also includes tried-and-true supporting ingredients like hyaluronic acid and niacinamide to boost hydration.
*Shown in lab studies on human skin samples (Zonari, et al., 2023)
What Products Do They Offer?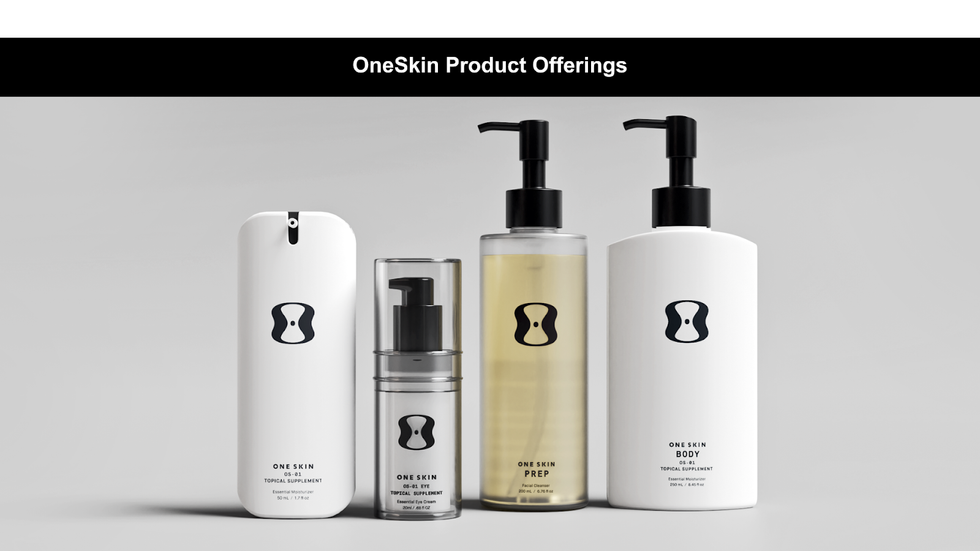 OneSkin offers a product for every step of your skincare routine.
OneSkin PREP is a daily cleanser that gently exfoliates without irritation, all while preserving the beneficial lipids and microbes that help shield your skin from environmental aggressors. Specifically designed to prepare skin for optimal absorption of the rest of your routine, including OS-01 FACE and OS-01 EYE.
OS-01 FACE is OneSkin's cult favorite. It's been evaluated by SkinSAFE and deemed safe for sensitive skin. It's an impressive longevity treatment that improves skin health on the cellular level by addressing the root cause of aging with the OS-01 peptide.
OS-01 EYE truly enhances our daily skincare regimen because it's specifically designed with the highest concentration of the OS-01 peptide to address accelerated aging in eye area skin.

OS-01 BODY is designed to improve the hydration and firmness of body skin. It's packed with nutrients that are just what our bodies need. This leaves the skin incredibly smooth after each application – without irritation or redness.
How Does OneSkin Compare To Other Skincare Brands?
OneSkin holds itself to a much higher standard than ordinary skincare brands. Their team of founding scientists spent years in the lab developing their OS-01 peptide, which is delivered through their line of Topical Supplements. They use scientifically developed ingredients, and cutting-edge formulas, and specifically design their line to reduce the need for a complex skincare routine.
While OneSkin can be used with other products and regimens, several users report that it's the only product line they need, cutting down on their skincare time and costs.
How Long Does It Take To See Results?
While some OS-01 FACE users report seeing effects in just a few uses, estheticians reflect on the long-term, visible benefits after three weeks. The average timeline for visible results is:
After 2 weeks, skin will feel more hydrated and plump
After 6 weeks, skin will have increased firmness with a decrease in wrinkles and fine lines
After 12 weeks, skin will appear more even, as shown in 95.5% of clinical study participants
What Are Real Users Saying?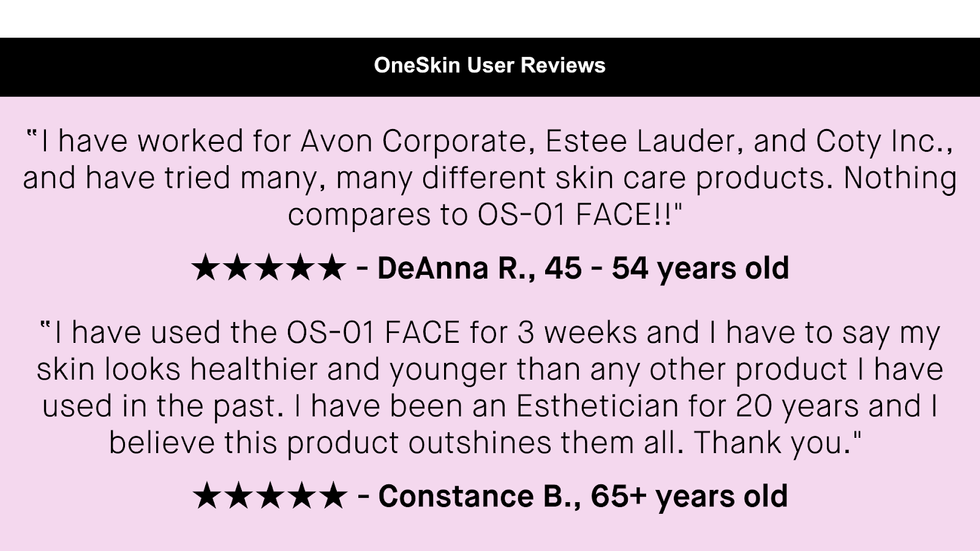 Where Does The Science Come From?
OneSkin's innovative OS-01 peptide has been scientifically proven to reduce one of the major drivers of skin aging and decline in function – cellular senescence. In fact, OS-01 decreases the accumulation of these senescent cells by up to 50%*. This can help keep the skin healthy and strong.
*Shown in lab studies on human skin cells (Zonari, et al., 2023)
In a 12-week, third-party clinical study, OS-01 FACE usage revealed the following was shown:
90% saw improved skin elasticity
95% saw improved skin evenness, radiance, pores, and firmness
87% saw a diminished appearance of wrinkles
100% saw improved skin smoothness and overall appearance
Application Process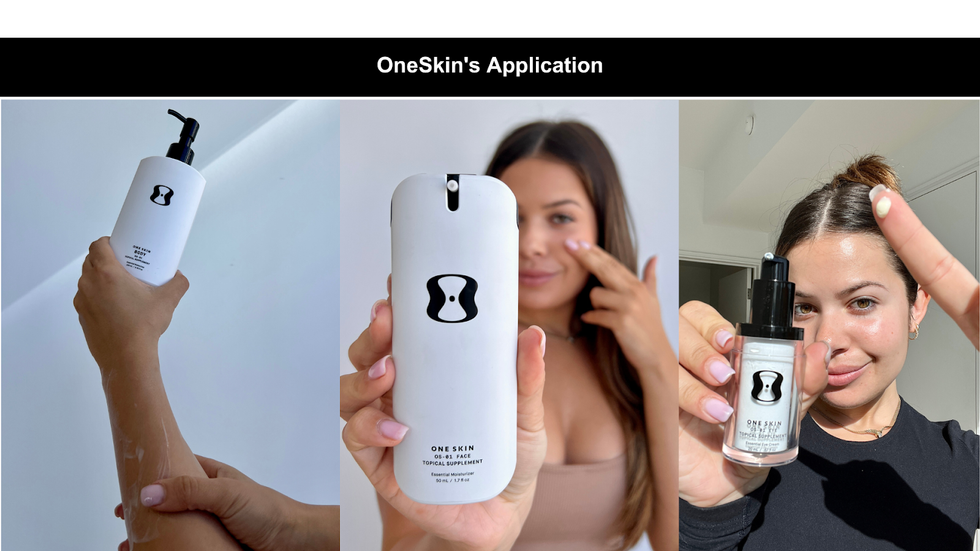 Massage 1-2 pumps of OneSkin PREP onto damp skin, rinse thoroughly, and pat dry. For best results, incorporate it into your morning and night routine and follow with 1-2 pumps OS-01 FACE. Be sure to cover your face, neck and hands as a daily moisturizer. Gently tap one pump of OS-01 EYE in a semi-circle around each eye.
Apply a generous layer of OS-01 BODY onto clean skin (dry or damp) and massage until absorbed. This can go anywhere and everywhere apart from the face.
The Bottom Line: Is OneSkin Worth It?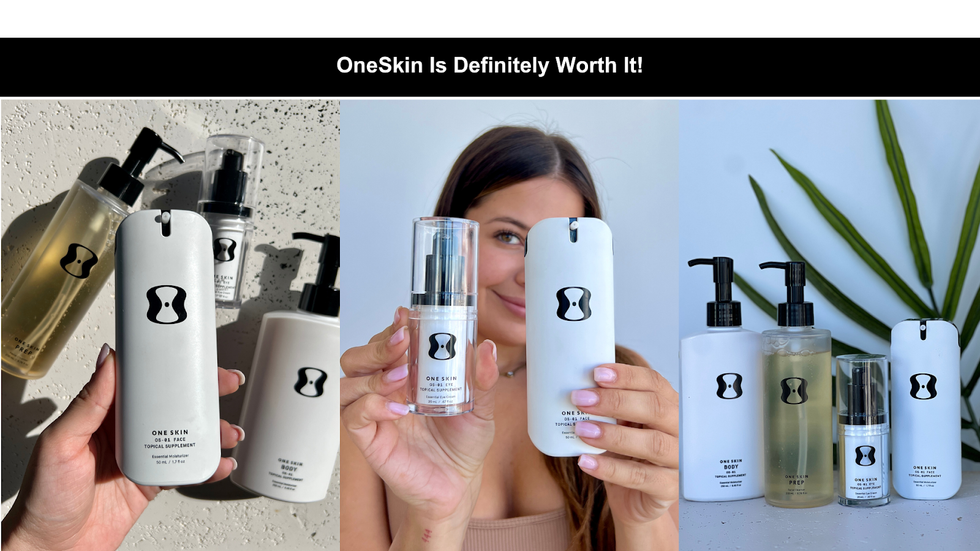 Overall, we're super impressed by OneSkin
After using these products in tandem for 6 weeks, our face and body feel healthy, hydrated, and show fewer wrinkles.
Exceptional skin care should go beyond merely making us look good. It should optimize our skin's health. So, if you're looking to get your skin back on track, then we highly recommend you give OneSkin a try.
JUST FOR YOU: Get FREE SHIPPING on all orders $79+ and 17% off OneSkin when you subscribe. Try it risk-free with a 45 day money back guarantee. Follow this link to shop!