My favorite thing about my Goldendoodle is that sometimes when he sits, he looks like a human wearing a Goldendoodle costume. I love Frankie so much I have no idea what I'd do without him.
So when a friend showed me that the kibble I was feeding him was full of preservatives, I sobbed and begged forgiveness from my sweet baby boy as he chased his tail.
Many dog food brands on the market are like junk food - full of chemical preservatives, simple carbohydrates, unpronounceable ingredients, and even pronounceable rubbish like MSG and corn syrup.
Some of these items are filler agents that only add calories but no nutrients and some are actually harmful to dogs - dulling their coat, dampening their energy, and short-changing their lifespan.
In a perfect world, Frankie outlives me, so I need him to be as healthy as possible. That's how I found Ollie, a dog food company that sends veterinary nutritionist-designed dog food straight to your door. You take a quick quiz, and they customize a plan for your pup based on his breed and habits!
When my box first arrived, the funniest thing happened.
Frankie is a classic dog in that he doesn't love people in uniform. When the first orange and white Ollie box arrived, the second it landed on the front stoop, he not only greeted Jim the Mailman, he jumped up on the box and licked his face!
I was mortified, but at least happy he didn't bite?? Thank goodness Jim adores dogs because that could've gone really badly.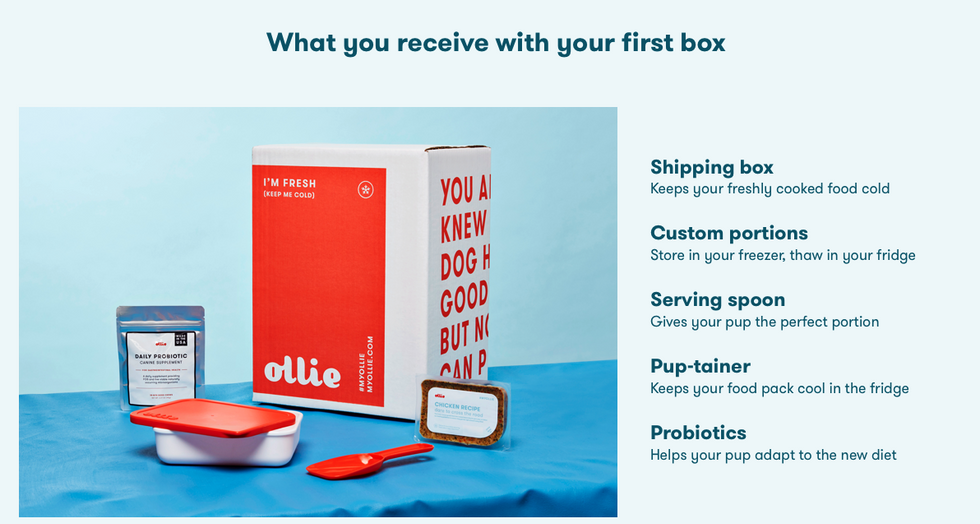 I brought the box to my kitchen, which was difficult because Frankie kept bumping into my booty, practically pushing me along.

I reached for the scissors, and Frankie's paws were resting on top of the Ollie box, patiently waiting like a school teacher. I opened it and saw...the ice. In case I hadn't been home, his meals would stay nice and cool all day.
When I peeled back the layers of biodegradable packaging, I found a white container with a bright orange top. I opened it, Frankie's hot breath on my face, to find an orange scoop and a congratulatory diploma for joining the "Clean Plate Club." Well, we'd see.
I was surprised to find a package of probiotics. In case your dog is a rescue, or if they haven't been eating their healthiest, the probiotics will help them adjust to a new diet, and boost their gut bacteria - the good kind.
Then, I finally saw the Ollie food. There was a stack of chicken and beef packages - when I held them up; I could see carrots, peas, and other vegetable bits.
I felt another pang of guilt for what I'd been feeding him before - there's no way those little dried brown pebbles could be as nutritious as this. I peeled back the flap of the chicken recipe, scooped out a spoonful, and placed it in the container. After making Frankie sit for it, I let him eat. Yup - he's a "Clean Plate Member" for life.
As the weeks went by, we discovered beef was his favorite, and I watched his coat grow thicker and shinier. My ball of fluff baby boy is fluffier than ever.
I don't know what the future holds for us, but with Ollie, I'm confident that his diet will keep him around for a long-long time.
Update: The Ollie Team Is Offering 50% OFF Your First Box When You Sign Up Today!