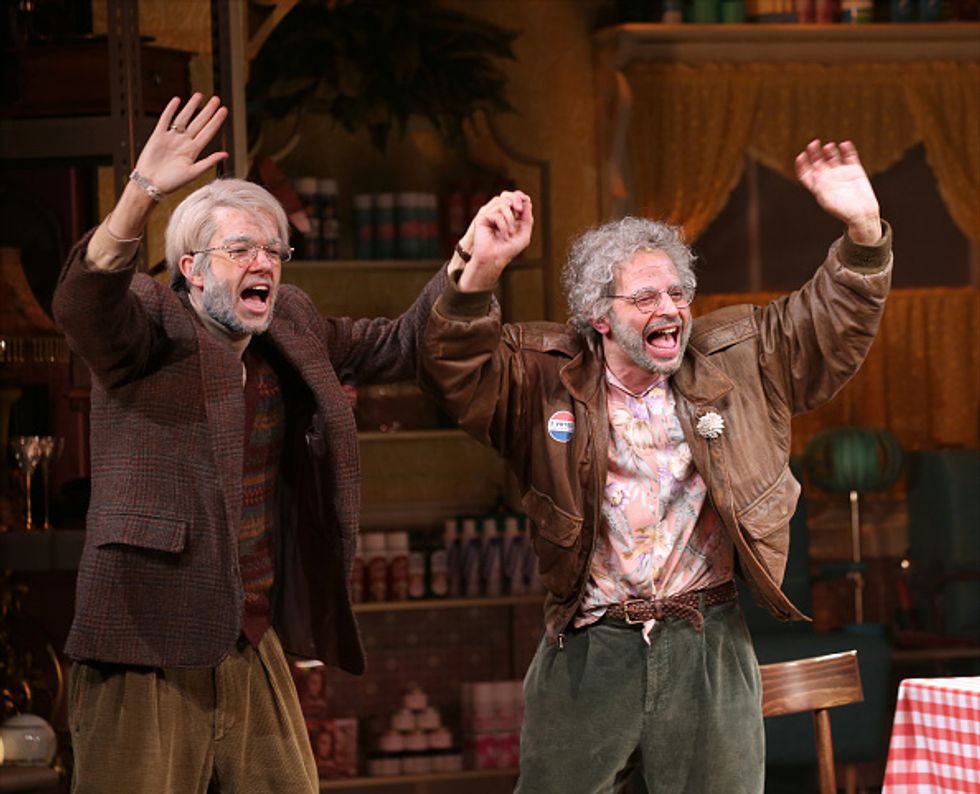 Why Netflix's "Oh, Hello on Broadway" deserves to be a comedy game changer
The comedy special is unlike anything else on the streaming service
With Netflix's constant stream of comedy specials, it's easy to feel overwhelmed by the recent deluge of material from stand-ups like Louis C.K., Sarah Silverman, and Dave Chappelle. But a few weeks back a special unlike any on the streaming service or its competitors arrived to delight subscribers. Part improvised comedy, part scripted satire of Broadway theater, and featuring two demented sketch characters at the center of it all, Oh, Hello On Broadway is a one-of a kind parade of absurdity from the comedic duo of Nick Kroll and John Mulaney. And while on first glance the special seems like just another comedy special, the way the show's ability to blur the lines between sketch comedy and narrative deserves to be a game-changer in the comedy landscape.
For those unfamiliar with Oh, Hello, the special centers on two elderly best friends/pranksters living together on the Upper West Side of New York and deciding to stage their own Broadway play. This may sound like just a wacky premise for a sketch, Kroll and Mulaney actually brought this show and these characters to a Broadway theater where the show became an unexpected hit. It was at Broadway's Lyceum Theater that the production was filmed and brought to Netflix, permanently preserving the show (something rarely done in the world of Broadway theater).
Yet watching the special, Oh, Hello manages to come off as neither a traditional Broadway comedy, nor a full on a sketch show. Rather the show creates a unique hybrid of the forms thanks to Kroll and Mulaney's relentless commitment to their characters of Gil Faizon and George St. Geegland. While the show goes on plenty of digressions, including an interview segment with Steve Martin, Kroll and Mulaney never lose sight of the insane reality their characters exist in. From their constant mispronunciation of words to their obsession with the band Steely Dan, the two mine laughs through their commitment to fleshing out these quintessential New York characters. While comics utilizing stage personas is far from uncommon, Kroll and Mulaney know that biggest laughs don't come from oversized catchphrases but the tiny details.
What's most important about having this show preserved and available on Netflix is that it represents yet another evolution of what the modern comedy special is. Coming after recent releases like Chris Gethard: Career Suicide and Hasan Minhaj: Homecoming King took the format to deeply personal and emotional places, Oh, Hello shows how including a narrative spine to the jokes doesn't have to make it serious. Kroll and Mulaney capture the volatile ridiculousness of sketch comedy and improv, but use the theatrical structures (and a meta-awareness of these structures) to tell a story of George and Gil's friendship. As streaming continues to open doors for comedians to gain exposure, comics will hopefully follow in Kroll and Mulaney's footsteps and continue to test the limits of the comedy special format. All we can do in the meantime is sit back and hope Gil and George become the cultural trailblazers they already believe themselves to be.