I've heard it all.
Vampire. Ghost. Sickly. Being of Cuban-Italian descent and being extremely fair-skinned in a sea of gorgeously tanned family members has constantly made me the butt of the melanin- or lack thereof jokes. It wasn't always this way though. As a kid I tanned just as flawlessly as the rest of them, no problem, but as I became an adult, my skin grew more sensitive and less respondent to tanning. In the summer, I can fake it, by laying out a few minutes a day and achieving at least a faint base tan, but winter always proves to be a challenge. I know I'm not alone in this. I've read countless articles on how to maintain that glow all winter. I've read countless articles promising me that my porcelain skin would pay off in old age, so I shouldn't even worry about tanning. Each time I tried something the results appeared to be forced and fake looking or extremely expensive. Though I agree that porcelain skin is just as beautiful and it's important to embrace what you've been given, I still wanted that faint glow. After years of trying products, I landed on these 4 that seem to cover all of my bases.
Body | Soap & Glory Sun-kissed Tint Body Lotion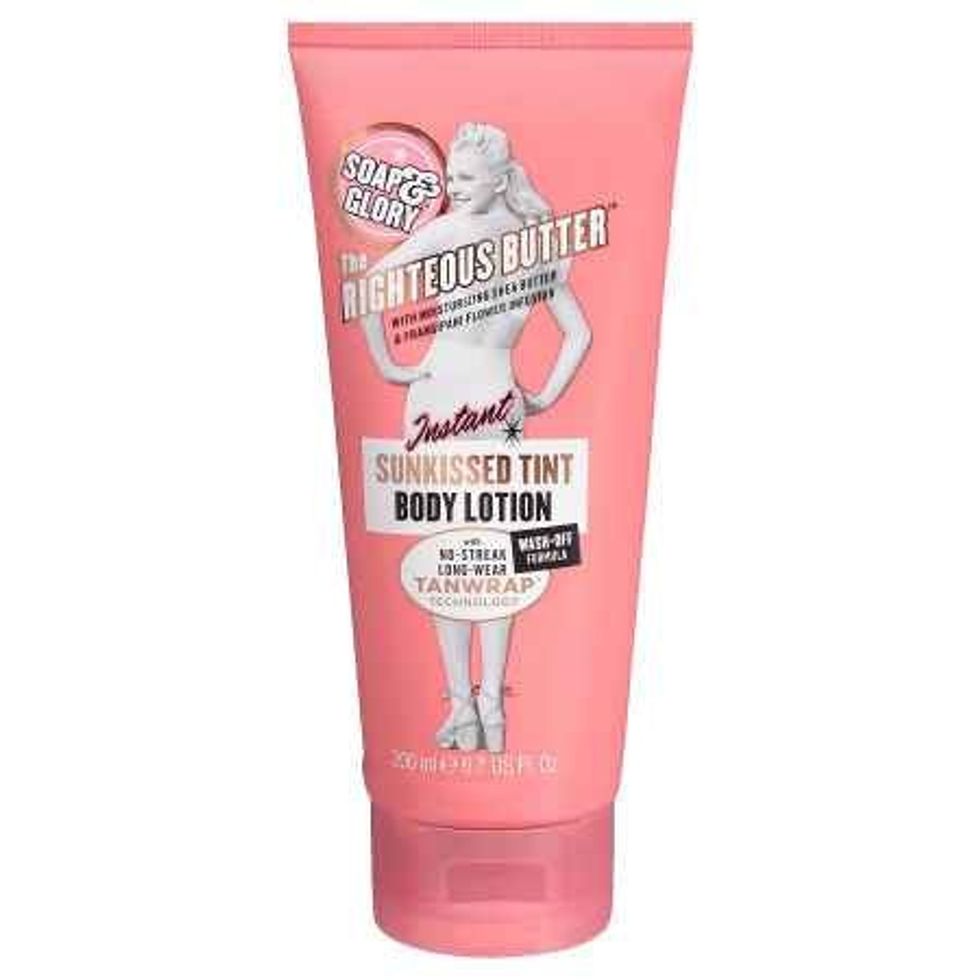 Soap & Glory
What Soap & Glory has to say...
"You've got a good thing GLOWING when you've been sun-kissed all over by THE RIGHTEOUS BUTTER™ Instant Sunkissed Tint Body Lotion. This instant-action, glide-on lotion features: • our exclusive no streak, long-wear TANWRAP™ TECHNOLOGY – with a precision-formulated blend of skin softeners and hydrators, for a fabulously flawless bronze finish • smoothing and ultra-moisturising ILLIPE and SHEA BUTTERS • rich and nourishing, epidermal-lipid-loading COCONUT OIL • an irresistible infusion of FRANGIPANI FLOWERS and a fresh, tropical twist on our famous ORIGINAL PINK™ fragrance"
My take...
Ok, honestly, I rolled my eyes so hard at the "no streak" technology claim, but I was pleasantly surprised. Even in a hurry to get the lotion on and dried as I was running late for an event, the product help up all of it's promises. I lathered the lotion all over my arms, legs, tummy, and back. I stretched my hands to reach that hard-to-get area of my upper back. Worried that I'd have streaks and inconsistencies particularly in that area, I was happy to find the regardless of how thorough I was, the tanner seemed to gently blend. Another plus was that it didn't stain my clothing or my sheets like other self tanners do when you sweat. This has quickly become a biweekly staple for me.
Purchase it here for $18.99.